Get Your Bahrain Visa Now - Bahrain E Visa Application Process
Last Updated : Oct 2, 2023
Atlys in the news
30-Second Summary
US citizens need a visa before traveling to Bahrain.
US citizens can apply for 5 different e tourist visas.

You can apply for a single or multiple-entry visa.

This visa is extendable. However, you must make sure you apply for an extension before your current visa expires.
Important Information
Bahrain
— Is A Visa Required?
Yes, you must apply for a visa before traveling.
— Bahrain Visa Fees
The e visa costs between BD 9 to BD 64. It depends on the type of visa.
— Bahrain Visa Processing Time
The processing time is between 3-5 business days.
— Lenght Of Stay
You can stay a maximum of 2 week, 1 month, or 90 days.
— Bahrain Visa Validity
The visa can be valid for 2 weeks to 10 years. It depends on the type of visa you apply for.
Do US Citizens Need A Bahrain Visa?
Yes, you do. Unfortunately, the US isn't part of the visa-exempt countries, so you must apply for a visa before traveling in order to enter Bahrain.
Are US Citizens Eligible For A Bahrain E Visa?
Yes. US passport holders can apply for a Bahrain electronic visa online, on arrival, or at a Bahraini embassy.
First, however, it is essential that you know about Bahrain's visa policies and visa requirements. You will find all about it further down in this blog.
Are US Green Card Holders Eligible For A Bahrain E visa?
This depends on your nationality. If your country of nationality can apply for the Bahrain e Visa you can.
You can also check the list of countries here.
Who Can Apply For A Bahrain E Visa?
Visitors from most countries will have to get a Bahrain Tourist Visa before arriving in Bahrain.
Only the Gulf Cooperation Council or GCC countries do not require a visa to enter Bahrain. However, visitors of other countries can get a Bahrain entry visa on arrival, an electronic/ online visa, or from the nearest Bahrain embassy, depending on the eligibility of your country.
There are currently 114 countries that can apply for a Bahraini eVisa. Travelers can check their eligibility for an eVisa on the official website of NPRA or Nationality, Passports & Residence.
Applying For A Bahrain Visa Online Visa Through Atlys
Atlys works hard with partners to make sure that your application process is fast and without hassle. This means that you won't need to upload an entire list of documents or struggle with uploading them.
What Documents Do I Need When Applying Through Atlys?
The list of travel documents you need to apply for your Bahrain electronic visa is short. Here's what you'll need:
Bank statements: You must upload proof that you have enough funds to cover the stay of your trip.

Valid passport: You need a scanned copy of your passport bio data page. Your passport must be valid for at least 6 months from your date of travel.
How To Apply For A Bahrain Visa Through Atlys
I mentioned this app earlier in the post. However, I don't think you understand just how easy it is to apply for a visa through Atlys.
So, to show you, here are the steps you need to follow to get your visa through the Atlys:
1

Download the Atlys app and create an account.

2

Search for your travel destination.

3

Complete the online application form and upload your required documents.

4

Pay the visa fee and submit your application.
To make the online payment process easier, Atlys provides different payment methods. You can use credit cards (Visa, Mastercard, and American Express), debit cards, mobile wallets, and dozens of other payment cards worldwide.
How To Check My Bahrain Visa Status Through Atlys?
You can do a Bahrain online visa status check through the Atlys app. Here's how:
2

Click on the "Profile" button.

3

Click on "My Documents."
You'll be able to see your visa status once you click. You'll also receive real-time updates about the status of your visa via the registered number or email.
Apply For Your Bahrain E Visa Through The Government Portal
What Are The Documents Required For A Visa To Bahrain?
To ensure that your e visa application is approved, you must gather all the required documents. You will need the following travel documents for your online application process:
Scanned copy of your valid passport (valid for at least 6 months).

A scanned copy of the biographical page of your passport.

Proof of accommodation such as hotel booking.

If you are staying with a relative, you must submit a Central Population Registry or CPR reader's printout.

Three months' bank statements with a balance of no less than USD 800 or less than the equivalent of BD 300.

Yellow fever vaccination card if traveling from a high-risk country.
How Can US Citizens Apply For Bahrain EVisa?
Applying for a visa might seem daunting. But it doesn't have to be! By following 4 easy steps, you can apply for your visa seamlessly.
Follow these easy steps to complete your EVisa application:
Step 1: Start The Application Process
Once you meet all the visa requirements, you can apply for your Bahrain visa.
The Bahrain visa application process is quite simple.
To start the application process, you must visit the Bahrain Ministry of Interior's website and check your eligibility.
Step 2: Choose The Type Of Visa
If you are eligible to apply for a Bahrain eVisa, you must choose the type of visa you wish to apply for from the following options: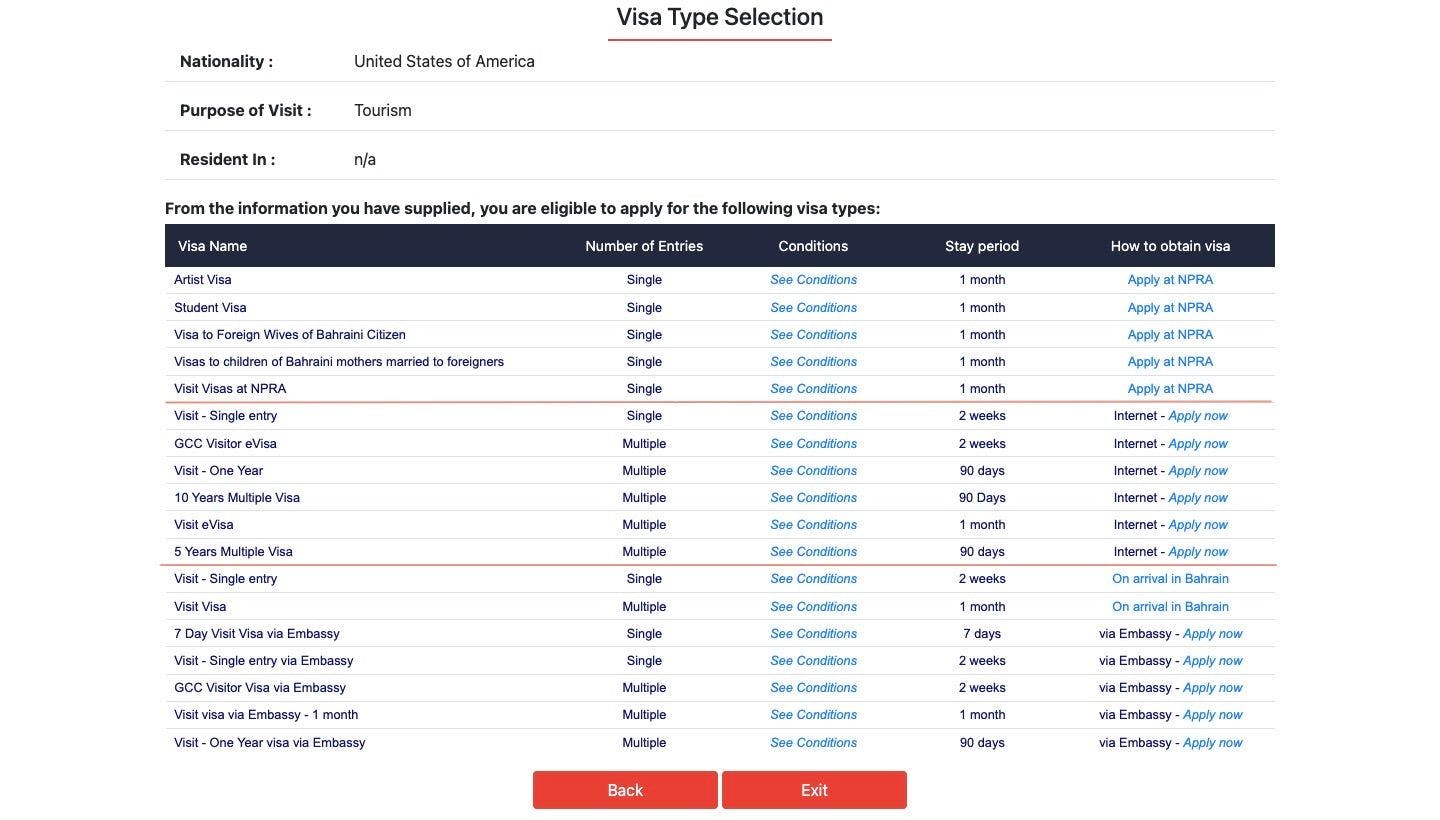 Step 3: Fill In Personal Information
Once you have selected the type of Bahrain visa and followed the next few steps, you will be prompted to the Bahrain online visa application form.
Here your must provide your personal details such as full name, passport number, date of birth, email address, and other information.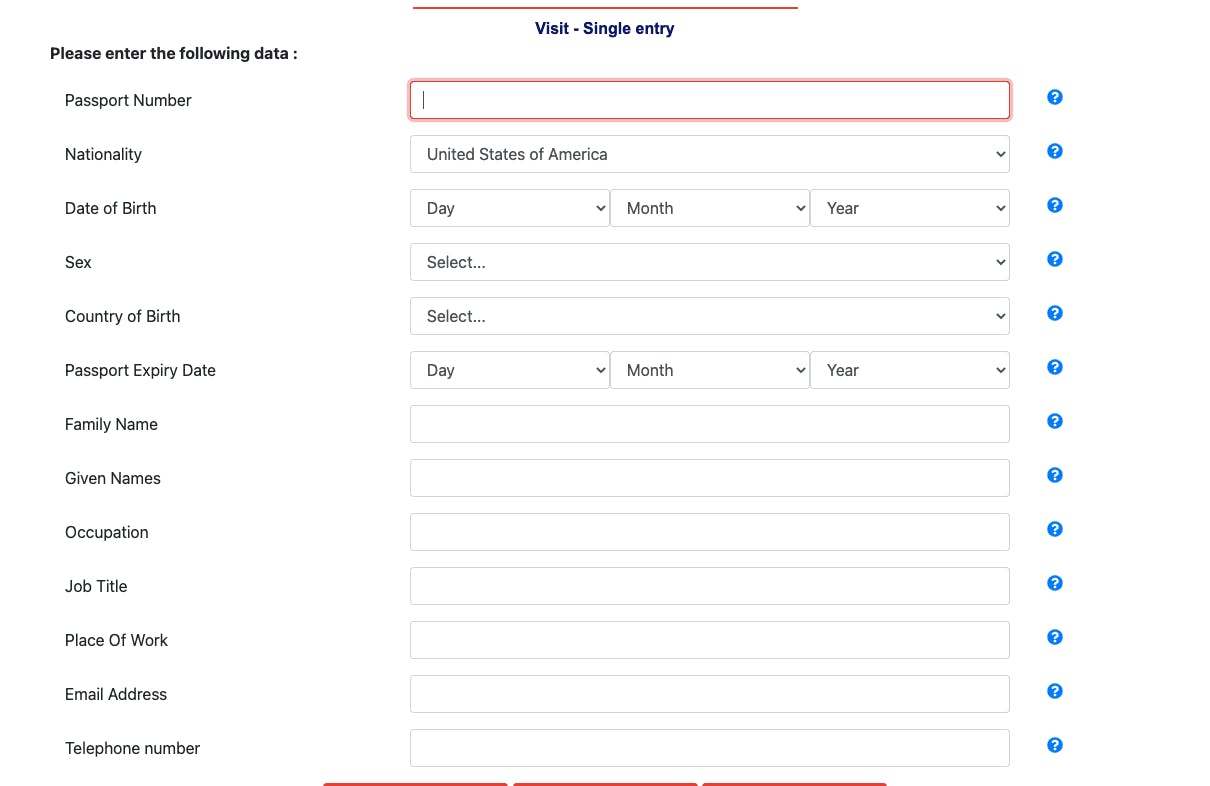 Step 4: Upload Documents And Pay Visa Fees
After completing the necessary details, you must upload all the required documents on the online portal.
At the end of the online application, you must pay the visa service fees with your debit card or credit card. In addition, you will receive a reference number, which you must keep safe to check the visa application process and the outcome.
Step 5: Receive Your EVisa
Once your visa is approved, you will have to pay the Bahrain visa processing fee. After that, you will receive your visa via the email address you provided on the online visa application form. The processing time of the eVisa is 3 to 5 business days.
You must print the visa before traveling to show it to the immigration officers at the Bahrain International Airport.
Overview Of The Visa To Bahrain
In this section, we will briefly cover everything you need to know about the Bahrain visa for US citizens.
How Much Does The Bahrain Evisa Cost?
The Bahrain visa cost depends on the type of e visa you apply for:
The Bahrain Evisa Fee is non-refundable.
What Is The Processing Time Of The Visa To Bahrain
The Bahrain Visa processing time of the visa is usually between 3 to 5 days, and in some cases, it could only take one day.
Remember that anything can influence the processing time. Therefore, make sure to apply as soon as possible.
What Is The Validity Of The Bahrain E Visa?
The validity depends on the type of visa you apply for. You can get a visa valid for:
3 months (multiple entry).

5 years (multiple entry).

10 years (multiple entry).
How Long Can I Stay In Bahrain With An E Visa?
The length of stay depends on the type of Bahrain tourist visa you apply for:
2-week visa: You can stay a maximum of 2 weeks.

3-month visa: This visa allows you to stay in Bahrain for 1 month on each entry during your visa validity period.

1-year visa: You can stay 90 days in the country per entry.

5-year visa: A maximum of 90 days per entry during your visa validity period.

10-year visa: You can only stay a maximum of 90 days.
Can I extend My Bahrain Evisa?
Yes. You can extend your visa by visiting The General Directorate of Nationality, Passports & Residence, or NPRA.
They will guide you on the process and requirements for visa extension. You can also request a visa extension online on Bahrain's National portal.
What Happens After I Receive My Bahrain Visitor Visa?
Once you have your Visa for Bahrain, you can start packing your bags for your trip!
Your eVisa will be electronically linked to your passport. However, you must still print out a paper copy of your visa, which you receive via email.
What Should I Expect At Immigration?
Upon arriving at Bahrain international airport, you will queue at the immigration desk or border control for eVisa holders.
Here you'll present your passport and evisa printout to the immigration officer.
The immigration officer will then verify your visa and passport and stamp the entrance date. You must use the passport that you used to apply for your evisa at the border control.
After your passport is stamped, you can enjoy your trip to Bahrain.
That's it!
Now you're ready to visit Bahrain! Are you excited for your trip to Bahrain? Do you feel confident to apply for your Bahrain Evisa now? For additional information, you can check out our FAQ section.
The information in this post is from reliable sources like the Bahrain Ministry of Interior's website and the Bahrain E Visa Website
Frequently Asked Questions
The Central Population Registry Card or CPR Card is a unique ID card that consists of all your personal information and has an embedded readable chip. This card is only issued to Bahraini citizens and foreign nationals people with a work visa, residence permit, or long-term visas for Bahrain; tourists cannot get the CPR card. You need the printout of the CPR card with your Bahrain evisa application.
Author: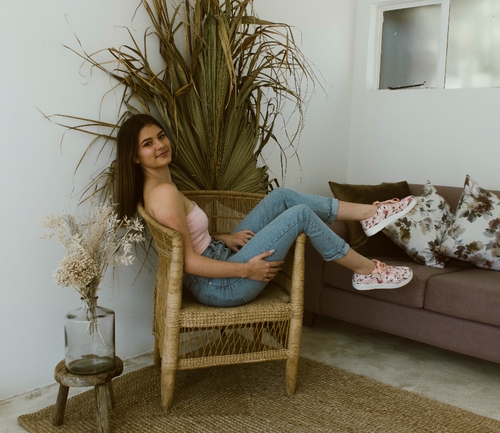 Laliq Schuman
Verified Author: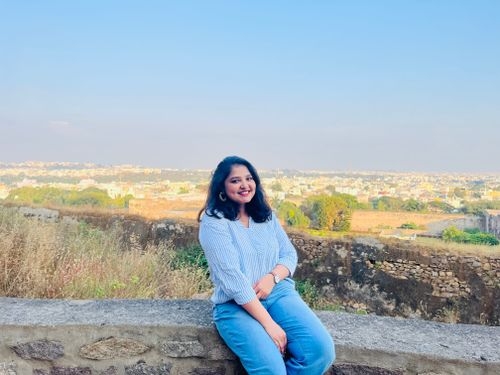 Nikhita Rathod