Ghana Visa Requirements And Visa Application Process
Last Updated : Oct 2, 2023
Atlys in the news
To visit Ghana, you must obtain a visa before traveling. So, to save you time, let's get straight into:
Type of visa required: Ghana Tourist Visa
Ghana tourist visa cost: Total fee for the Ghana visa is 60 USD
Ghana Tourist visa processing time: 15-20 Business Days
Easiest and fastest way to apply: Atlys.
Read on for in-depth information about the Ghana visa.
So, before you proceed to fill in the Ghana Visa form, let me give you the ins and outs of the Ghana visa application, including how to get a visa to Ghana from the USA. Stay tuned!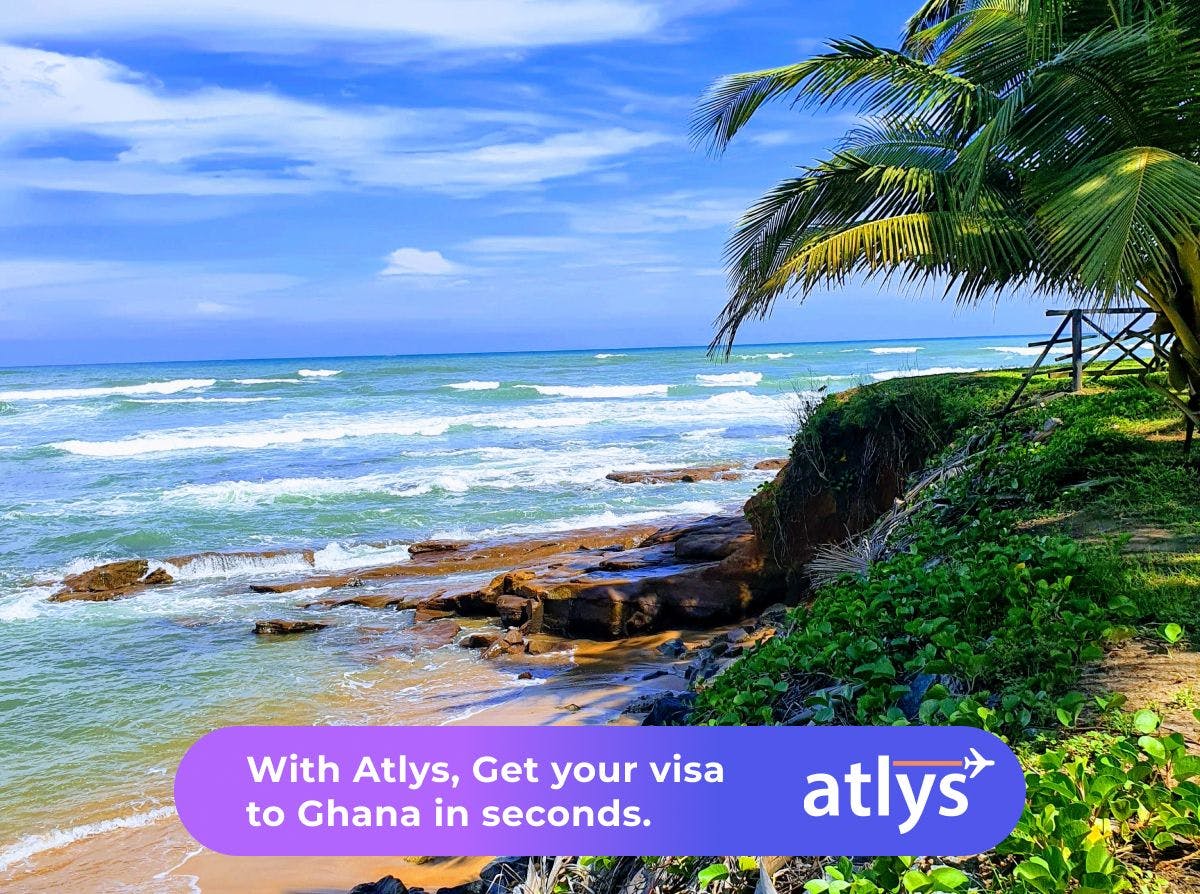 Do US Nationals and Green Card Holders Need A Visa For Ghana?
Yes. US Nationals and green card holders need to apply for a ghana visa when they intend to go visit the country.
How To Get Your Ghana Visa In Minutes?
If you wish to travel to Ghana, you can learn more about this country and even apply for your tourist visa directly on Atlys.We all know how tedious visa applications can be, from scrambling to getting the right documents to ensure you meet all the necessary entry requirements.
Luckily with Atlys, the process is simplified, and you can expect a hassle-free experience.
What you can expect from Atlys:
Straightforward application process - this can be done in minutes!

Support gathering your documents - Atlys helps you gather all the required documents.

Step-by-step instructions - Atlys will be there every step of the way!
The visa application process on Atlys is straightforward, quick, and entirely online
The Ghana Visa At A Glance
This section will go through the basic information everyone needs to know before completing a Ghana Visa form. This information will also help with this blog topic: How to get a visa for Ghana?
What Is a Ghana Visa?
A Ghanaian visa is basically permission given to visit and submit yourself for entry into Ghana. It should be noted that getting a visa does not ensure entrance into Ghana because it is subject to regularization and other requirements being met at the point of entry.
What Are The Visa Application Fees?
You must choose the number of entries and the visa processing service needed during the online visa application process.You can only pay the visa fees online with a credit or debit card. The [service fees](/countries/GH/visa fees) vary depending on your visa processing type. The visa payment can only be made in US dollars.
The visa fees are as follows:Standard Service:
A single entry visa costs $60.

Multiple entries visa cost $100.Expedited Service:

A single entry visa costs $100.

Multiple entries visa cost $200.
The visa processing fees are non-refundable.
What Is The Visa Processing Time For Ghana?
The processing of standard visas requires 15 business days, and it takes 5-7 business days for expedited Service.
To avoid delays, applicants are asked to submit their passports, completed visa application forms, and supporting documents well ahead of the planned departure date.
The service period mentioned above does not include the mail-in and mail-out period.
How Long Is The Ghana Visa Valid For?
The Ghana Visa for US citizens is valid for a maximum of 3 months from the date the visa is issued. Note that Multiple Entry Visas and other visa types will be valid for varied periods.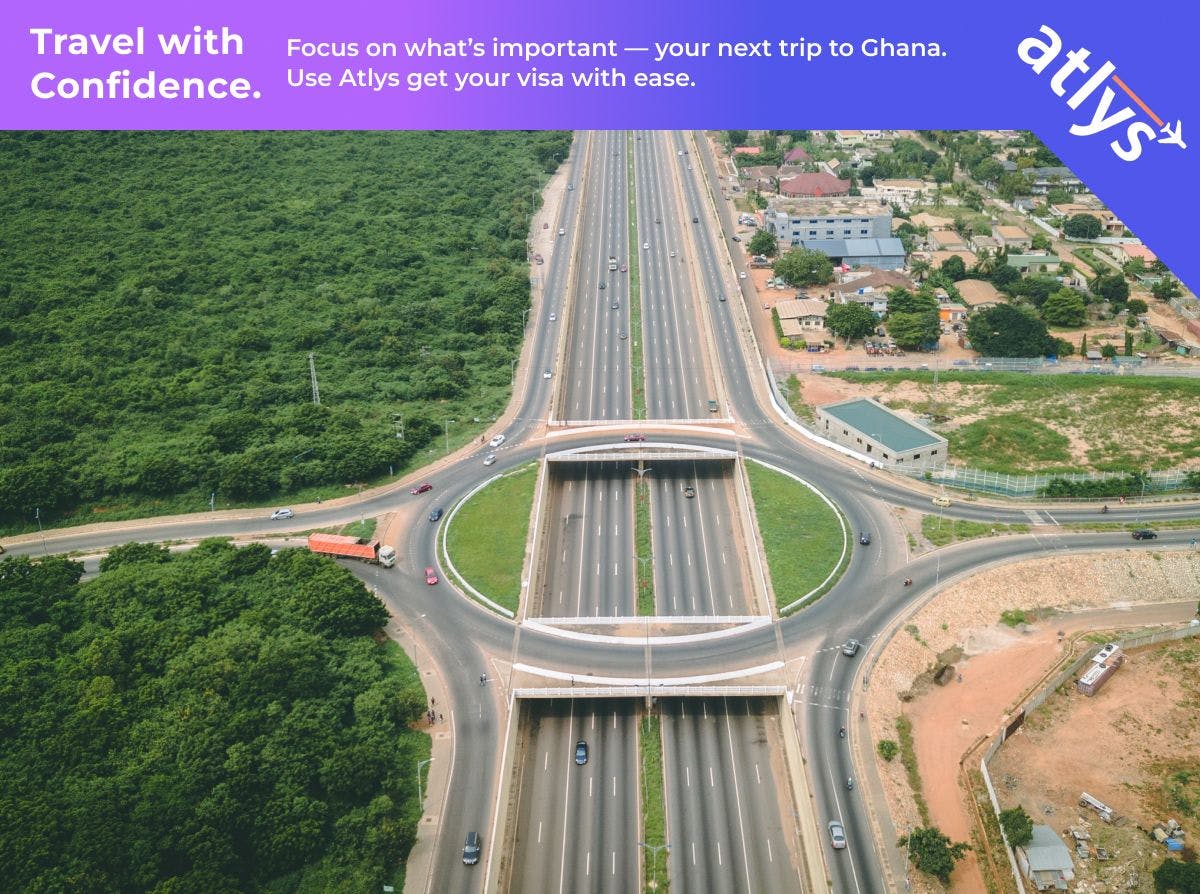 What Are The Requirements For Ghana Visa?
You will need to understand the visa requirements before proceeding to get a visa for Ghana. There are a lot of requirements and documents that you must keep in mind throughout the application process. However, I have made it simple for you.
Required Documents For Ghana Visa
The first thing in your visa application is filling out the visa application form. You can find the Ghana Visa application form on the Government of Ghana website.
You will require a lot of documents and information while filling out the form and with your visa application.You will require the following travel documents for your visa:
A valid passport for at least 6 months with two consecutive blank visa pages

Duly filled Ghana Visa application form in pdf format or online

Two recent passport photos with a white background

Letter of Invitation for business or work purposes written on company letterhead

Valid Ghanaian Identification of the host, such as a valid passport for a business visa

Proof of accommodation or hotel booking, including the name and address of the place of accommodation in Ghana

An undertaking that the host will ensure that the visitor will comply with the immigration laws of Ghana for business or work visa

Residence permit visa page (For non-US passport holders)

Copies of the Bio-Data pages of the passport

Business, Residential addresses, and telephone numbers

Proof of sufficient funds or bank statements

Covid-19 vaccination certificate or negative RT-PCR test result (done within 72 hours of departure for unvaccinated travelers)
Requirements For Minors For Ghana Visa
You must submit your Ghana Visa form if you are accompanied by minors. Parents or legal guardians can do this for children. You will need to submit the following in your application along with all the supporting documents:
Child's Birth Certificate

Two copies thereof when traveling with minors.

A signed and notarized consent letter by both parents

Copies of both parents' picture IDs or passports

Proof of visa application fees
Suppose you are applying for a study visa. You will need a letter of acceptance or admission from a recognized and accredited institution with course dates.
The online Ghana Visa application form will generate a checklist with the required documents. These documents might be different subject to the purpose of your travel.
What Are The Entry Requirements For Ghana?
Now that everything is done, from the application process to receiving your visa, all you need to know is the entry requirements for getting a visa for Ghana for US citizens. Here are some of the entry requirements that you should keep in mind:
You must have a valid passport (at least 6 months)

Travel documents or travel itinerary

Must have a valid entry visa or entry permit

Proof of vaccination against Malaria/Fever taken at least ten days from the proposed date of departure to Ghana

Yellow Fever vaccination certificate for travelers above 9 months of age

Proof of Covid-19 vaccination or negative RT-PCR test result

Copies of your child's birth certificate if traveling together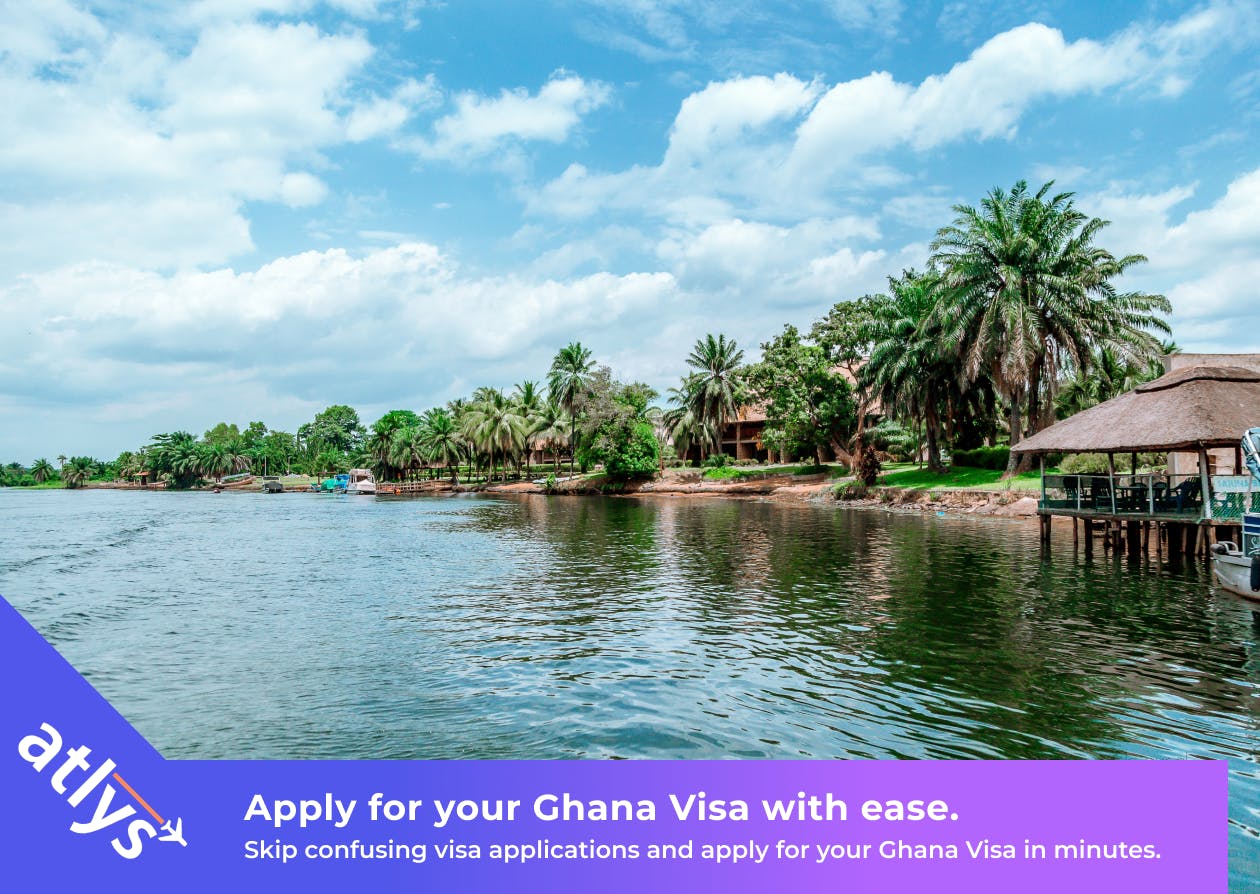 Ghana Visa Application Process
To apply for a Ghana visa, you can do it in several ways. Below I will mention the ways that you can follow to successfully apply for the visa:
Use Atlys
If you want to skip all the hassle, apply through Atlys! With Atlys, the application is fast and simple, and you won't experience any problems. The app also has tools you can use. For example, a passport photo tool can turn any photo into a passport photo that meets all the requirements.
Atlys also saves your information, which means the next time you apply for a visa through Atlys, it will be even faster.
Use the Government Portal
You must submit an online application with all your details to apply for a visa for Ghana for US citizens. I will take you through the entire form so that you can complete it with ease.
There are 5 steps to filling out this online visa application form.
Step 1 - Start The Application Process
You must visit the visa application page on the Embassy of Ghana website. Here you must click on the Visa Application, which will give you the Ghana Visa form, as shown in the picture below.

Selecting it will take you to the "Visa Application Pre-Qualification Instructions," where you must choose your preferred language and country of residence.

Click "Continue" to go to the next page. You must go through this page as you will find all the essential information along with the required documents for your visa application. Click the "I have read and understood the terms and conditions" box and proceed with the application.
Following the steps mentioned above will bring you to this page:

Here you must choose what you would like to do with your application. For example, suppose you are an individual applying for a Ghana Visa. In that case, you must click on the first option, the "individual visa option."
Then, suppose you would like to check your completed visa form. In that case, you must click on "retrieve individual visa application" and so forth. You can also do group organization bookings and group family bookings.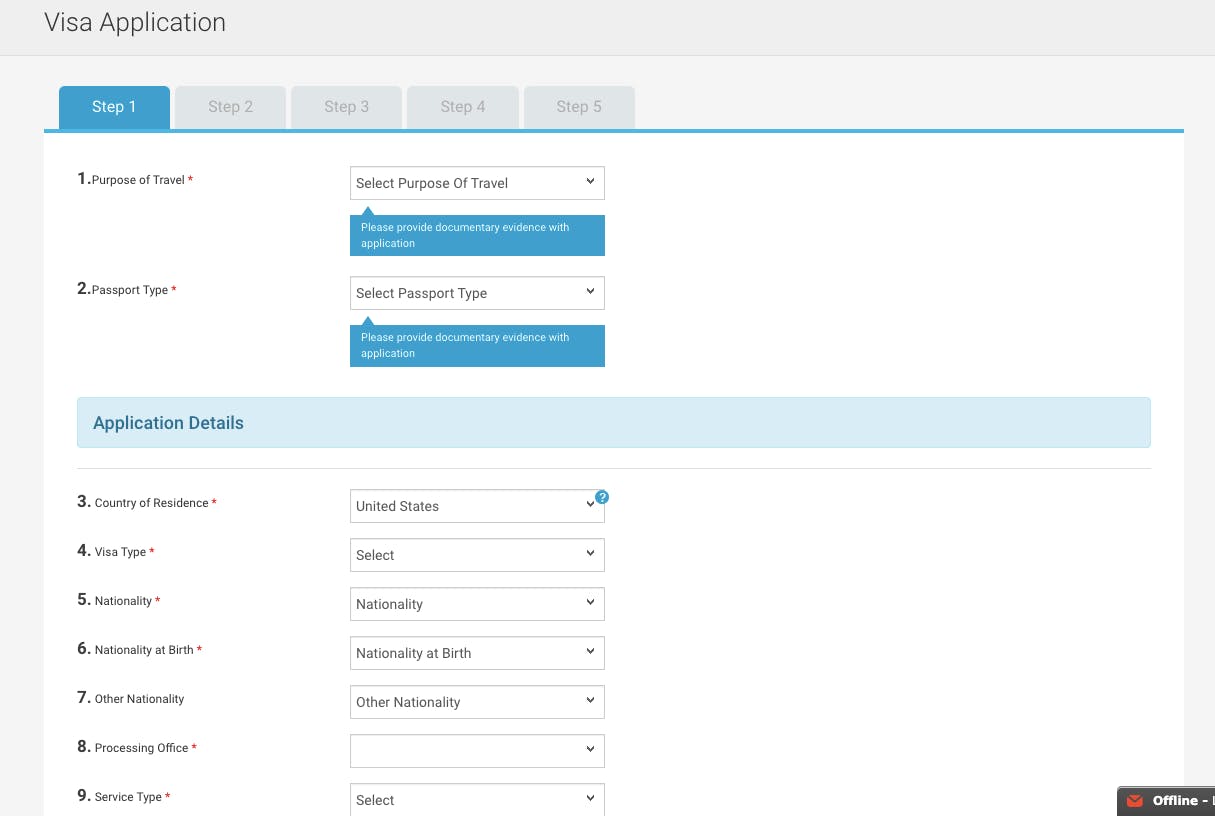 Upon filling out this page, a Reference Number should be generated, which you will see in the right-hand corner of the page.

Once you have filled out all the required information, click next.
Step 2 - Fill In Your Travel History
The application form's second step will require you to fill in your travel history / criminal convictions.![GHANA STEP 2(https://storage.googleapis.com/vdc-strapi-images/GHANA_STEP_2_f725d49c06/GHANA_STEP_2_f725d49c06.png)
Step 3 - Provide Necessary Personal Information
In step 3, you will fill out your contact information, such as your residential/home address in your country, your mailing address, and your business/work/school address. You must also provide the name and address of your hotel or accommodation in Ghana. The information needed will change depending on the type of visa you are applying for.
If you are applying for a business or work visa, you must provide the necessary details. You must click the "NOT APPLICABLE" box for all the sections that do not apply to you.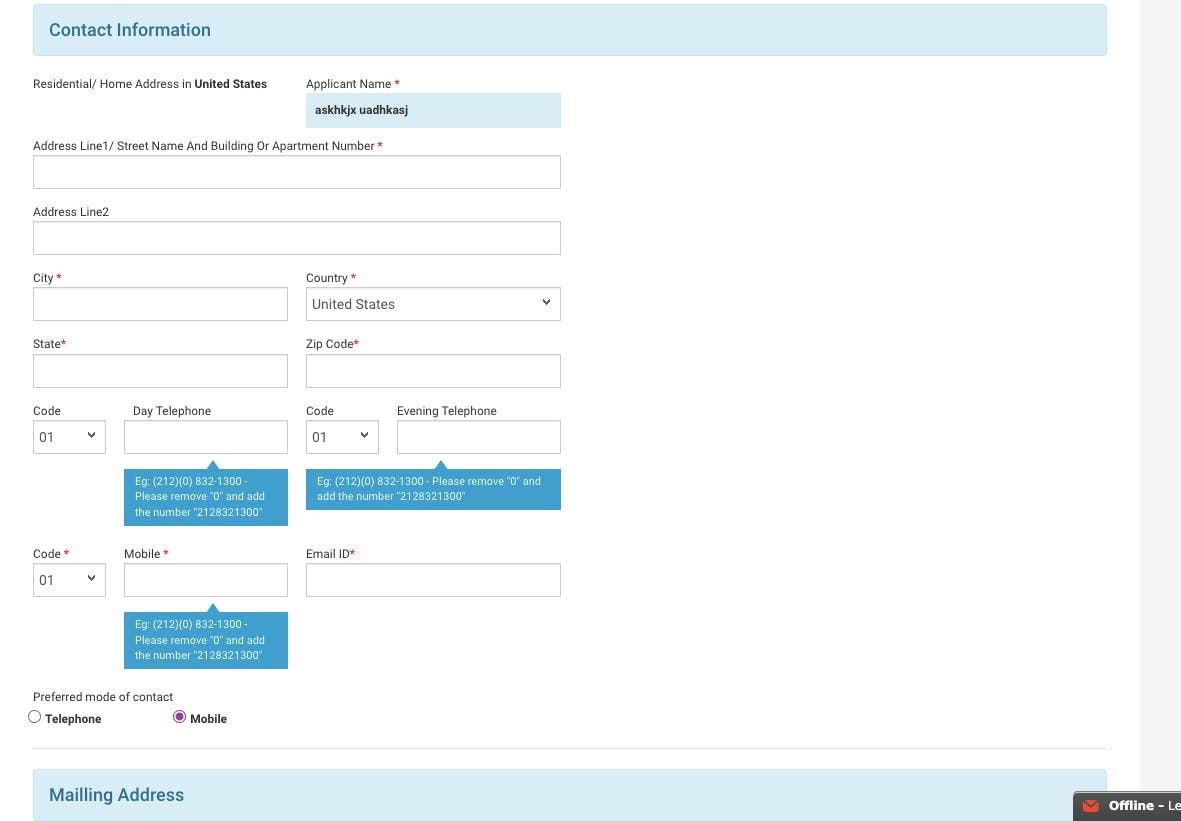 Make sure that the information you enter in your Ghana Visa application form is correct; otherwise, you could jeopardize your chances of getting your visa for Ghana for US citizens.
Step 4 - Provide The Host In Ghana And Checklist
In step 4, you must provide the information on the "Host In Ghana" or "Sponsor Of Trip." In this section, you can provide information on whether another person is completing this application.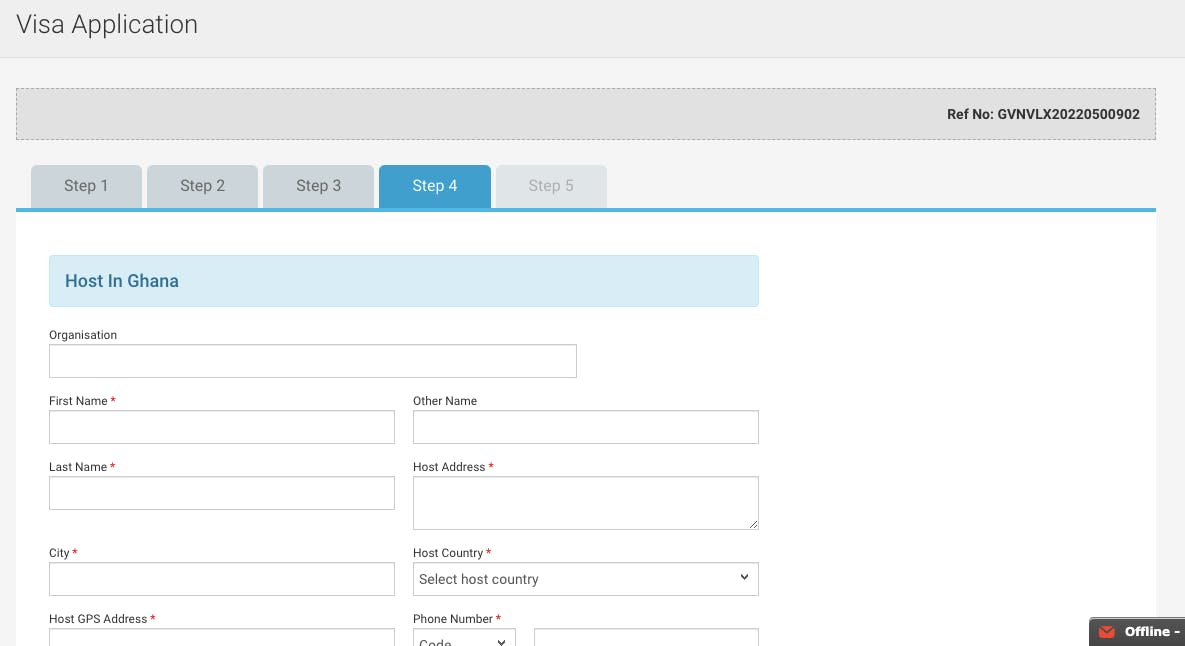 This is the step where it provides you with a checklist of the required documents. You must ensure that you have the documents mentioned in this check when submitting the visa application to the embassy.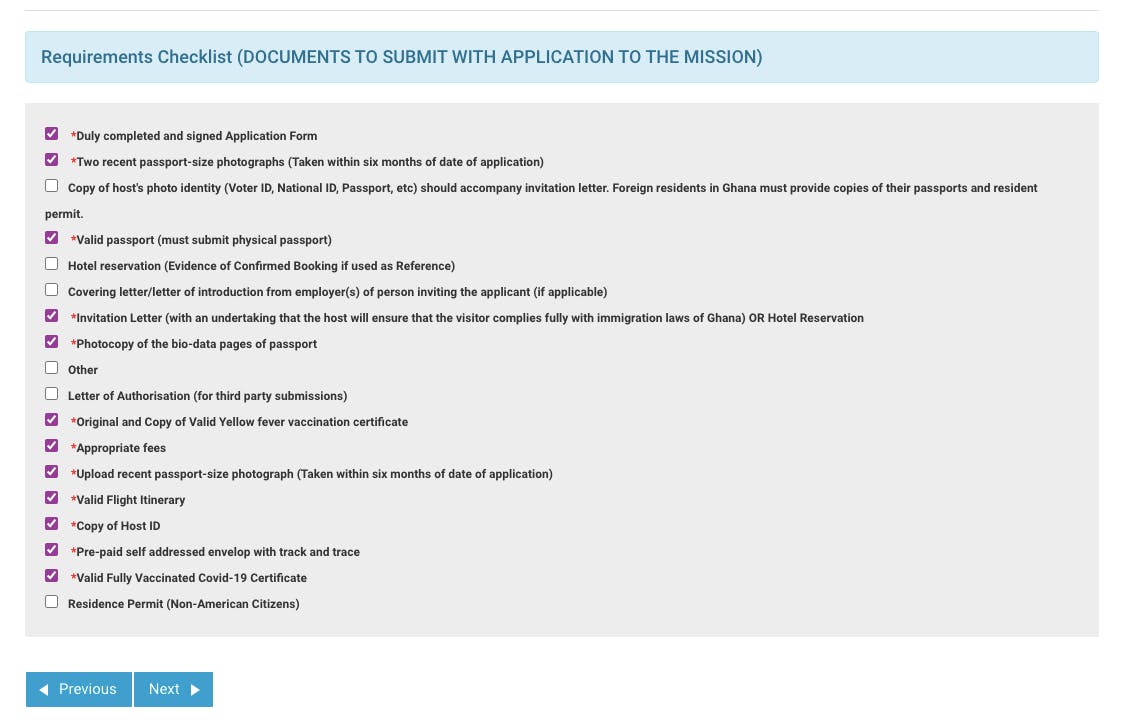 Step 5 - Pay The Visa Fee
Step 5 is the last step of your online application process. You will tick the "Declaration by Applicant" box and select the payment option.The number of entries and the service type in step 1 will determine the visa fees.Once you have paid and uploaded the documents, all that is left to do is submit your application.
Once the application is submitted, you must download your visa application.As highlighted earlier, all the application information must be correct. You will only be able to change or edit information once you have submitted the application.
Atlys simplifies this step immensely by helping you obtain the required documents. Therefore, you will always be present in a situation where you remember one document. Sounds great, right?
Apply The Traditional Way
Once you have filled out the application form and gathered all the necessary documents, you have completed the most challenging part of the whole application process.To mail your application, you must use the return postage service made available by the Ghanaian Consulate.
You will gather all your documents and submit them to the Ghanaian Embassy. In your application, you will submit your completed visa application form, all the required documents mentioned earlier, your original passport, and proof of visa fees.The mailing address for the US citizens is:
Embassy of GhanaConsular Section3512 Internation Dr. NWWashington DC20008Once your visa application is approved, you will receive your passport with the visa on one of its pages.
You can only fill out the application online and mail it through the postage service the Ghanaian Embassy provides. After that, you must wait to drop off or pick up your visa application.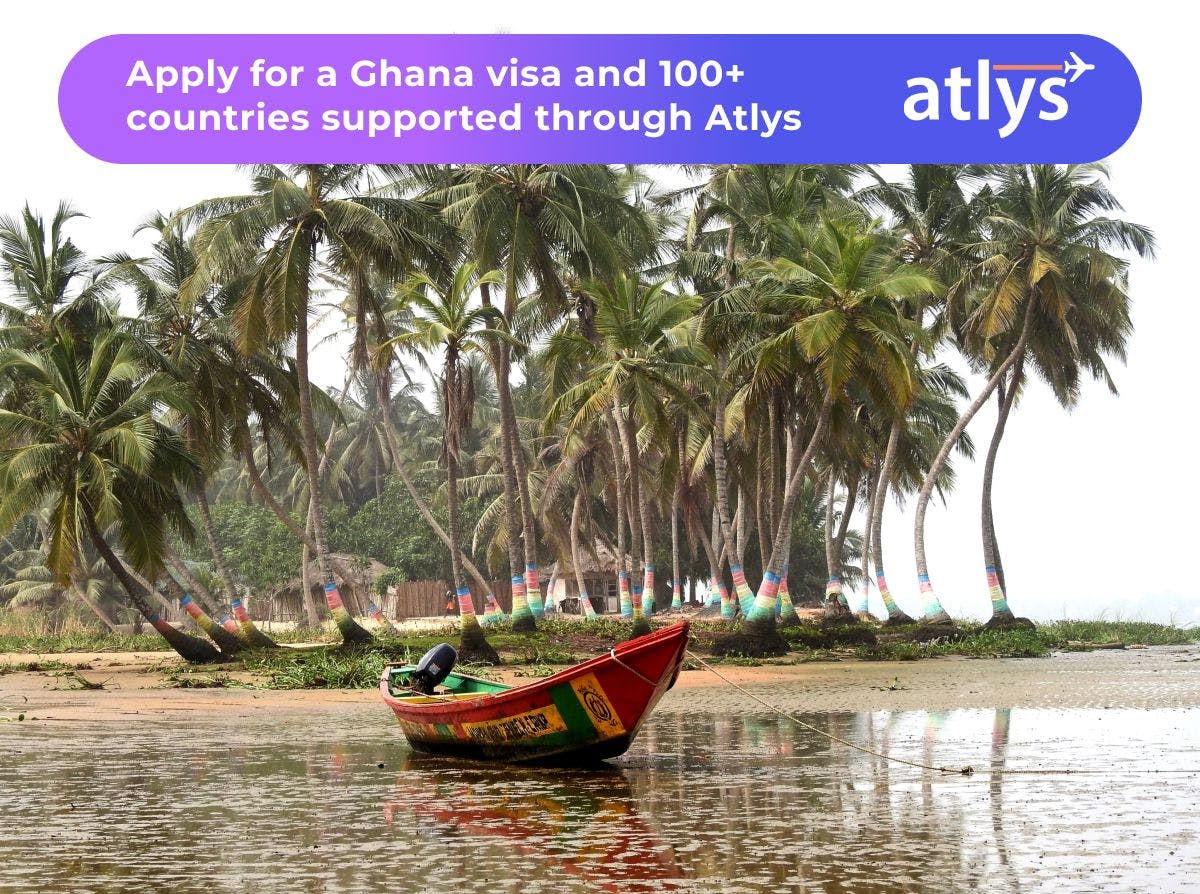 That's All!
That is all the information you need when applying for a visa to Ghana. Now you know how to get a visa for Ghana. I hope that blog has been of great help to you. Atlys can help you save a lot of time on a stress-free visa application. Happy Traveling!
Government SourceThe information is gathered from the official government website.
Frequently Asked Questions
You can mail your completed application to the Ghanaian Embassy at the following address:Embassy of GhanaConsular Section3512 International Dr. NWWashington DC20008
Author: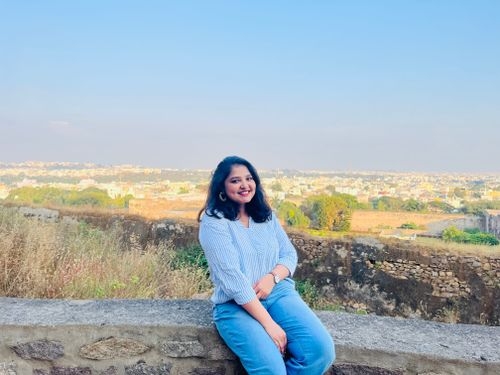 Nikhita Rathod
Verified Author: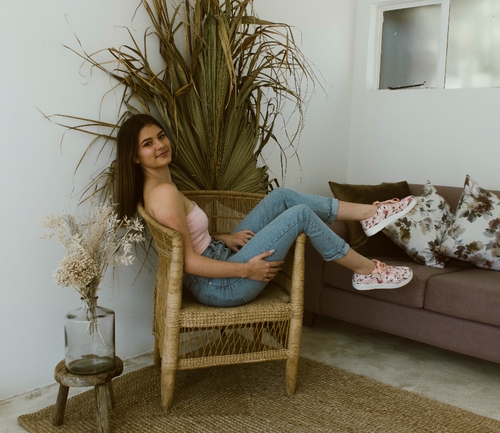 Laliq Schuman