How To Complete Your Israel Entry Form
Last Updated : Sep 4, 2023
Atlys in the news
UPDATE:
The Isreal entry form is no longer required to travel to Israel. The Ministry of Health declared that it is no longer required to fill out the Israel Entry Form.
Source: COVID Information Center Israel Ministry of Health
What Is The Israel Entry Form?
The Israel Entry Form is a mandatory form you must fill out 10 days before traveling to Israel. This form ensures that officials can contact you when you are in contact with someone with coronavirus. Whether you're arriving by air, sea, or land, you must fill out this form.
You can fill out this form on behalf of your children or spouse if they visited the same countries as you in the last 7 days before entering Israel.
Who Needs A Israel Entry Form?
Everyone traveling to Israel must complete an Israel Entry Form before traveling to Israel. If you don't have this entry form, there's a chance that officials will deny you entry into Israel. Therefore, make sure that you give valid information. If any information on the form differs from the information on your passport, officials will deny your entry.
Can I Apply Online For The Israel Entry Form?
Yes, you can. You can start the Israel Entry Form application on the Israeli ministry of health website. The application process is very straightforward. I'll discuss the online application process next.
How Can I Apply For The Israel Entry Form?
The application process for the Israel Entry Form is easy. The best part is that you can do it online from the comfort of your own home. I'll give you a step-by-step guide.
Step 1: Access The Israeli Ministry Of Health Website
First things first, go to the Ministry of Health website. When you access the website, click "Okay, let's start."
Step 2: Choose How You Arrive In Israel
Next, you must choose how you arrive in Israel. The three options are:
After you choose, click "Confirm and Continue."
Step 3: Enter Personal Information
For this part, you need to enter your personal information. This information includes your name, last name, whether you're a permanent resident or citizen of Israel, passport number, date of birth, and email.You need to enter the first and last name as stated on the passport you'll use to enter Israel. After you enter all the information, click "Confirm and Continue."
Step 4: Complete Your Itinerary
Next, you need to complete your itinerary. You'll see that first is the airport you'll arrive at. There's already a name of an airport there, which is the Ben Gurion Air Port-of-Entry, don't change that. After that, you need to enter information like your airline name, flight number, the country from which you depart, date of departure, and date of arrival in Israel.
You'll see that there are only 3 dates given to you when you need to choose your date of arrival. This is because the entry form is only valid for those three Israel entry dates.
You must also click whether you have a connecting flight in Israel. Finally, you must click on the box if your layover in Israel is longer than 12 hours. After you complete the page, click "Confirm and Continue."
Step 5: Details Of Vaccination Or Recovery
There are three options you can choose from:
Vaccinated or recovered only in Israel.

Vaccinated or recovered abroad, or abroad and in Israel.
I recommend you choose "other." After you choose, click "Confirm and Continue."
Step 6: Overview and Add Travelers
Next, you must review all the information you entered. This is also where you can add other travelers like your spouse or children. If you don't have a traveler to add, you can just click to continue.
There you go! You just completed your Israel Entry Form. You'll see that there's an option to download your status. I recommend you download it.
When Will I Get My Israel Entry Form?
You should receive an email from no-reply@moh.gov.il within 15 minutes. The document attached is the "incoming statement," which is your clearance to board the flight.
What Does The Israel Entry Form Cost?
Nothing, there are no costs for the Israel Entry Form. Once you begin your application process, there's no payment step. This means you don't have to pay for the form you're applying for.
What Does The Incoming Statement Document Look Like?
Just to give you an idea of what you're downloading, I got an example to show you. When you receive your Incoming statement document, it'll look like this: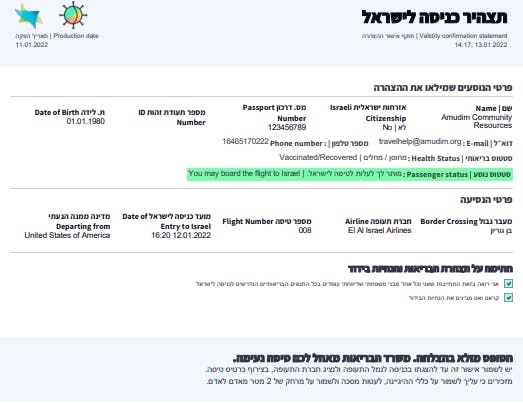 What Should I Do If I Did Not Receive My Israel Entry Form?
Please check your spam folders if you don't receive an email within 30 minutes. If after 1 hour that email has not yet arrived, you must fill out the form again. I recommend you wait a bit longer than an hour just to be sure that you didn't get your email before applying again.
What Should I Do Once I Have My Israel Entry Form?
You can print out the entry permit, but they accept the downloaded form on your phone. However, I recommend you print the entry permit just in case something happens with your phone, like, your battery dies, it gets stolen, or you lose your phone.
When you arrive at the airport, there's a possibility that you need to show the entry form before you get on your flight. Once you arrive in Israel and get to the gates, Immigration officials will ask you to show your Entry Form for Israel. I recommend you make copies of your entry form just in case something happens.
Remember that the entry permit doesn't allow you to enter the country. You must have a visa to enter Israel through a visa application process.
There you go!
Now you can travel to Israel! One of the places I recommend you to visit first is the hipster side of Tel Aviv and maybe take a trip to Jerusalem.
Frequently Asked Questions
The travel restrictions in Israel aren't as strict as they used to be. Foreign nationals can now travel to Israel if they have the covid-19 vaccination. You don't need a negative Covid-19 test result like a PCR test or an antigen test, and you don't need to provide proof of vaccination. However, according to the Population and Immigration Authority website, the entry rules or entry requirements are:

You must present an entry permit.

You must have health insurance covering the treatment for Covid-19.

However, the pandemic is ever-changing, so I recommend you check the covid-19 entry requirements before international travel.
Author: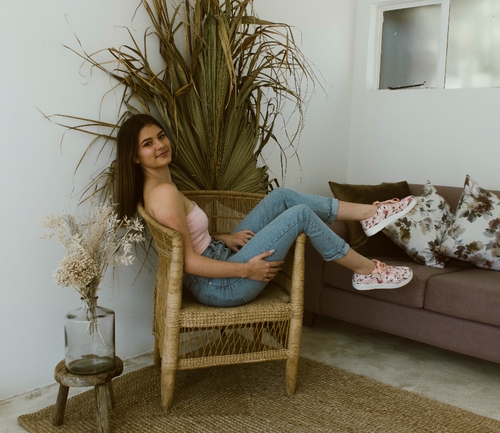 Laliq Schuman
Verified Author: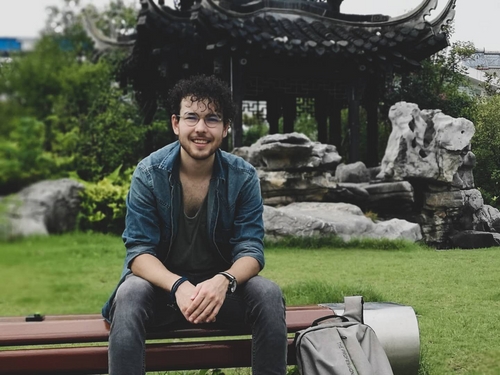 Richard Nathan
Related Articles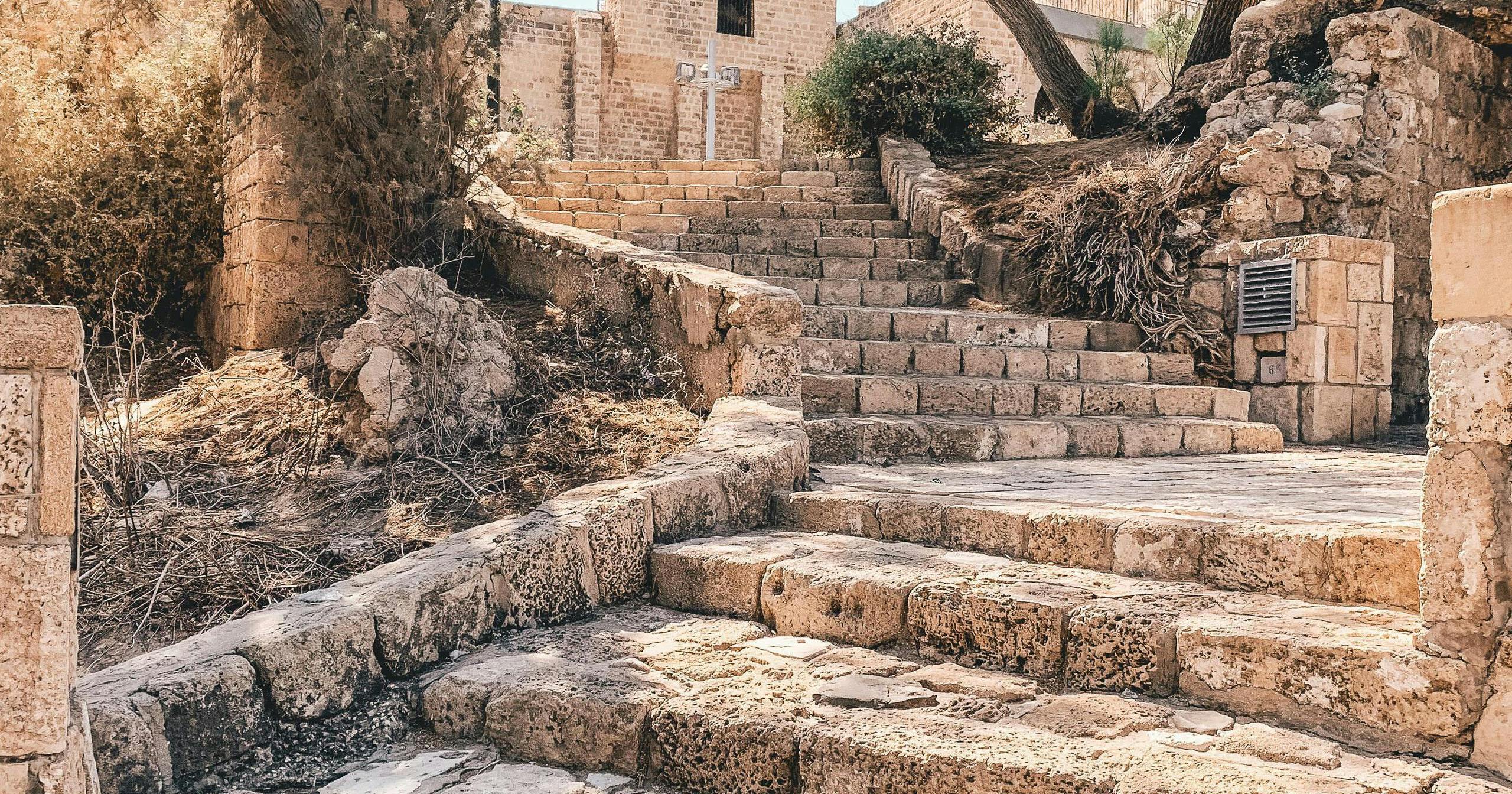 Secure your Israel visa in no time! Get the visa requirements, visa fees, and visa application process.