Israel Visa: Visa Fees And Processing Time
Last Updated : Sep 21, 2023
Atlys in the news
U.S. citizens traveling to Israel only need a visa if they are going for more than 90 days. US and Canadian nationals don't need a visa to enter Israel—you only need a passport that is valid for 6 months after your trip ends.
Here is a brief overview of the visa requirements for nationals who need a visa to enter Israel:
Type of visa required: Israel Tourist visa.
Israel e-visa cost: Total fee for the Israel visa is USD 77.
E-visa processing time: 14 business days.
Can I apply for an Israel visa on arrival? No.
The easiest and fastest way to apply: Atlys.
Read on for in-depth information about the Israel Tourist visa.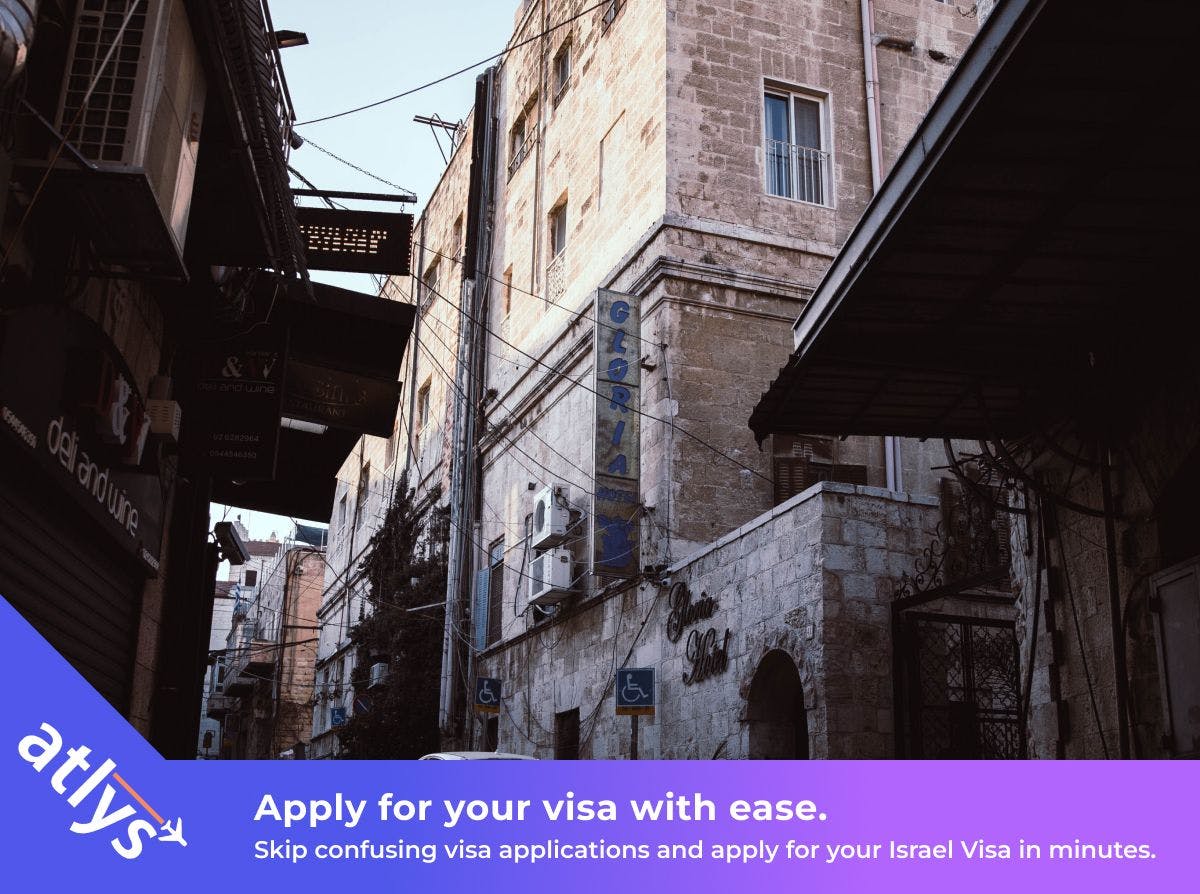 Do U.S. Citizens Need A Visa To Travel To Israel?
No, U.S. citizens don't need a visa to travel to Israel because The United States of America is part of the visa exemption. All you need is a valid passport and your Israel Entry Form. You must show your passport and entry form once you get to the Israel airport (Ben Gurion Airport). However, as a US green card holder, you'll need to apply for an Israel visa.
Update:An Israel entry form is no longer required to enter the country. You can read more about the latest covid requirements on the Ministry of Health's website.
What Is An Israel Tourist Visa?
Israel's Tourist Visa permits access for both business and leisure purposes. The holder is also permitted to study in a Hebrew ulpan. Although the Israeli Border Police will establish the entire length of stay upon admission to the country, you can stay for up to three months. To apply, travelers must physically visit an embassy and apply in person or apply through Atlys.
Who Can Apply For An Israel Tourist Visa?
Anyone wishing to visit Israel for tourism, business, or studying in Hebrew ulpan can apply for the Israel Tourist Visa. However, if you plan to travel to Israel for other purposes, you must apply for a different visa.
Which Countries Can Visit Israel Without A Visa?
Certain countries are part of the visa-exempt program for Israel. This means that if you're from one of the visa-exempt countries, you don't need a visa to travel to and enter Israel. For example, nationals from the following countries can travel to Israel without a visa:
European Union member countries, Albania, Andorra, Argentina, Australia, Bahamas, Barbados, Belarus, Belize, Botswana, Brazil, Canada, Central African Republic, Chile, Colombia, Costa Rica, Dominica, Dominican Republic, Ecuador, El Salvador, Eswatini, Fiji, Georgia, Grenada, Guatemala, Haiti, Honduras, Hong Kong, Iceland, Jamaica, Japan, Lesotho, Liechtenstein, Macao, Malawi, Mauritius, Mexico, Federated States of Micronesia, Moldova, Monaco, Mongolia, Montenegro, Nauru, New Zealand, North Macedonia, Norway, Palau, Panama, Papua New Guinea, Paraguay, Peru, Philippines, Russia, Saint Kitts and Nevis, Saint Lucia, Saint Vincent and the Grenadines, San Marino, Serbia, Singapore, Solomon Islands, South Africa, South Korea, Suriname, Switzerland, Taiwan, Tonga, Trinidad, and Tobago, Ukraine, and the United States.
How Much Does An Israel Tourist Visa Cost?
You need to pay a visa fee at the Embassy for officials to process your application. The visa fee for the Israel Tourist Visa is USD 77, including visa fees and ancillary charges.
What Is The Israel Visa Validity?
For those who intend to visit Israel temporarily, a tourist visa is granted (for a visit, tourism, or visiting relatives and friends). A person who enters Israel on a tourist visa is not allowed to work there. From the date of issuance, a tourist visa is valid for up to three months.
What Is The Processing Time For An Israel Tourist Visa?
The processing time for an Israel Tourist Visa can take up to 14 working days. However, certain things can impact the processing time, such as if the Embassy is busy or you must remember to submit a document.
Entry Requirements For Israel Tourist Visa?
You'll need to meet certain entry and exit requirements. For example, to enter Israel, you must have a valid passport at least six months before expiration. In addition, you may be required to provide proof of onward travel or sufficient funds to cover your stay in the country.
What Are The Required Documents For An Israel Tourist Visa?
Before starting your Israel visa application process, you must gather certain travel documents. If you forget a document, it could slow down the application process. You need the following travel documents:
A completed and signed application form for a visa to enter Israel. You can get the entry form from the visa section.

Itinerary includes plane ticket and hotel reservation information or address where you will be staying.

Passport (must be valid for at least six months beyond the period of the stay in Israel)​ or travel document (must be valid for at least one year beyond the period of the stay in Israel).

Health Insurance (a letter stating that you are fully covered for your international travel).

Letter from Employer stating that you're currently employed and will continue to work once you return from your trip.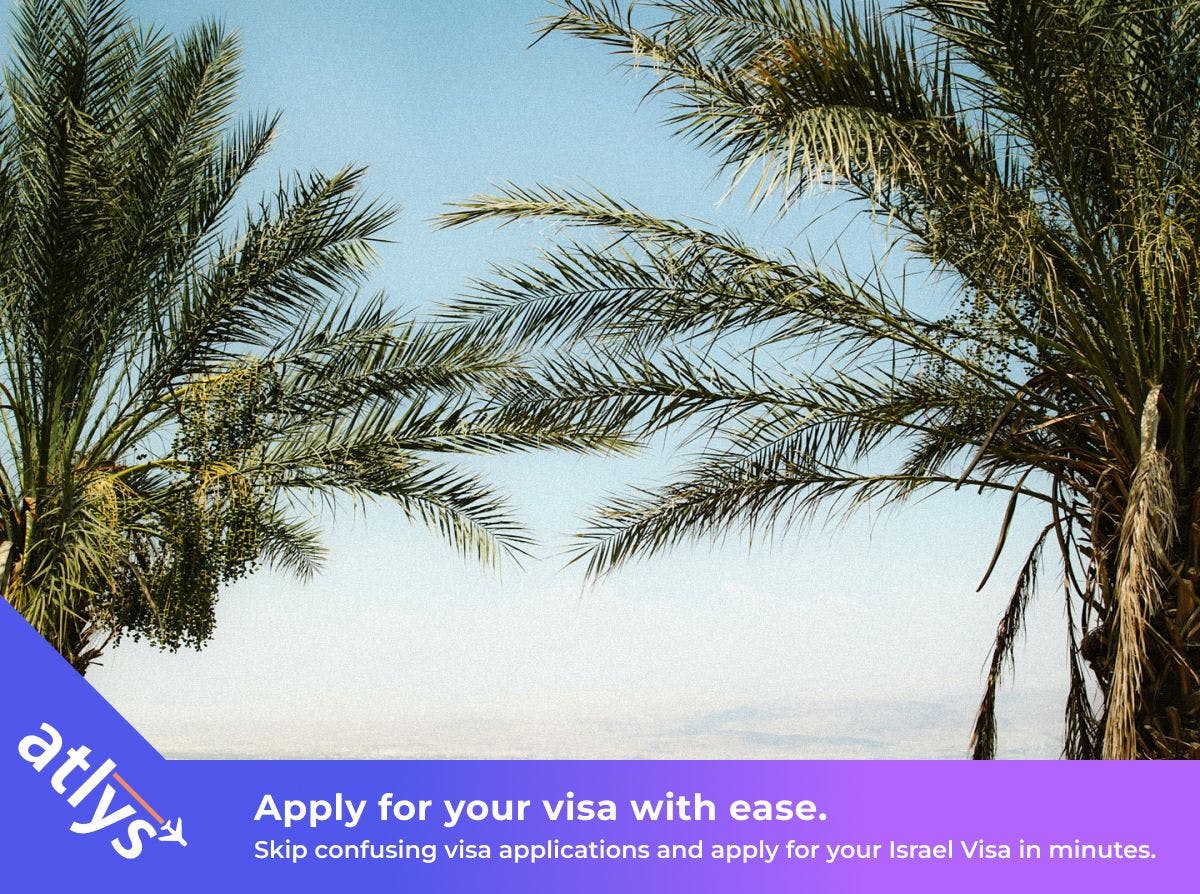 Israel Visa Application Process
Applying for an Israel tourist visa is a great way to explore this beautiful country's rich cultural heritage and breathtaking landscapes. However, whether you're planning a long vacation or just a short visit, certain requirements and steps must be taken to properly apply for your Israeli visa. You must apply for your Tourist Visa one to two months before you travel to Israel.
How To Apply Through Atlys
Firstly start your application; you can apply by downloading the Atlys app and searching for Israel. Then follow the below steps:
Travel details: Click on continue after selecting the type of visa you wish to apply for. Select the travel dates and how many people you are applying for.

Take a Photo: Take the visa photo directly on the app, or upload an existing photo from your gallery. The app will crop and adjust your photo to meet the visa requirements.

Submit Your Documents: The information and the passport copy will be saved on the app for future applications. Fill out the required details, such as your name and passport number.

Review: You should review your application before proceeding. Atlys, however, has an auto-review system that checks the information.

Check out: You can pay for the relevant visa fees using your chosen card on the app and submit your application. You will only need to wait for approval after you have paid the visa fees.
How To Apply Through Israel The Embassy?
Here is how you can apply for an Israeli visa through the embassy. With Atlys, you may complete your Israel visa application from anywhere in the world, finish it quickly, scan documents with your phone's camera, and more.
Step 1: You must apply for your visa at the Israeli Embassy near you.

Step 2: You need to gather all the required travel documents

Step 3: You must give in all the documents and application forms at the Embassy. This is also when you must pay the Israel Tourist Visa fee.

Step 4: You need to attend your interview. Officials will only ask questions to get more information about your trip to Israel.

Step 5: You'll receive an email as soon as your visa is processed, and then you can go and get your visa and passport at the Israeli Embassy.
If you are worried about not having a passport photo, you can use the free visa photo tool on Atlys to create a perfect photo.
Can I Extend My Israel Tourist Visa?
Yes, you can. You can apply for a visa extension if you want to stay for a more extended period in Israel with your Tourist Visa. Yo​​u should apply for the extension at the Population Authority office in Israel.
When applying, you must present why you want to stay longer, such as family ties, a medical reason, a legal procedure, etc.
What Are The Exit Requirements?
U.S. green card going to the West Bank might want to check with Israeli immigration officials at any of the ports of entry to find where they need to leave. Some have received entry permits into Israel but have been told they can only leave through Ben Gurion Airport with a special permit, which is rarely given. As a result, some families have had to be split up, and other travelers have lost their airline tickets.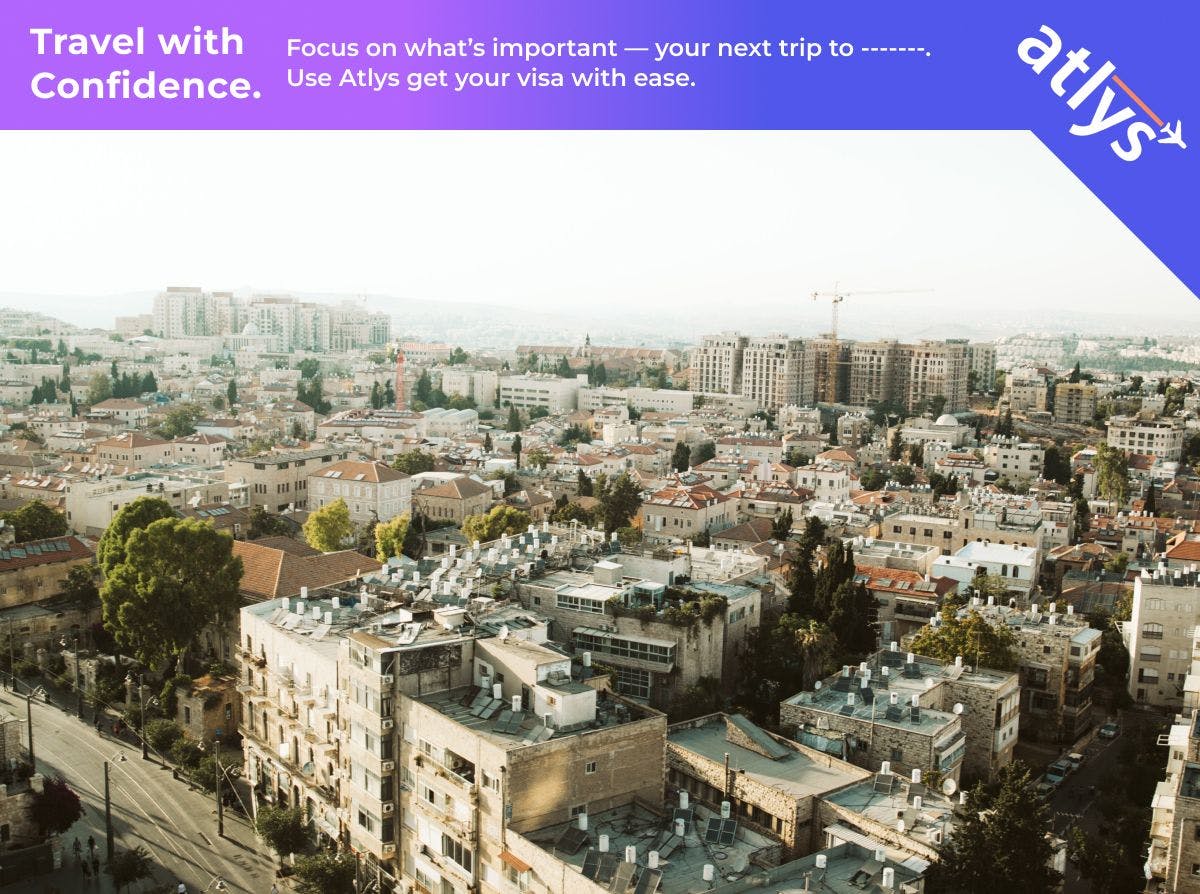 There You Go!
Now, you can travel to Israel and learn about the fascinating culture of the Israeli citizens! One of the places you should visit first is the hipster side of Tel Aviv, and take a trip to Jerusalem. So live your dream and start to travel.
Government Sources:
The information on the Israel visa has all been gathered from an official government source, Ministry Of Foreign Affairs.
Frequently Asked Questions
With the Atlys app, you may submit your visa application in under 10 minutes. There's no need to gather application forms and required documents or wait in line.
Author: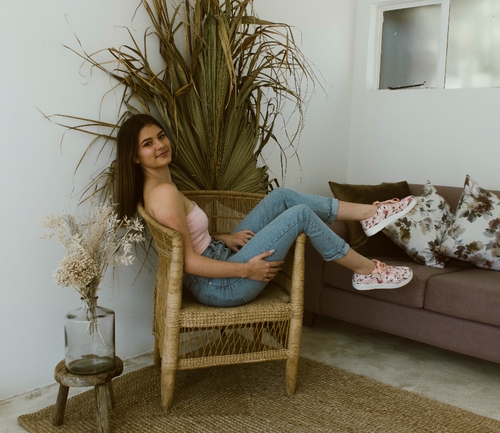 Laliq Schuman
Verified Author: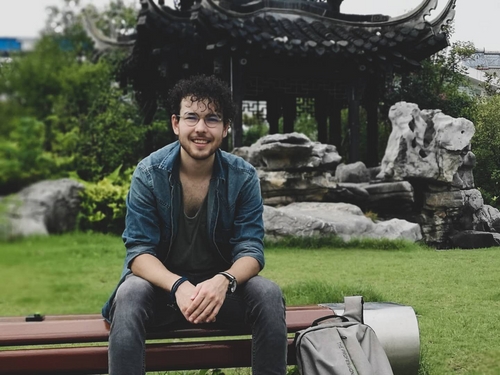 Richard Nathan
Related Articles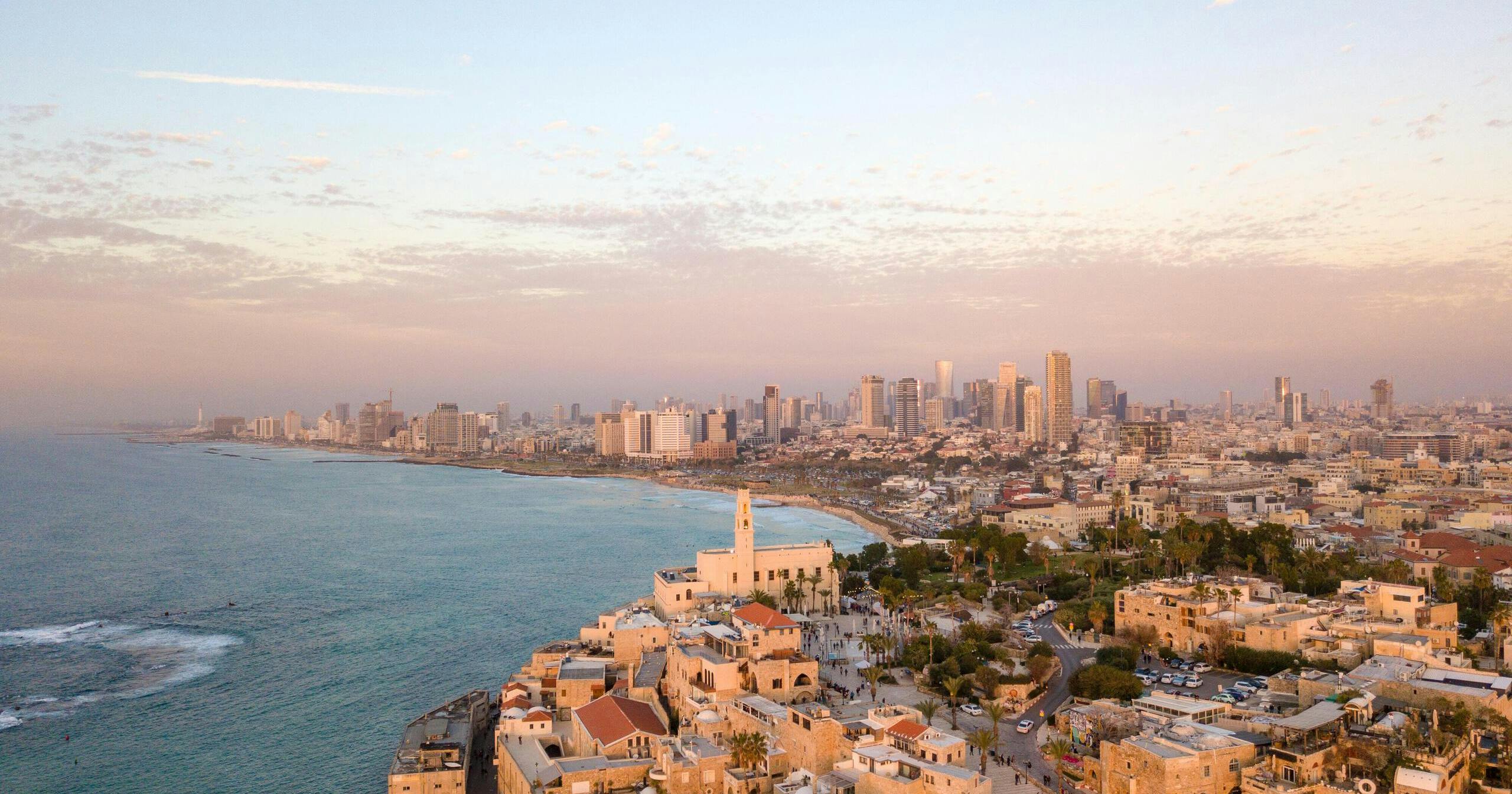 This post covers everything you need to know about the Israel Entry Form. It also includes a step-by-step guide of the application process.