Jamaica Entry Requirements: How To Apply For A Jamaican Visa
Last Updated : Oct 2, 2023
Atlys in the news
Jamaica is a Caribbean country surrounded by Caribbean coastlines and islands. A musical country and the birthplace of reggae music. And diversity is not only found in the topography but the people and even the culture.
If you like being surrounded by beaches with a cocktail in your hand and looking at the gorgeous sunset, look no further than Jamaica. It is a beautiful country with equally beautiful people. So visit Jamaica if you want to lay back and relax for a few days.
Now you must be thinking that Jamaica sure does sound good, but what are the requirements, and do I even need a visa to visit. Not to worry, I have got you covered. I wrote this blog entailing all the requirements and needs you must meet before visiting Jamaica.
Below are the few topics I will be going over in the blog. Shall we begin?
What Are The Requirements To Visit Jamaica

Do I Need A Visa For Jamaica

What Are Jamaican Visa Requirements

How To Apply For A Jamaica Visa

How Much Does A Jamaican Visa Cost
What Are The Requirements To Visit Jamaica
Now that the Jamaican Government has lifted all the Covid-19-related regulations on international travel, it has become easier to visit the country. You are no longer required to present a negative Covid-19 Test Result or a Covid Vaccination Certificate, nor are there any quarantine requirements. However, the airports might have covid screenings in place.
You might be required to take a covid-19 test upon arrival by the authorities if they suspect you of exhibiting any covid symptoms. If you test positive for covid-19, you will have to self-isolate in a hotel room or at a government-provided facility for 10 days at your own cost.
For entry into Jamaica, you need to meet the following entry requirements:
A valid passport for the duration of your stay

A valid entry visa unless you are from a visa-exempt country

Proof of sufficient funds for the duration of your stay

An onward or return ticket.
In the case of minors, you might get asked to provide proof of relationships, such as an original birth certificate or adoption certificate.
Australia, Canada, the U.K., U.S. citizens, and many other countries can travel visa-free, which we will discuss further.
You need to fill in an immigration or C5 form before entering the country. To make things even easier, the Jamaican Government offers the form online to fill in before you arrive in Jamaica.
You must never forget to check requirements with your airlines as well. Make sure you are following the airline covid regulations, as well as you must make sure that you can travel to Jamaica without a visa and that the airline allows it.
NOTE: You must apply for the relevant visa type, such as a permanent residence visa, work permit, or business visa if you wish to travel to Jamaica for purposes other than tourism.
What Is An Immigration/ Custom C5 Card?
As mentioned earlier, you must fill in an immigration or C5 form before you are allowed to enter the country. This form is mandatory, and sometimes it is referred to as the Jamaican Immigration Form. You can fill out this form online or at the port of entry.
It is an Immigration/Customs Declaration form that enables you to declare any food, plant, animal products, cash, cheques, money orders worth USD$10,000, its equivalent, or more. It also makes it easier for the Jamaican Authorities to keep track of all the items brought with individuals traveling into the country.
Each person wishing to enter the country must fill in the form. Adults and children must fill it. The online form allows the primary applicant to add their spouse and children under the age of 18 on the same form, which saves time and is more efficient.
Try to fill out the form online as some of the PDF forms available are not up to date and may not be accepted by the immigration authorities.
Do I Need A Visa For Jamaica
Many countries' citizens like Canadian and the United Kingdom citizens can visit Jamaica for up to 90 days with no visa. At the same time, the United States of America can visit Jamaica for up to 6 months without a visa for leisure and business.
An individual with a valid visa issued by the USA, Canada or the United Kingdom, or a State within the Schengen area can have their visa waived for 30 days. Additionally, regardless of their nationality, valid U.S. Green Card holders do not need a Visa to travel to Jamaica. However, they should meet all the exact requirements as a U.S. national.
Certain countries can also get a visa at the port of arrival. You can check all the individual countries visa requirements here.
Please note that cruise ship passengers do not need a visa to visit Jamaica.
What Are Jamaican Visa Requirements
Once you know if you can travel visa-free or need a visa, it becomes easier to gather your documents. Some of the visa documents are the same as what an individual who can travel visa-free would need.
The following travel documents are required when applying for your Jamaica Entry Visa:
A valid passport with at least one blank page

Hotel reservations where applicable

Bank Statements or proof of sufficient funds for your stay

Proof of vaccination against Measles, Mumps, Rubella, and Polio

Proof of yellow fever vaccination for individuals traveling from high-risk countries
Additional documents for other visa types:
For a study visa, you need an acceptance letter from A registered educational institution mentioning the purpose and length of stay

Work permit requires a letter from the Ministry of Labour allowing you to work in Jamaica

Marriage Certificate, Jamaican spouse's certified passport copy, and birth certificate for a spousal visa

For a permanent resident visa, you need a Jamaican spouse's certified passport copy and birth certificate for a spousal visa and a letter from Passport, Immigration and Citizenship Agency
How To Apply For A Jamaica Visa
Knowing all the requirements and the documents needed makes the application process much smoother. Applying for a Jamaican visa shouldn't be complicated if you have all the necessary documents.
You can apply for a Jamaican visa at the Jamaican High Commission or Embassy in person or send your documents via post. However, you must make sure that you do not need an appointment before going to the Embassy. To check that, you must visit the Jamaican embassy website in your country.
Once you have the appointment for your visa referral, you must take all documents and your original passport to the appointment. The visa process can take anywhere from 2 to 7 working days in the U.S.
Once your visa is approved, you can collect it from the Embassy, or they will mail it back to you, depending on your visa application.
If you are applying for a visa at the port of entry, you must present all the requirements. The immigration officer will decide your right to admission and the length of your visa depending on the documents submitted.
Make sure to apply for the required visa 1-2 months in advance to receive the visa timely.
How Much Does A Jamaican Visa Cost
Similar to a different visa application for each country, the visa fees also change. A $10 fee is applicable for a visa consultation and mailing of $20 for mail-in applications. Depending on your current passport, the visa fee changes. You can pay the visa fee via direct bank transfer to the Jamaican Consulate or Embassy. You can check the visa fee for your country HERE.
There is a fee of $100 for visa applications at the port of entry. In addition, individuals that arrive at the Port of Entry without a visa from a country requiring a visa have to pay an additional fee of US$350.
For any reason, if you need to cancel your visa application and request a refund, the applicant must write and sign a letter. The refunding of an application fee is not automatic, and it depends on how far along the application is. The refunds will only be partial in cases where refunds are approved. Parents/guardians are responsible for applying on behalf of minors.
You can also check the visa fees and processing fees on the passport, immigration, and citizenship agency website.
And that is all. I hope that this blog has helped you and you found the answer to your question. Now you know everything about Jamaica's entry requirements and how to apply for a visa. Make sure to check out other blogs on our website.
Happy Travelling!
Frequently Asked Questions
The validity of your visa will depend on the country you are applying from, the purpose of your travel, the travel documents submitted on the application, and the visa granted by the Jamaican Consular Office.
Author: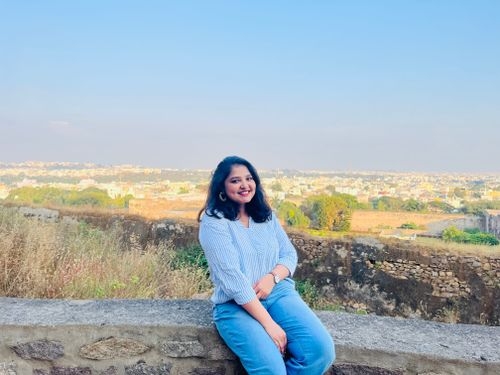 Nikhita Rathod