How Many Countries Are In Europe And Which Are They?
Last Updated : Oct 2, 2023
Atlys in the news
A big part of Eurasia's landmass in the Northern Hemisphere and the Eastern Hemisphere is covered by Europe. Europe is the second smaller continent on the planet and shares its continental landmass with Asia and Africa.
The Arctic Ocean surrounds Europe to the north, the Atlantic Ocean to the west, the Mediterranean Sea to the south, and Asia to the east.
The Italian peninsula extends from the southern Alps in the north to the central Mediterranean Sea in the south. On the other hand, the Balkan Peninsula in Southeast Europe and the Fennoscandian Peninsula in the north of Europe demonstrate the diversity in geography across Europe.
Water bodies such as the Ural Mountains, the Ural River, the Caspian Sea, the Greater Caucasus, the Black Sea, and the waterways of the Turkish Straits separate Europe from Asia.
Though Europe is a sought-after destination to visit, not many people know of its varied topography. Major countries in Europe, such as the UK, Germany, France, and Italy, are well recognized; however, Europe has many lesser-known countries with a lot to offer.
If you wish to visit these beautiful countries and need to apply for a visa, look no further. You can do it all directly on Atlys.
Let us conquer the topic of Europe starting with this question:
How Many Countries Are There In Europe?
For many years, Europe has been divided, not just by borders but also historically, culturally, geographically, and economically. First, however, we are here to discuss how Europe is divided geographically.
According to the United Nations, there are 50 countries in Europe. These countries are further grouped according to their geographical regions and subregions.
Mainly Europe can be divided into four regions:
Some of the countries in these regions are de facto independent countries with limited to no international recognition. Additionally, there are several dependencies and similar territories with broad autonomy. Europe also shares some of these countries with Asia, known as transcontinental countries.
Which Countries Are In Europe?
As mentioned earlier, European Countries can be classified into four main geographical regions. Therefore, I have segregated these countries according to their geographical location, the de facto countries, and territories.
Countries In Northern Europe

Countries In Southern Europe

Countries In Eastern Europe

Countries In Western Europe

Transcontinental Countries In Europe

De Facto Countries In Europe:

Dependencies And Territories In Europe
Countries In Northern Europe
Countries In Southern Europe
Countries In Eastern Europe
Countries In Western Europe
Transcontinental Countries In Europe
De Facto Countries In Europe
Dependencies And Territories In Europe
Sovereign Base Areas of Akrotiri and Dhekelia - UK

Bailiwick of Guernsey - UK
Which Are The Nordic Countries?
When people talk about the Nordic countries, they tend to confuse them with Scandanavian countries. Hence, I decided to talk a little about the difference.
Nordic Countries
The Nordic countries are part of the northern European cultural and geographical region. Consequently, the Nordic countries have similar lifestyles, histories, religions, and social structures.
However, Nordic identity is a product of its linguistic heterogeneity, with three unrelated language communities. Countries and other territories that make up the Nordic region are:
Denmark, Finland, Iceland, Norway, and Sweden also include territories and regions such as Faroe Islands, Greenland, Åland, Jan Mayen, Svalbard, Bouvet Island, Peter I Island, and Queen Maud Land.
Scandinavian Countries
Scandinavian typically refers to Denmark, Norway, Sweden, or the Scandinavian Peninsula. This region extends from mainland Norway and Sweden to the northwest corner of Finland. Occasionally, Scandinavia is used as a synonym for the Nordic countries outside the Nordic region.
Nordic territories not part of Scandinavia are Bouvet Island, Greenland, Jan Mayen, and Svalbard.
These two terms are very confusing, and there is a big grey area when defining these two terms. Though slight differences between the two, it is essentially the same thing.
Which Are The Schengen Member States Vs European Union?
Before knowing which country belongs to which entity, it is essential to learn about the difference between the two entities.
As you will see below, many of the same countries are part of the Schengen Area and European Union or EU.
Schengen Area
Many European countries signed the Schengen Agreement to allow the free movement of people between the signing countries, which is now known as the Schengen Area. Due to the agreement, these countries have abolished all passports and other border control types at their mutual borders.
26 countries have signed the Schengen Agreements, which comprise of:
Austria, Belgium, Czech Republic, Denmark, Estonia, Finland, France, Germany, Greece, Hungary, Iceland, Italy, Latvia, Liechtenstein, Lithuania, Luxembourg, Malta, Netherlands, Norway, Poland, Portugal, Slovakia, Slovenia, Spain, Sweden, and Switzerland.
European Union (EU)
The European Union was established as a political and economic union of several countries in Europe. These countries have a standardized system of laws that governs a single internal market, allowing them to maintain standard trade, agriculture, fisheries, and regional development policies.
Citizens, goods, services, and capital of the member states can move freely among these countries. There are currently 27 countries as EU member states of the political and economic bloc. The EU member states are:
Austria, Belgium, Bulgaria, Croatia, Cyprus, Czech Republic, Denmark, Estonia, Finland, France, Germany, Greece, Hungary, Ireland, Italy, Latvia, Lithuania, Luxembourg, Malta, the Netherlands, Poland, Portugal, Romania, Slovakia, Slovenia, Spain, and Sweden.
Here is a diagram showing the relationships between various multinational European organizations and agreements.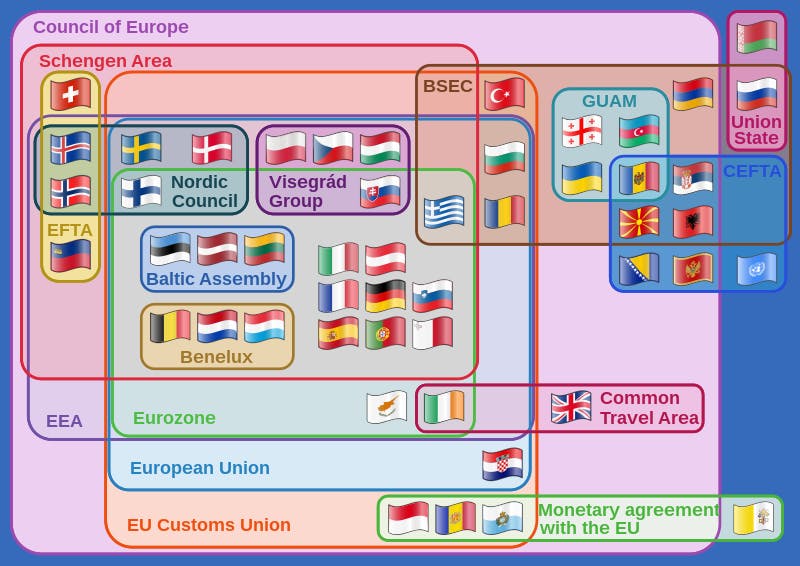 Furthermore, the Schengen Area has introduced ETIAS or European Travel Information and Authorisation System for visa-exempt countries.
Disclaimer: Soon, the countries that enjoy visa-free travel will have to register with ETIAS. You must check our detailed blog on ETIAS or read more about the Schengen Area
What Are The Languages Spoken In Europe?
There are about 225 indigenous European languages. Some of those languages are:
Germanic Languages like German, Dutch, Bavarian, Swedish, Danish, Norwegian, Flemish, and Afrikaans.
Slavic Languages like Russian, Ukrainian, Polish, Belarusian, Czech, Bulgarian, Croatian, Serbian, Slovak, etc.
Baltic Languages include Lithuanian and Latvian.
Celtic languages such as Welsh, Cornish, Gaelic, and Breton.
The EU has 24 official languages: Bulgarian, Croatian, Czech, Danish, Dutch, English, Estonian, Finnish, French, German, Greek, Hungarian, Irish, Italian, Latvian, Lithuanian, Maltese, Polish, Portuguese, Romanian, Slovak, Slovenian, Spanish and Swedish.
Other Languages are Albanian, Armenian, Basque, Hellenic Turkish, etc.
What Are Some Things I Can Do In Europe?
Well, now you know pretty much everything about the countries in Europe but what can you do in Europe on a vacation?
From the breathtaking Eiffel Tower in Paris to the town of history in Athens Europe lacks nothing. Instead of listing names after names of places, I suggest you have a look at the Europe tour packages and plan out your perfect holiday!
That Is All!
I hope this blog showed you the diversity among European countries. Each country has something different to offer historically and geographically.
Author: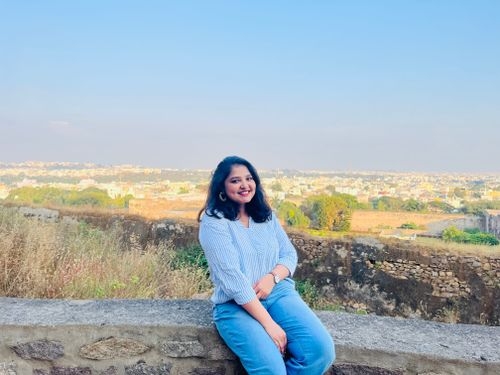 Nikhita Rathod