How To Apply For Your Nigeria Visa On Arrival Without Hassle!
Last Updated : Oct 2, 2023
Atlys in the news
30-Second Summary
A Nigerian Visa on Arrival is a visa that you receive upon arriving in Nigeria, however, Nigeria only offers US citizens a visa on arrival for business purposes.
It is the fastest way to obtain a visa for business purposes, as the processing is done while you wait. However, you need an approval letter to apply for a visa on arrival.
Note:
There is a strict eligibility criteria.

The immigration officer stationed at the port of entry possesses the ultimate authority to either approve or reject the visa application. Their decision is final.

It is important to note that approval for the VOA is not guaranteed. Meeting the eligibility criteria does not automatically ensure approval.

It is strongly recommended to apply for a visa beforehand to avoid any issues.

Source: Travel.State.Gov
Important Information
Nigeria
— Can I get a Visa On Arrival in Nigeria?
Yes, however the Nigeria visa on arrival is ONLY available for business purposes.
— How much is a Visa On Arrival for Nigeria?
The Nigeria visa on arrival is USD 160. This fee is usually paid upon arrival.
— VOA validity
The validity of the Nigeria visa on arrival is 30 days. This can then be extended.
— Nigeria Visa Processing Time
You need to stand in the queue at the airport which can usually take a few minutes to an hour.
— Other visas I can apply for?
Atlys encourages US citizens to rather apply for their visa before their travels. Rather apply for your Nigeria Tourist Visa.
— Do US citizens require an approval letter?
Yes, an approval letter is mandatory. You cannot apply for a Nigeria visa on arrival without an approval letter.
Are you a US citizen planning to visit Nigeria for business? You're in luck! You can apply for a Visa On Arrival for Nigeria. In this blog post, I'll provide all the information you need about the Nigeria Visa On Arrival for US citizens. Some important information includes:
What Is A Nigerian Visa On Arrival?
A Visa on Arrival is exactly what it sounds like, a visa you receive once you arrive in Nigeria. This is usually the fastest way to get a visa for business purposes, as the visa gets processed while you wait.
Who Can Apply For Visa On Arrival?
The following applicants can apply for a VoA:
Frequently traveled Business Persons of International Repute

Government Delegation Members

Holders of United Nations Laissez-Passer

Holders of African Union Laissez-Passer

Citizens of all African Countries
What Are The Required Documents For A Nigeria Visa On Arrival?
Before you apply for a visa on arrival, you will have to learn about the visa requirements and the travel documents needed for the visa application.
Business Visa On Arrival:
A valid passport (for a minimum of 6 months).

A Nigerian visa application form.

Two passport photos with white background. You can use the free passport photo maker Atlys provides.

Proof of online payment for the visa fee.

A letter of invitation from the Nigerian host company.

A self-sponsored business person must provide proof of sufficient funds and does not require a letter of invitation.

The applicant will have to write an introduction letter stating the purpose of the visit.

CAC certificate of the host company, issued by the Corporate Affairs Commission of the Federal Republic of Nigeria or an NGO's permission letter.

Your flight itinerary; arrival and return ticket.

Hotel reservation or proof of accommodation.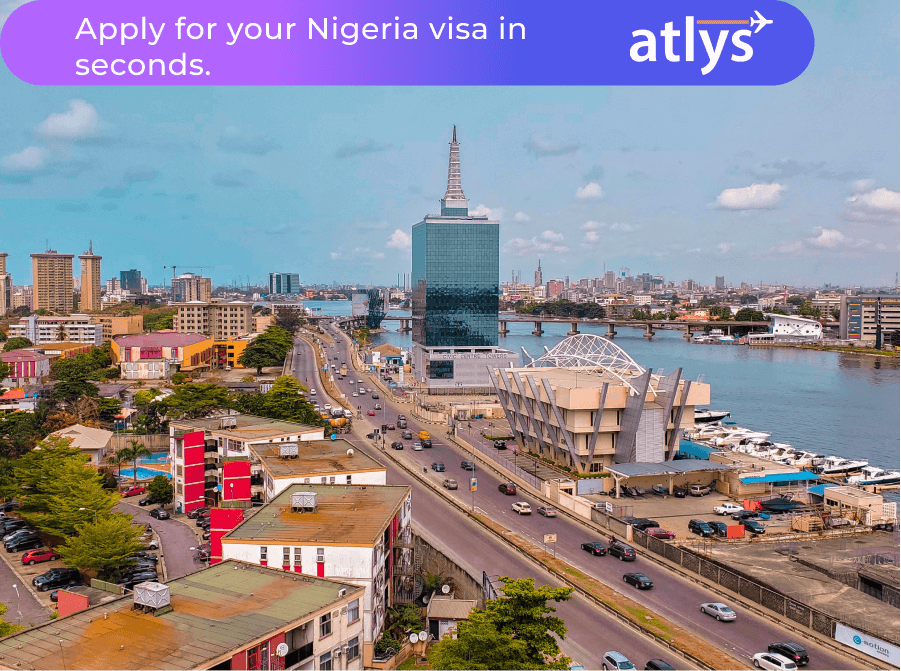 How To Get A Visa Approval Letter For Nigeria
The visa application process for the Nigerian Visa On Arrival is fairly straightforward and easy. I will take you through the entire application process in detail.
Step 1: Apply For Your Visa Approval Letter
You will have to visit the visa on arrival section on The Nigerian Immigration Services website. You will select your "Present Nationality" and "Visa Type." Certain countries are eligible for tourist and business visas on arrival, and others can only apply for a business visa on arrival. The United States of America citizens can only apply for a business visa.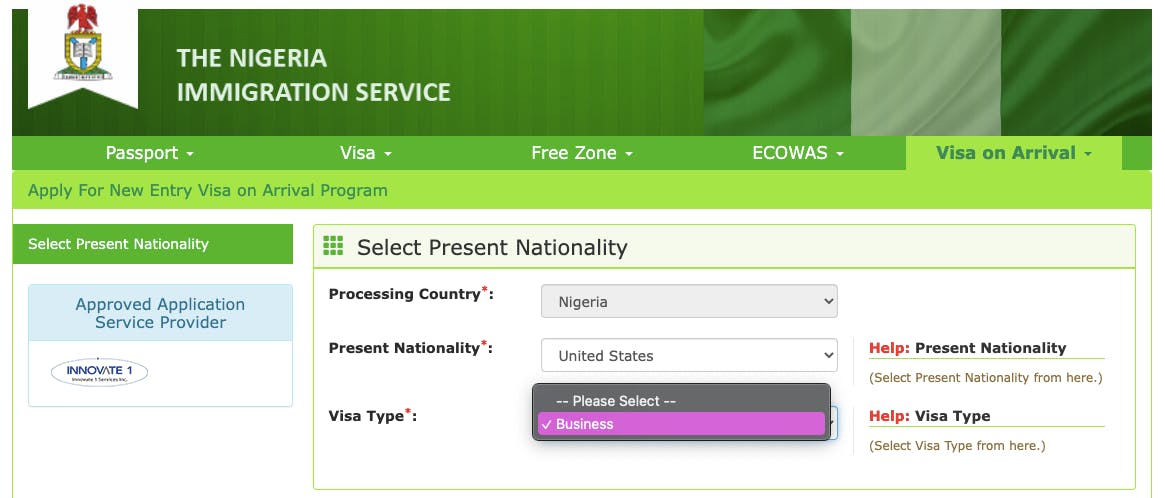 Click on start application at the bottom of the page to begin your application process.
Step 2: Create An Account
Once you have selected those two options, you will choose "start application" at the bottom of the webpage. After that, you will be guided to the innovate1 webpage.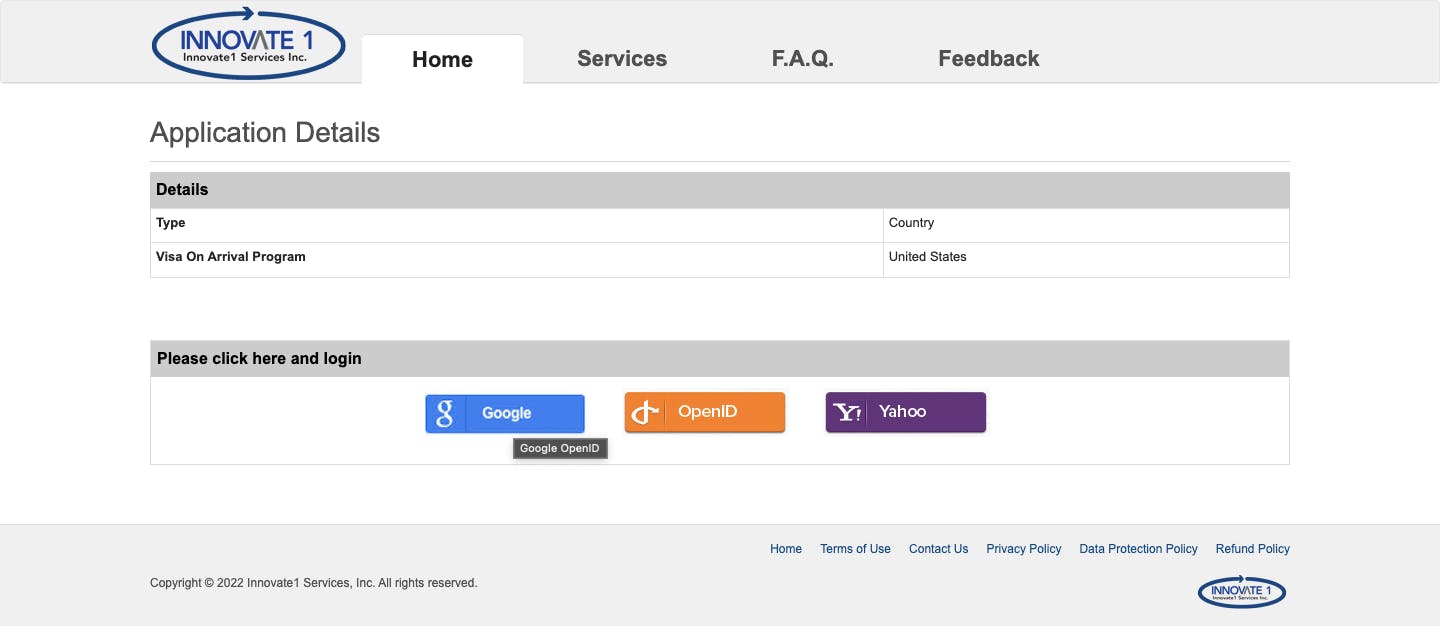 Here you must create your account by clicking on either one of the google, yahoo, or open id option as shown in the picture.
Once your account has been created, you will be prompted to the page shown below. Here you must click on "VOAP Guidelines "in blue and click "Next."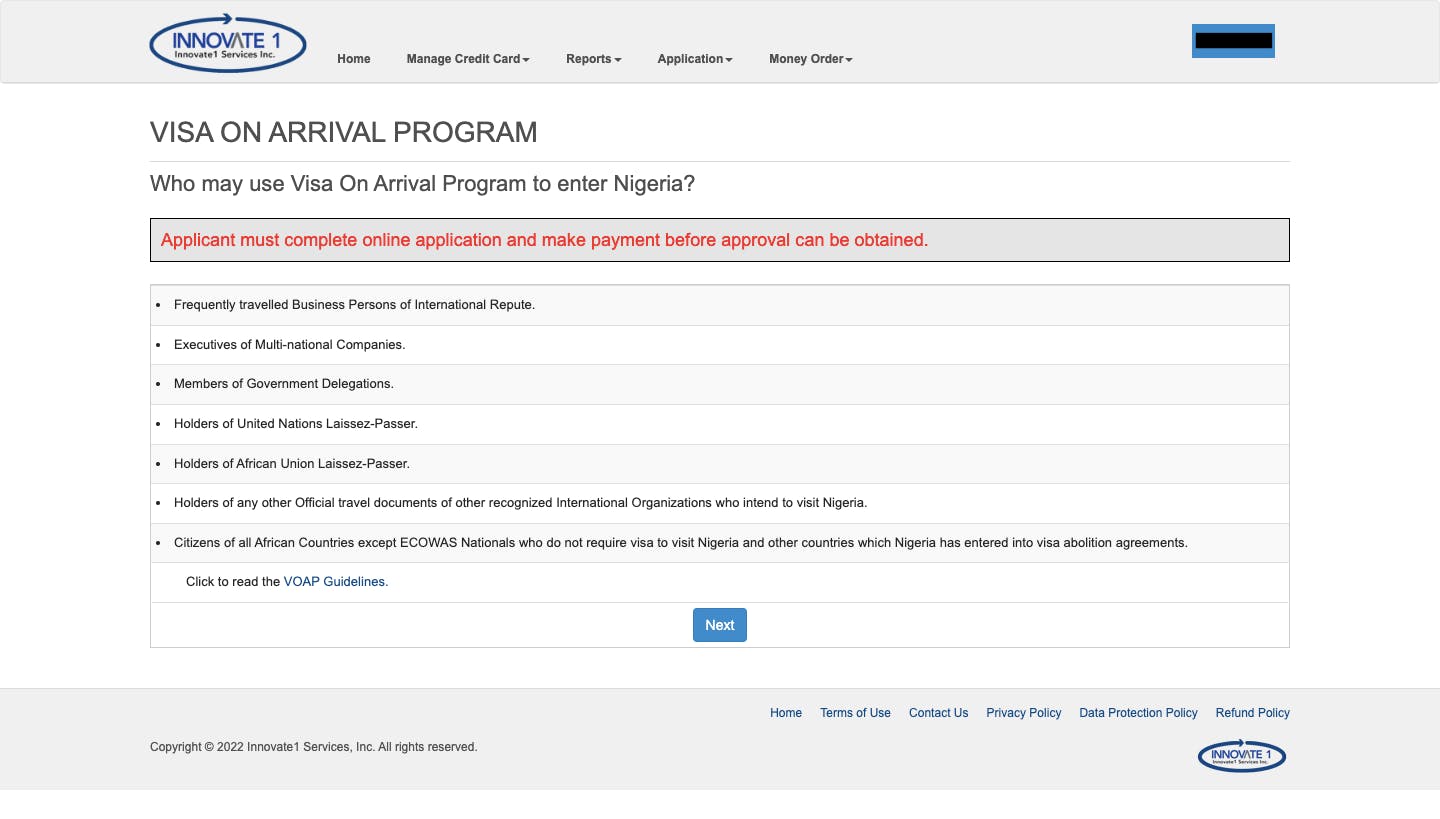 Step 3: Complete The Visa Application From
Here starts the actual application process for your visa on arrival. At the top, it will show you all the requirements for the business visa.
On the first page of your application, you will be asked to fill in your personal details such as name, gender, date of birth, place of birth, photograph, and application type. You must also select the type of business.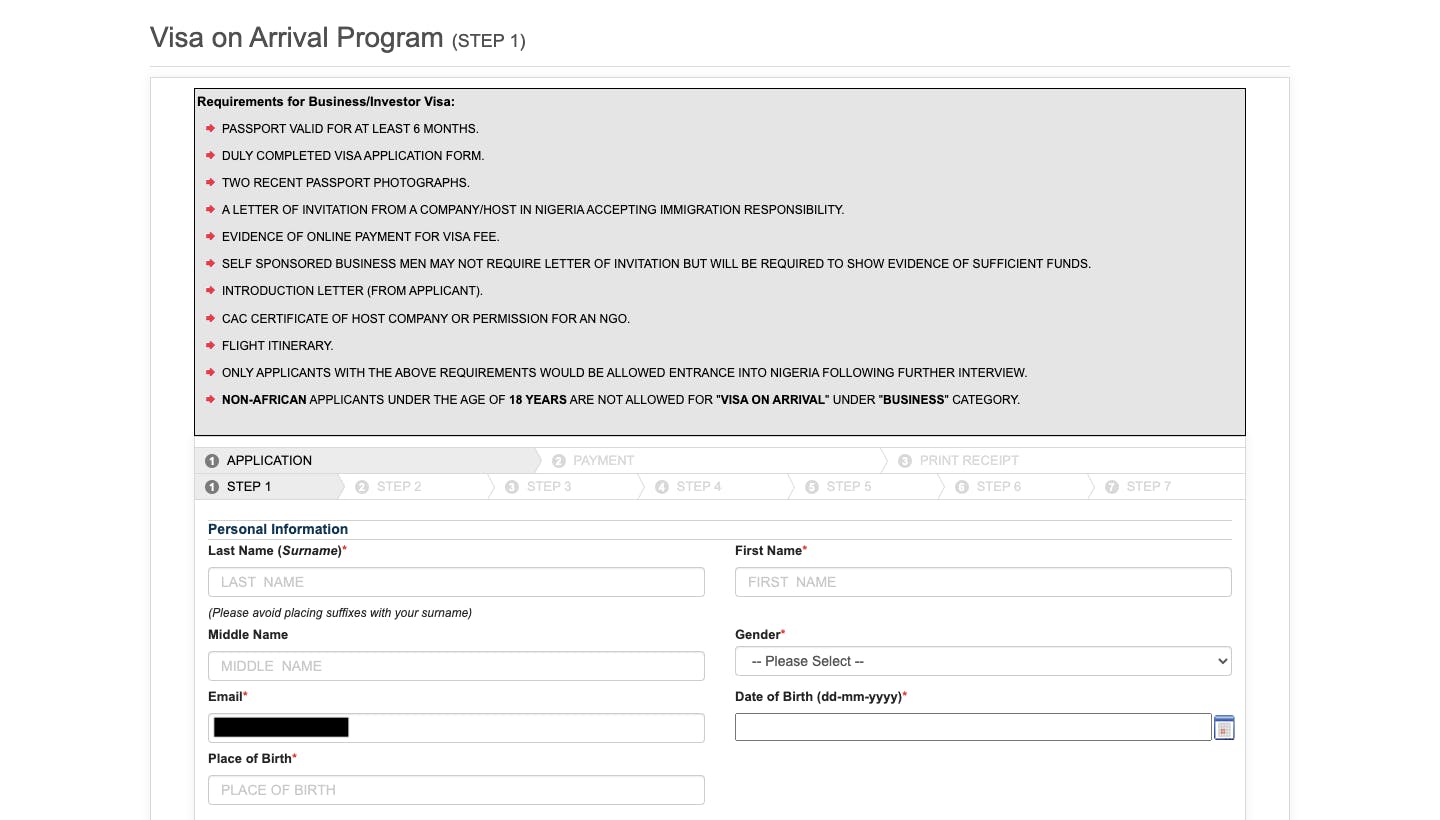 After filling in the details, you must click on "I Agree" at the bottom of the page and click "Next."
Step 4: Personal Information
You will fill in more personal information on the second page, including your height, hair color, and eye color. You will also have to provide your office details or permanent address. The details that you must provide differ from Visa to Visa. This means that the person applying for a tourist visa will see a slightly different page.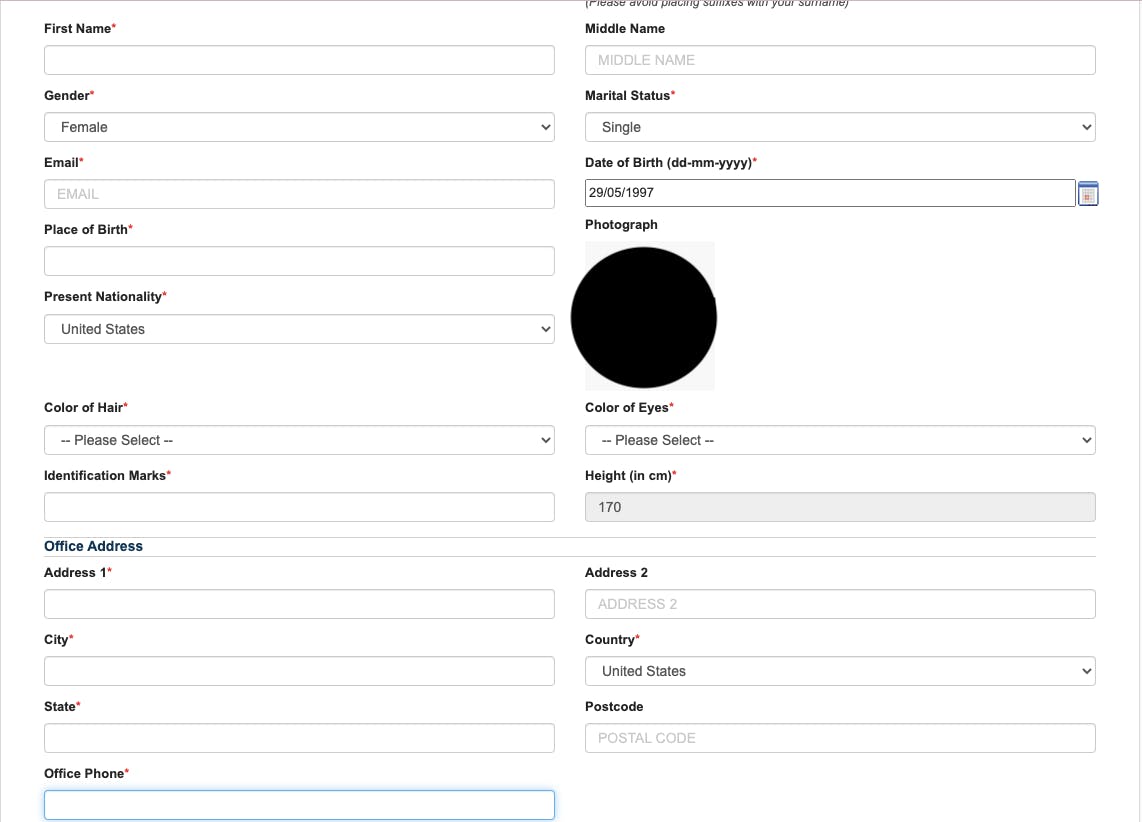 Once done, click "Next."
Step 5: Provide Your Passport Details
On the next page, you will be filling in your passport details. The person applying for a business VoA will have to fill in the Nigerian Local Company details mandatorily. Whereas, for a tourist VoA, those details are optional.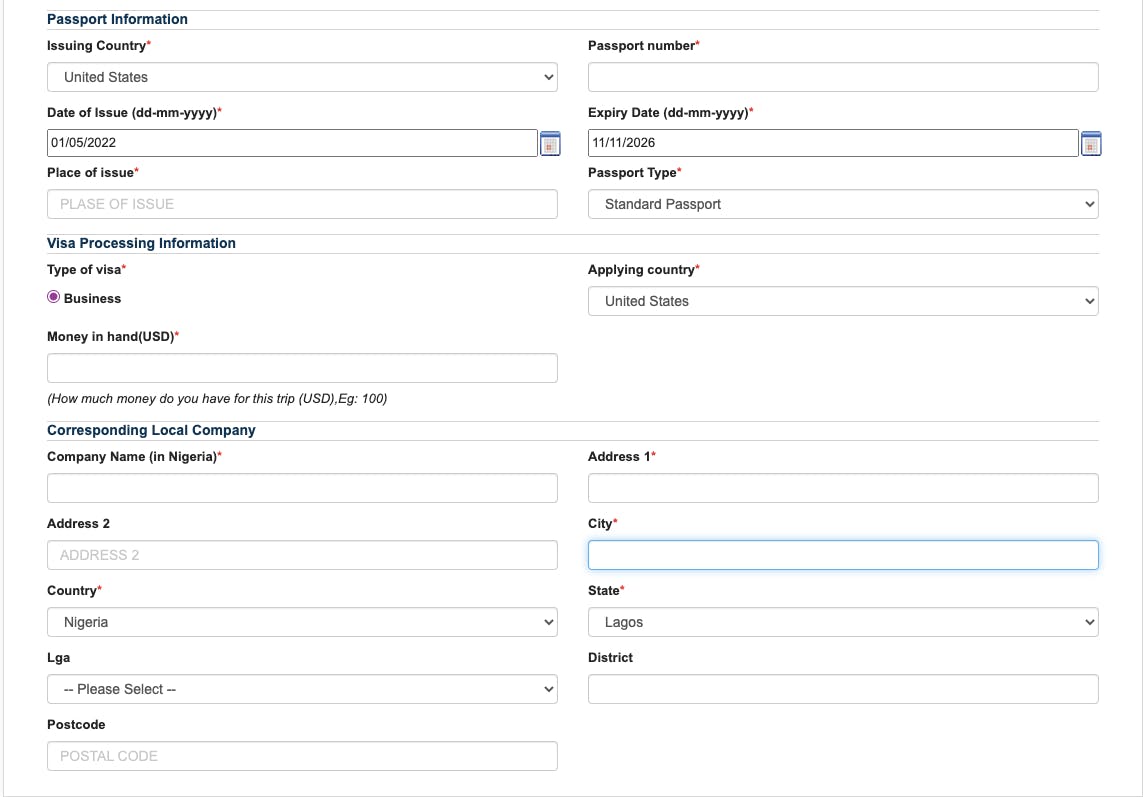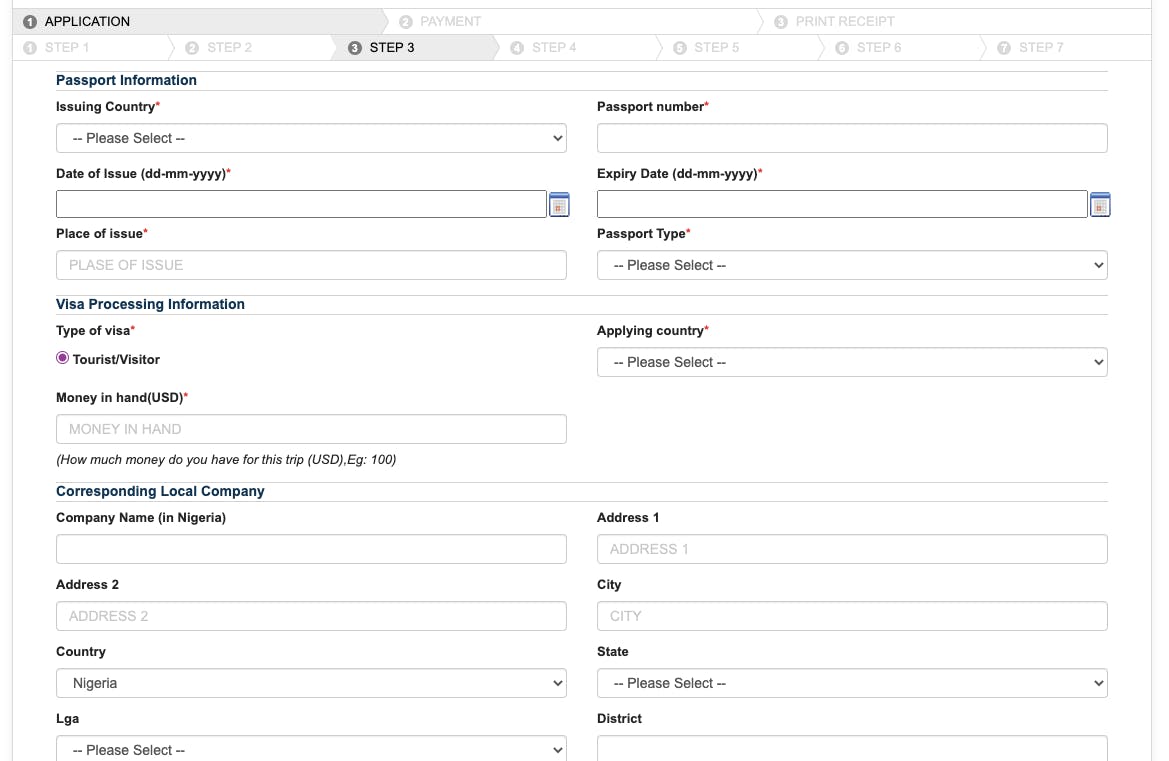 Same as earlier, you must click on "Next" to go to the next page.
Step 6: Provide Your Travel History
You will have to provide your travel history and health status by choosing the options in the drop-down menu. This step is the same for business and tourist VoA.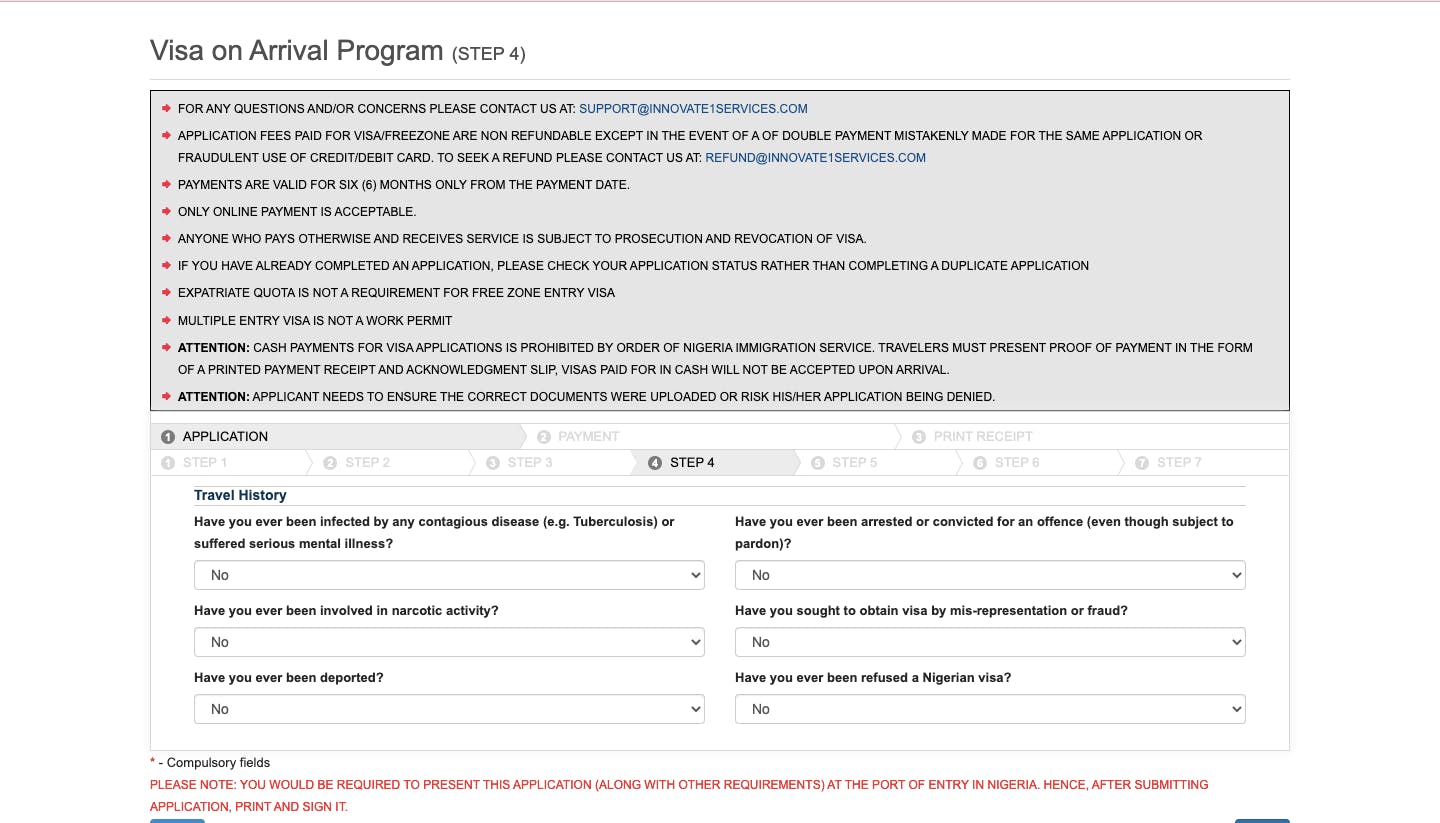 Step 7: Upload The Required Documents
The last step before you submit your application is to upload all the required documents.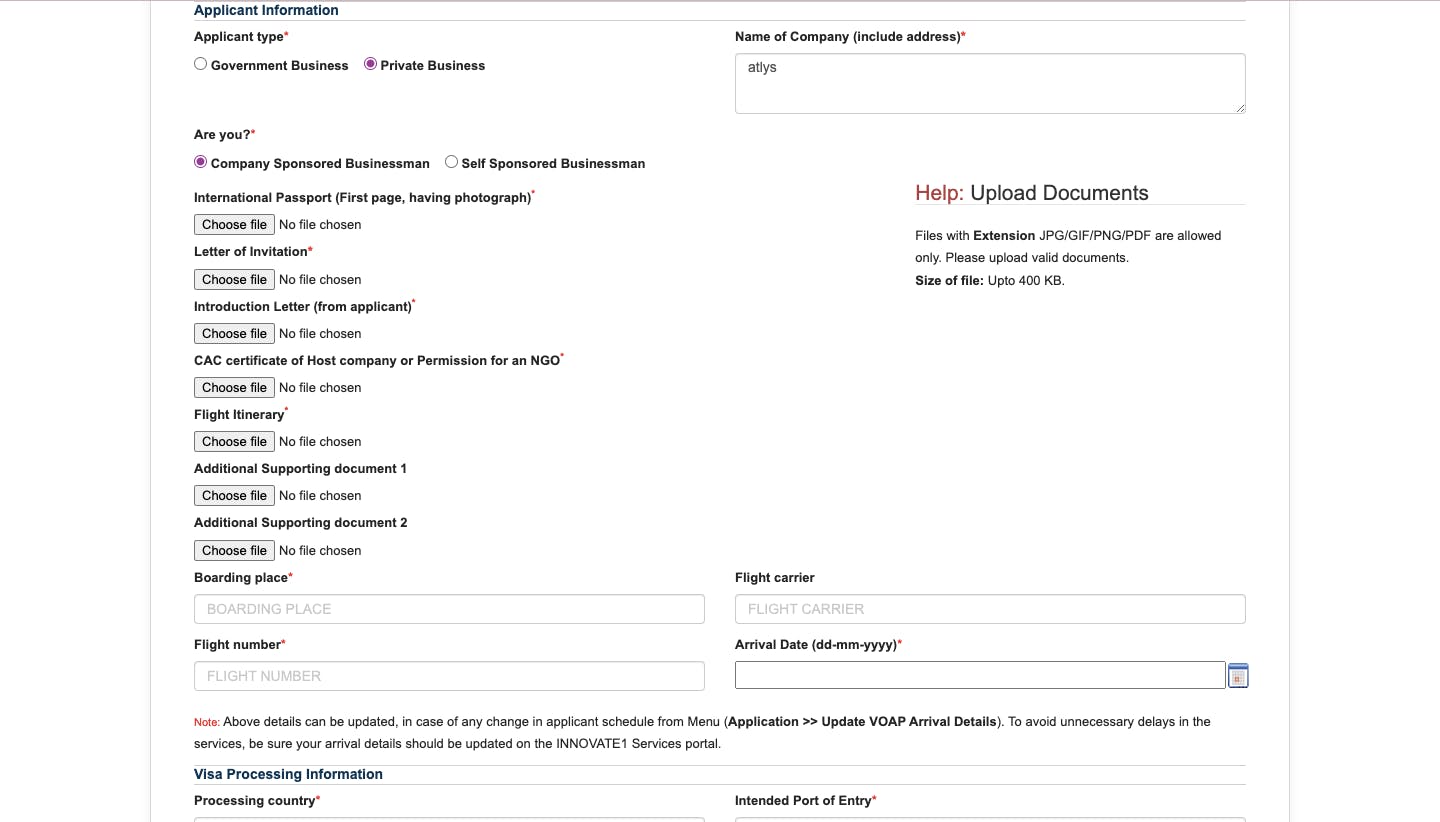 Once all the relevant documents are uploaded, there is nothing left but to submit the application.
Remember, the uploaded documents are the same documents that you must carry to Nigeria to collect the VoA.
Step 8: Pay The Visa Fees
After submitting the application, the only thing left is to do is make the payment for your VoA. The proof of payment or payment receipt must be downloaded and carried with you. You must also download this visa application you just completed and print it before traveling to Nigeria.
It will take about 48 hours or 2 working days for your visa application to process. Once it is approved, you will receive the visa approval letter via email.
How To Apply For A Visa On Arrival For Nigeria
Once you have landed at International Airports in Nigeria, such as Abuja and Lagos, you will go to the designated Visa on Arrival Desk for instructions.
You might need to wait a while, depending on how many people there are.
Once you get to the desk, you need to provide your approval letter, passport, proof that you paid the visa fee, proof of accommodation in Nigeria, and your return ticket. Next, you will go through the necessary application verification, biometric enrolment (included in the visa application fee), and lastly, issuance of an entry Visa.
Then, all you have to do is wait for the immigration officers to process your visa. Once they do, you can enter Nigeria.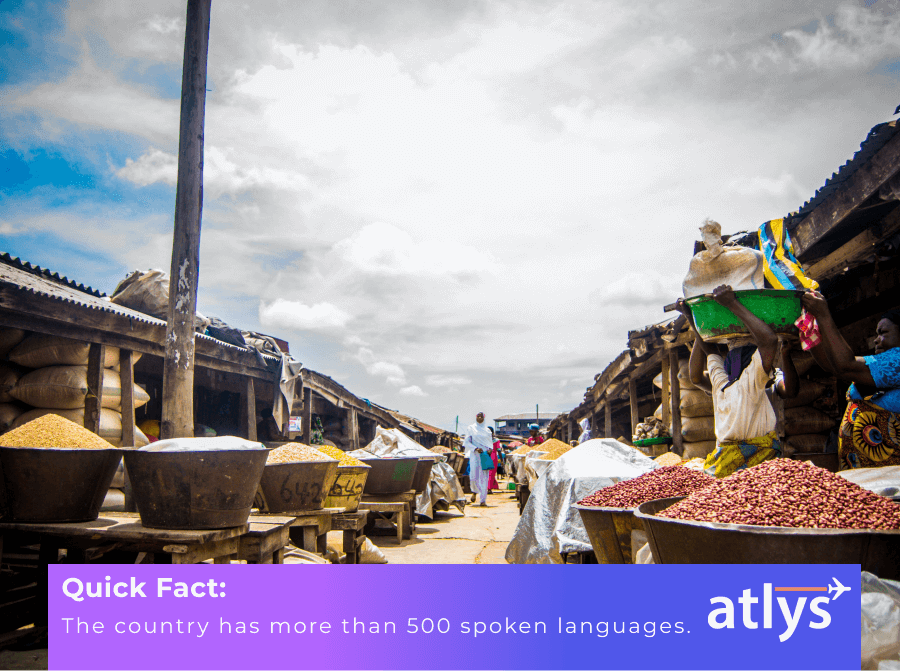 Overview Of The Nigeria Visa On Arrival For US Citizens
Remember some of the little pieces of information at the beginning of the blog? This is where I'll answer these questions a bit more in-depth and provide you with some extra "need to know" information.
What Is A Visa Approval Letter?
A Visa Approval Letter is an approved letter by the Nigeria Immigration Service Headquarters, and you need this letter to receive a Visa On Arrival. The approval letter is very important since you won't be allowed to board your flight or enter the country without it.
You fill out your Visa On Arrival application online via The Nigerian Immigration Services website.
After two days, you will receive your visa approval letter via email. You must carry this letter and other required documents with you to Nigeria.
How Long Does It Take To Get The Visa Approval Letter?
The visa application and visa approval letter process are online, which we will discuss further. The processing time for the visa approval letter is about 48 hours or 2 days.
How Do I Receive My Visa Approval Letter?
You'll receive your Visa approval letter via email 2 days after submission.
What Is The Validity Of The Visa Approval Letter?
The visa approval letter is only valid for 14 days from its issuance date. Once it passes its validity period, you will have to apply for a new approval letter to travel to Nigeria.
How Much Is A Visa On Arrival In Nigeria?
The visa processing fee for the United States of America citizens is USD 160. However, depending on which country's passport you hold, the visa fees will change dramatically. The Nigerian Immigration Services website has a detailed list of visa fees.
What Is The Validity Of My Visa On Arrival?
The initial validity of this visa is 30 days. However, you can extend it later on for up to 3-6 months at an extra charge.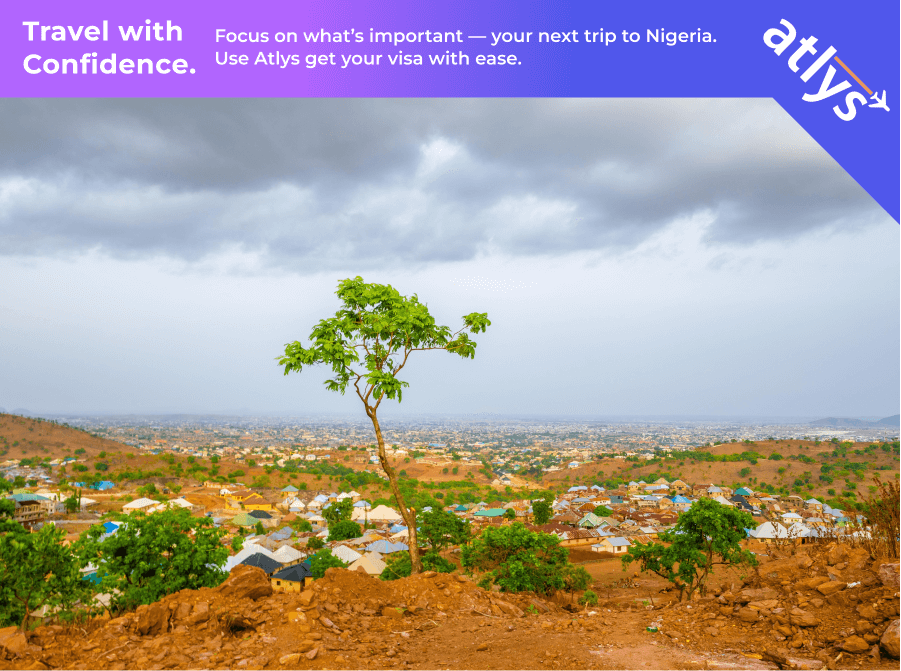 What Happens If My VOA Is Rejected?
If your Nigeria Visa on Arrival (VOA) application is rejected, it means that you will not be granted entry into the country under the VOA program. The immigration authorities will inform you of the denial, and you will not be able to proceed with your travel plans using the VOA.
In most cases, you will then be deported to your home country or the last place you traveled from.
That's It!
After reading this post, you should not have any trouble with your visa process. Now that you have all the information, you are ready to apply for your Nigerian Visa on Arrival. Remember that if you want to visit Nigeria for tourism purposes you will need to apply for the Nigeria tourist visa.
Happy Travelling!
Government Sources
The information in this post is gathered from reliable sources like the
Frequently Asked Questions
Yes. The Visa On Arrival only allows you to stay and visit Nigeria for 30 days. You cannot work or take permanently in the country on this visa.
Author: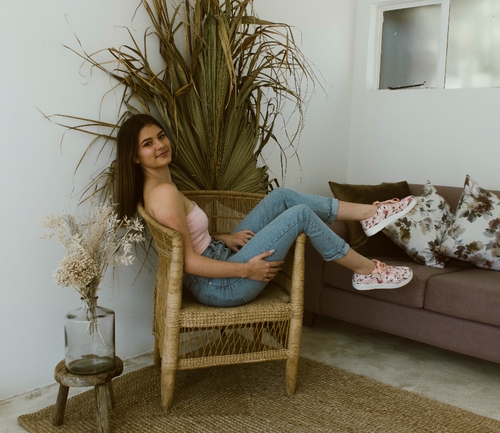 Laliq Schuman
Verified Author: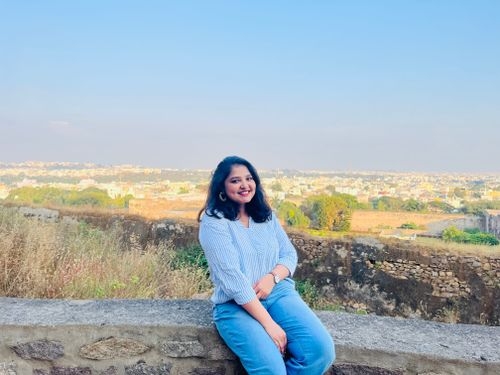 Nikhita Rathod