Last Updated : Sep 4, 2023
Atlys in the news
What exactly is the Schengen Area?
The 'Schengen area' is a collection of European countries with no limitations on visitors passing through their borders. These nations have abolished all sorts of border controls along their common borders as part of the Schengen accord, making it easier for visitors to travel to other Schengen region countries. This means that the entire Schengen area functions as a single country, and you just need a single 'Schengen' visa to travel between member Schengen countries.
In a small vineyard town called Schengen in Luxembourg, the Schengen accord was signed, establishing the principle of free movement between member nations and eliminating any barriers along their borders. So, if you've ever wondered why it's called 'Schengen,' here's your answer!
The Schengen Area, often known as the Schengen Countries Zone, is a group of 26 European countries that have removed cross-border border restrictions. France, Germany, Italy, Spain, the Netherlands, Poland, and Scandinavian countries are among them, but not the United Kingdom or Ireland.
The Schengen Agreement is signed by the majority of European Union (EU) countries. However, certain non-Schengen countries, such as Bulgaria and Romania, are signed but not yet active members and are only required to join in the future. In addition, Switzerland, Iceland, and Norway are not members of the European Union, yet they are part of the Schengen Area.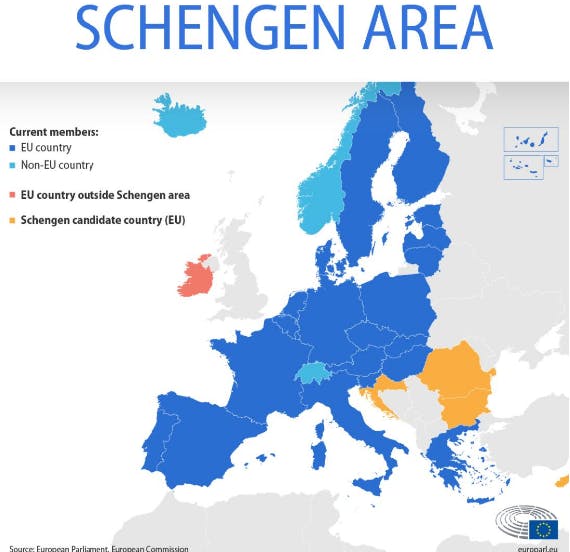 Schengen Agreement History
The Schengen accord was formed in 1985 by five European countries to eliminate all border controls. Luxembourg, West Germany, Belgium, France, and the Netherlands were the five original signatories out of the ten members of the European Economic Community (EEC).
The agreement's most significant step was to eliminate border restrictions at these member countries' common boundaries. There were also proposals to eliminate vehicle security checks, allowing travelers to pass borders simply.
All of the nations who signed the agreement were known as Schengen area countries, and the territory that encompassed them became known as the Schengen area. Even though the Schengen region began with only five countries, it has grown to include many more. It currently has 26 members, as well as several territories and micronations. In 2011, Liechtenstein became the most recent country to join the Schengen area.
In 1995, the agreement established the Schengen visa system, allowing visitors to travel freely across borders if they possessed a Schengen visa. As a result, it effectively created a single state where you can travel without needing several visas for each country - just one Schengen visa for the entire area! In addition, because the majority of Schengen nations are EU members, the rules of the Schengen agreement have lately been merged with those of the European Union.
Schengen Countries List
Austria, Belgium, Czech Republic, Denmark, Estonia, Finland, France, Germany, Greece, Hungary, Iceland, Italy, Latvia, Liechtenstein, Lithuania, Luxembourg, Malta, Netherlands, Norway, Poland, Portugal, Slovakia, Slovenia, Spain, Sweden, and Switzerland are the current members of the Schengen Agreement.
Liechtenstein, Switzerland, Iceland, and Norway are the only Schengen countries not members of the European Union. As a result, they are formally known as countries associated with the EU's Schengen activities. This means that, although not being members of the EU, these countries are bound to respect its decisions. In addition, Norway and Iceland, two of these non-European union nations, are members of the Nordic Passport Union.
Apart from these countries, the Schengen zone encompasses France's Caribbean islands and three European micro-states: Monaco, San Marino, and Vatican City. Visitors are welcome to visit these territories and micronations, which have open or semi-open borders.
Despite the fact that Ireland and the United Kingdom bargained to be opt-outs, they, like other EU member states, continue to observe the Schengen area's systematic norms.
Schengen Visa, Easiest Countries to Apply for and Receive Schengen Visas Form
The prerequisites for applying for a Schengen visa are the same regardless of whatever consulate you go to, although the application process varies slightly. However, when we look at the many countries that make up the Schengen area, we can see that some have an excellent track record for providing visas. So, with that in mind, let's have a look at the nations where a Schengen visa can be obtained.

Non-Schengen countries that can be used by a Schengen Visa
Did you know that you can enter other countries that aren't in the Schengen zone using your Schengen visa if you get a Schengen visa to travel within the Schengen zone? This makes it considerably easier for visa-required people to travel worldwide, including to countries in the European Union (EU). So why not take advantage of these visa-free rules and visit more non-Schengen countries than you originally planned?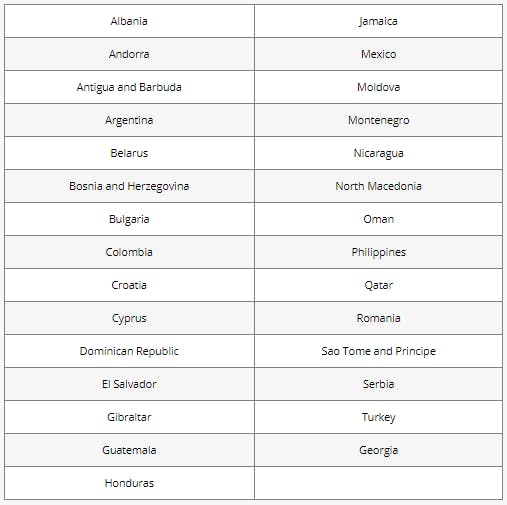 Republic of Ireland
The Republic of Ireland has yet to join the Schengen Area. However, there are a vast number of countries whose citizens do not need to apply for a visa to visit Ireland. These are the countries:
Although citizens of the countries listed above do not now require a visa to visit Ireland, it is quite likely that this will change soon, and they will need an ETIAS visa waiver to do so.
Romania
Like the rest of the countries on this list, Romania is not yet a member of the Schengen Area. Romania, on the other hand, is a member of the European Union. As a result, the Romanian government has agreed to allow foreign nationals with a Schengen visa to visit the country for a limited time if they meet all of the requirements.
Citizens of the United States do not need a visa to visit Romania for up to 90 days every 180 days (6 months). However, this will change once the ETIAS application is developed and functioning. Residents from countries that do not now require a visa to enter Romania, such as the United States, will be required to apply for an ETIAS.
Bulgaria
The Bulgarian government announced on January 25, 2012 that all Schengen visa holders are free to enter and exit the country. There are, however, a few prerequisites that must be met:
Nationals of eligible countries must have a valid Schengen visa.

The number of entries and the amount of time they can stay in Bulgaria cannot exceed the Schengen visa limit.

Those who have exceeded the number of entries and/or days allowed in the Schengen Area as specified on their Schengen visa will be denied entry to Bulgaria with that visa.

The holder of a valid short-term national visa for Ireland, the United Kingdom, Cyprus, Romania, or Croatia is not permitted to enter Bulgaria.
All nationals from the 60 countries, including the United States, who do not currently require a visa for Bulgaria will be required to complete an ETIAS online application once the ETIAS travel authorization system is introduced.
Croatia
Even before joining the European Union in 2013, Croatia was one of the few countries that did not require visas from citizens of the United States, Canada, New Zealand, Australia, or the European Union. People from over 50 other countries can enter and exit Croatia without a visa, but this will soon change as Croatia joins the ETIAS agreement. Citizens from visa waiver nations will need to apply for an ETIAS travel permit.
Cyprus
Like the rest of the non-Schengen European countries on the list, Cyprus does not require citizens from more than 50 countries to apply for a visa before visiting any of the Schengen member states. However, all visitors will soon be required to have an ETIAS travel authorization.
Andorra
Andorra was formerly announced as an ETIAS qualifying country, which meant that bearers of Andorran passports would have had to have valid travel permission to cross the border into the Schengen Area. However, the government of Andorra has clarified that their citizens will not be needed to obtain an ETIAS travel authorization to cross the Schengen border.
Is the United Kingdom Still Part of the Schengen Area?
Before Brexit, most nationals from visa-exempt Schengen Area countries could enter the UK without needing to apply for a visa if they were visiting for a short-term stay of up to 90 days within 180 days.
The ETIAS visa waiver will not be applicable for travel to the UK now that the UK is no longer a European Union member. However, ETIAS will be required for UK citizens visiting Schengen nations, according to the European Union.
At the passport control check, third-country travelers should show proof of sufficient financial means or an official current living address certificate. The following is a list of the many types of documentation that will help border control officials evaluate whether or not a passenger is eligible to cross the British border:
A bank statement or official letter from the applicant's employer with proof of wages can be used to demonstrate the traveler's financial position and ability to support themselves while in the United Kingdom.

Proof of legal residencies, such as a residential card or a bill that displays the traveler's name and address

Proof of employment or studies in progress

Travelers under the age of 18 should bring a birth certificate and a letter from their parents stating the purpose of their trips, such as living conditions and financial position. In addition, a copy of the parents' passports may be required.
For citizens of visa-exempt nations, these are the general border crossing restrictions. Standard visa applicants for the United Kingdom are required to provide similar proof. For more information, visitors should contact their local embassies or consulates.