Last Updated : Sep 4, 2023
Atlys in the news
Travelers to Europe should be able to handle and pay for medical care in the event of an accident, injury, or other unexpected incidents.
Having travel insurance to cover unforeseen expenses that emerge while traveling has been shown to provide financial support and comfort, allowing travelers to continue their adventure without worry.
Insurance Requirements for Schengen Visas
For a Schengen visa, medical insurance must meet the following requirements:
A minimum of 30,000 EUR in coverage is required (equivalent to 35,200 USD as of March 2021).

It should apply to all Schengen Area member states.

Cover all costs associated with medical repatriation, emergency medical attention, and emergency hospital treatment, as well as death.
The necessary insurance certificate required when applying for a Schengen visa is provided by travel insurance providers AXA, MondialCare, and Europ Assistance.
Despite the fact that travel health insurance is recommended for all visitors to Europe, it is not necessary. Only travelers who need to apply for a Schengen visa are required to purchase travel insurance. This category of travelers must always have adequate coverage for the duration of their stay in Europe, regardless of whether they are there for business, tourism, research, vacation, or other reasons.
Foreign visitors to Europe who enjoy visa-free travel to the Schengen zone can purchase their chosen travel insurance policy if they like; however, while it is strongly recommended, it is not necessary.
The travel insurance plans Schengen Plus from Europ Assistance and Europe Travel from AXA give the mandatory insurance certificate required for a Schengen visa and extended coverage wherever you travel in the Schengen area or the EU. The Schengen region is covered and EU countries Bulgaria, Romania, Croatia, Cyprus, Ireland, and the United Kingdom.
When applying for a Schengen Visa, you must have travel insurance.
The following is an excerpt from "Regulation (EC) No 810/2009 of the European Parliament and of the Council of July 13 2009," which became effective on April 5, 2010:
"… Applicants for a uniform visa for one or two entries shall prove that they are in possession of adequate and valid travel medical insurance to cover any expenses which might arise in connection with repatriation for medical reasons, urgent medical attention, and/or emergency hospital treatment or death, during their stay(s) on the territory of the Member States. The insurance shall be valid throughout the territory of the Schengen Area Member States and cover the entire period of the person's intended stay or transit. The minimum coverage shall be EUR 30,000" (…)
Who is required to purchase European travel health insurance?
Anyone visiting Europe on a temporary basis from a nation that requires a visa, whether it is an individual or a group, a tourist or a business traveler.
AXA, MondialCare, or Europ Assistance offer a low-cost Europe travel health insurance policy that may be purchased online.
What Companies Offer Schengen Travel Insurance?
To begin with, the health insurance coverage that you may already have through your job contract may cover overseas medical emergency expenses; however, there are usually restrictions on what is covered. As a result, if you have a medical problem in the Schengen territory, you should know what to expect and what not to expect.
Typically, travelers obtain an individual Schengen travel insurance coverage from the appropriate insurance provider for the days they want to spend in Europe.
Make sure that the company you choose is licensed and accepted in the Schengen countries you are traveling.
We propose AXA, MondialCare, or Europ Assistance for Schengen visa insurance. All of these businesses are recognized by European embassies and consulates around the world. If you have documentation that your visa has been rejected, you can also cancel it for free.
What Is the Cost of Schengen Insurance?
The price of Schengen travel insurance varies from one provider to the other. AXA Schengen's premiums are listed below.
Seniors Traveling to Europe Should Get Travel Insurance
Where Can Seniors (Over 75) Get Schengen Travel Insurance?
AXA, MondialCare, and DR-WALTER, among the best and most recognized travel insurance firms, offer Schengen insurance with no age restrictions. These companies provide reasonable and adequate travel insurance plans for retirees traveling to Europe.
To get a senior citizen a Schengen travel insurance policy, you must:
Visit the websites of AXA, MondialCare, or DR-WALTER, which are among the firms that provide it.
For Seniors Over 75, the Best Schengen Travel Insurance Plans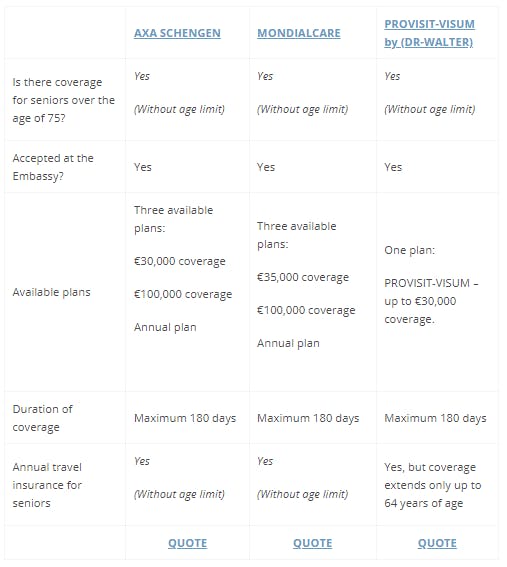 Travel Insurance Restrictions & Coronavirus
When I get Schengen visa travel insurance, would I be protected for Covid-19?
The majority of travel insurance policies are designed to protect consumers against unforeseen catastrophes such as sudden illnesses or bodily injuries. Therefore, epidemics and infectious diseases like CoVid-19 are usually ruled out.
In most European countries, you will receive free medical care in an emergency. So, in the instance of Covid-19, you might be covered by National Health Services, but you won't be able to seek a refund from your insurer if costs are applied.