Get Your South Africa eVisa Now - Application Process And Requirements
Last Updated : Oct 2, 2023
Atlys in the news
If you're a US green card holder traveling to South Africa, you might need a visa. I'll list the important information first.
Do US green card holders need a visa? If your country of nationality doesn't allow visa-free travel to South Africa, then yes.
Type of visa required: Tourist Visa (evisa for eligible nationals)
Visa processing time: 3-5 business days.
Visa cost: Approximately 87 USD. You can also view the visa fee (amount) you have to pay when you apply online.
Do US citizens need a visa? No.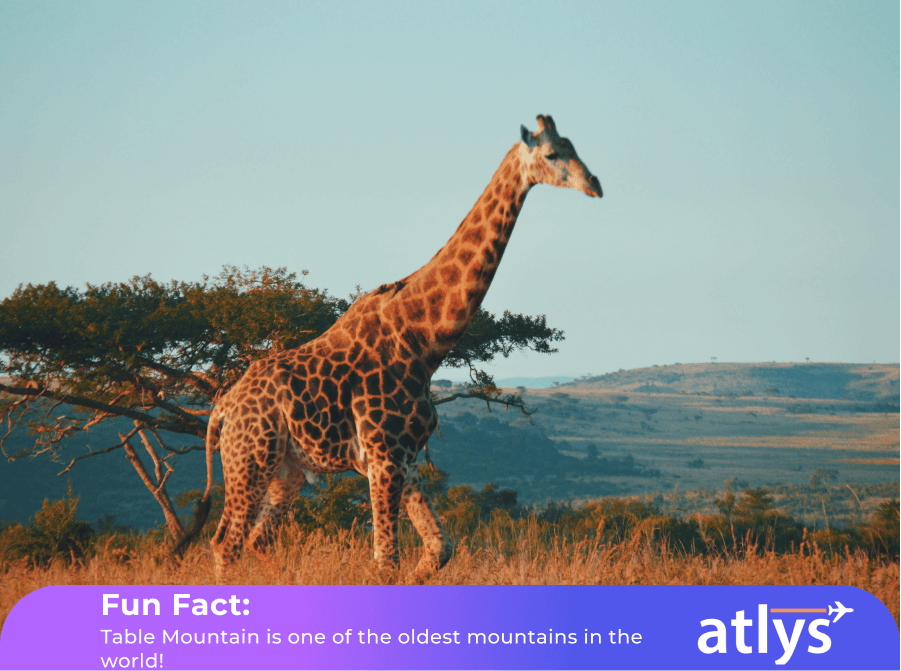 Do US Citizens Need A Visa For South Africa?
No, you don't need a visa. The united states of America is part of the visa-exempt countries. This means that you don't need a visa to visit South Africa for up to 90 days.
However, if your intended stay is longer than 90 days, you must apply for the appropriate visa.
Do US Green Card Holders Need Visas For South Africa?
Your nationality will determine if you need a South Africa Visa. To see if you can travel without a visa, go to the South African visa website.
Visitors from more than 100 countries who want to visit South Africa must obtain a visa from one of the South African diplomatic missions (paper visas):
These countries include:
Algeria, Burkina, Burundi, Central African R., Congo, Côte, d'Ivoire, Djibouti, Equatorial Guinea, Eritrea, Estonia, Faso, Gambia, Ghana, Guinea, Guinea-Bissau, Iraq, Kuwait, Lebanon, Libya, Madagascar, Mali, Nigeria, Tunisia, and other countries.
With traditional applications, you must apply in person at a South African Embassy or Consulate, provide biometric data, and hold a passport at least valid for 1 month after they depart from South Africa (and with at least one blank page).
Who Can Apply For A South Africa e-Visa?
Passport holders from 14 countries can now apply for an e visa for South Africa. The eligible countries in 2023 are:
Cameroon, China, DR Congo, Egypt, Ethiopia, Kenya, India, Iran, Mexico, Nigeria, Philippines, Pakistan, Saudi Arabia, and Uganda.
Other countries, including Australia, Canada, the United States, and all EU member states, could soon be added to the list. Until then, travelers from these countries need to apply for a traditional embassy visa for South Africa.
What Is The South Africa Online Visa?
Eligible passport holders can now apply online and receive the approved visa by email. In addition, you can apply for the e visa for South Africa if you're traveling for tourism (tourist visa) or business purposes.
The visa for tourism is usually valid for 90 days which means that when you enter South Africa, you can stay there for up to 90 days. However, you have to leave before your visa expires.
The government launched the South Africa eVisa in February 2022 for travelers from 14 countries. The South African Government will add more countries to the list soon.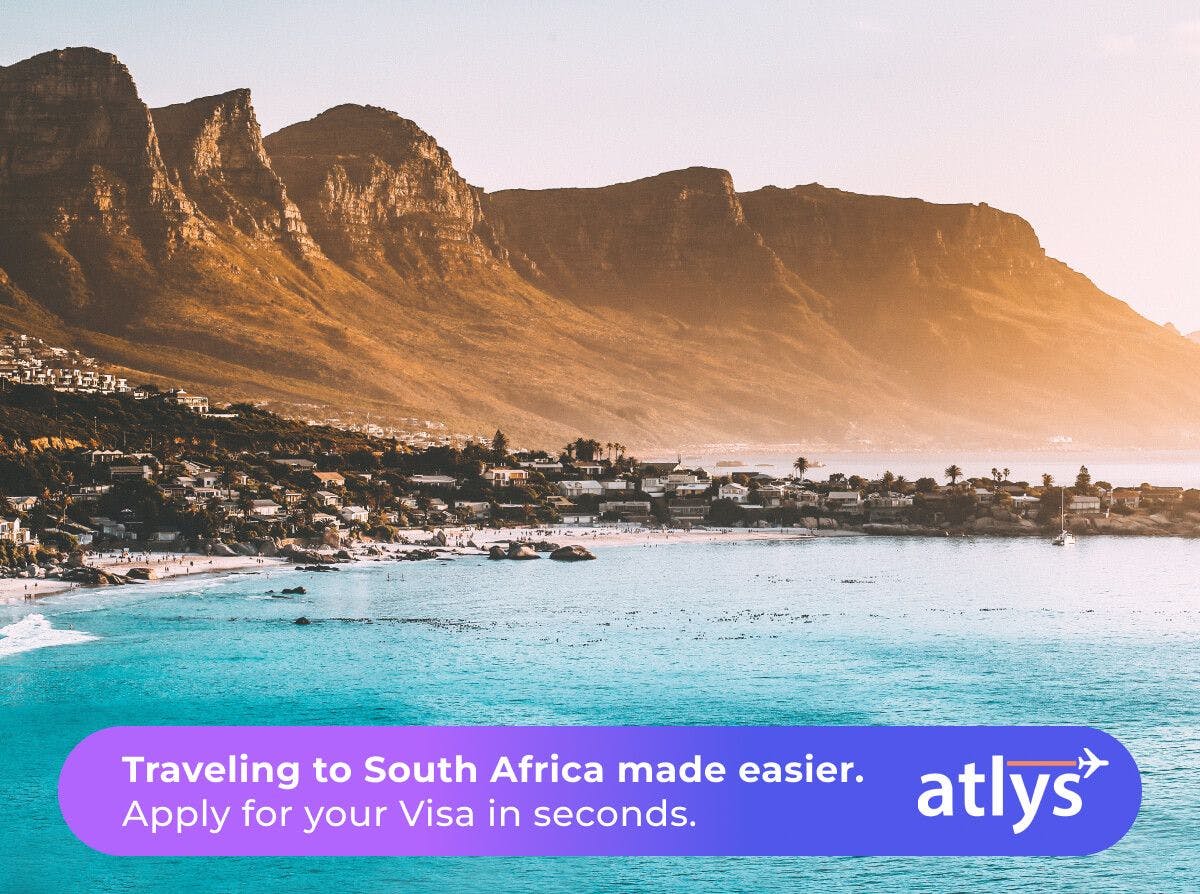 South Africa eVisa Requirements
The visa requirements play a very important role in your application. If you or your documents don't meet the requirements, your visa will be rejected.
Let's take a look at the requirements:
What Are The Required Documents For A South Africa eVisa?
Foreign citizens need certain travel documents to apply for a South Africa Visa (visa requirements). You'll need the following travel documents.
Proof of sufficient funds to pay for your day-to-day expenses during your stay (bank statements).

A return or onward flight ticket

Yellow fever certificates if your journey starts or passes through the yellow fever belt of Africa or South America.
Passport Validity
Your passport must be valid for six months beyond the date of your return. You also need to make sure that there are at least two blank passport pages.
How Much Bank Balance Is Required For A South Africa Visa?
You need a minimum of ZAR 3000 (approximately USD 173). You need to provide this balance on a bank statement when you apply for your visa. This is to prove that you have enough money to cover the intended stay of your trip.
Passport Photo Requirements
The passport photo requirements depend on whether you apply for your visa online or at an embassy.
Passport photo requirements for the South Africa evisa:
The photo should be a recent, color passport photograph taken within the last 6 months.

The photo should be in a JPEG format and not exceed 500KB.

The photo must be taken against a plain white or off-white background.

The applicant must face the camera with a neutral expression and open eyes.

The applicant's face should take up 70-80% of the photo.

The photo should be shadows-free and have no borders or edges.

The applicant should not wear any hats, sunglasses, or any other head covering except for religious reasons.

The applicant's face must be visible from the forehead to the chin, with no hair on the face.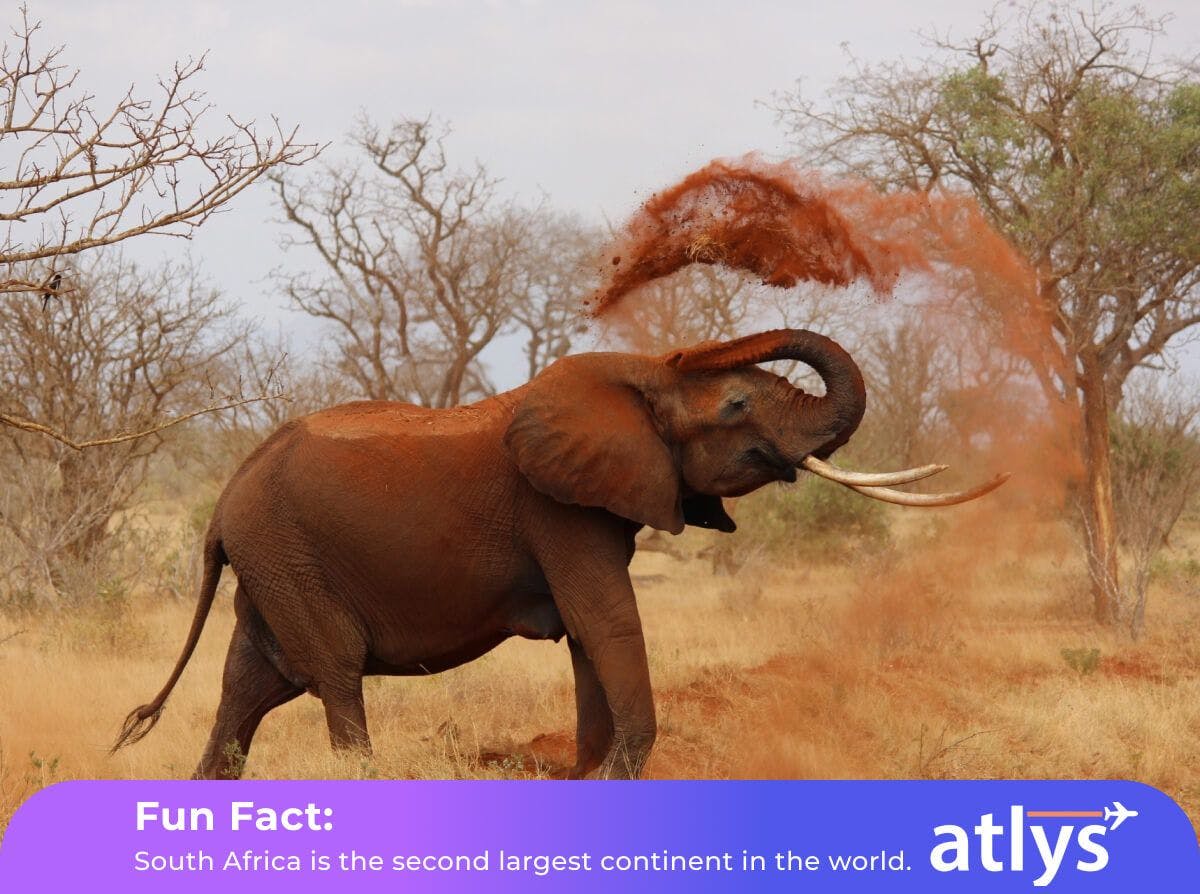 How To Apply For A South Africa EVisa
Applying for visas can be stressful. I know how it feels when you don't know what to do. That's why I'll provide a step-by-step guide so you know exactly what to do during your visa application.
Step 1: Access the South Africa eVisa Portal
To start your visa application, you need to go to the Department of Home Affairs website where you apply. You'll see four steps they give you: Create your profile, submit your online form, upload your documentation, and confirm secure payment. Start with the first step.
Step 2: Create your account
You need to provide your name, passport number, passport expiry date, email address, and password information. Then, they'll send you a verification email which you should use to activate your account.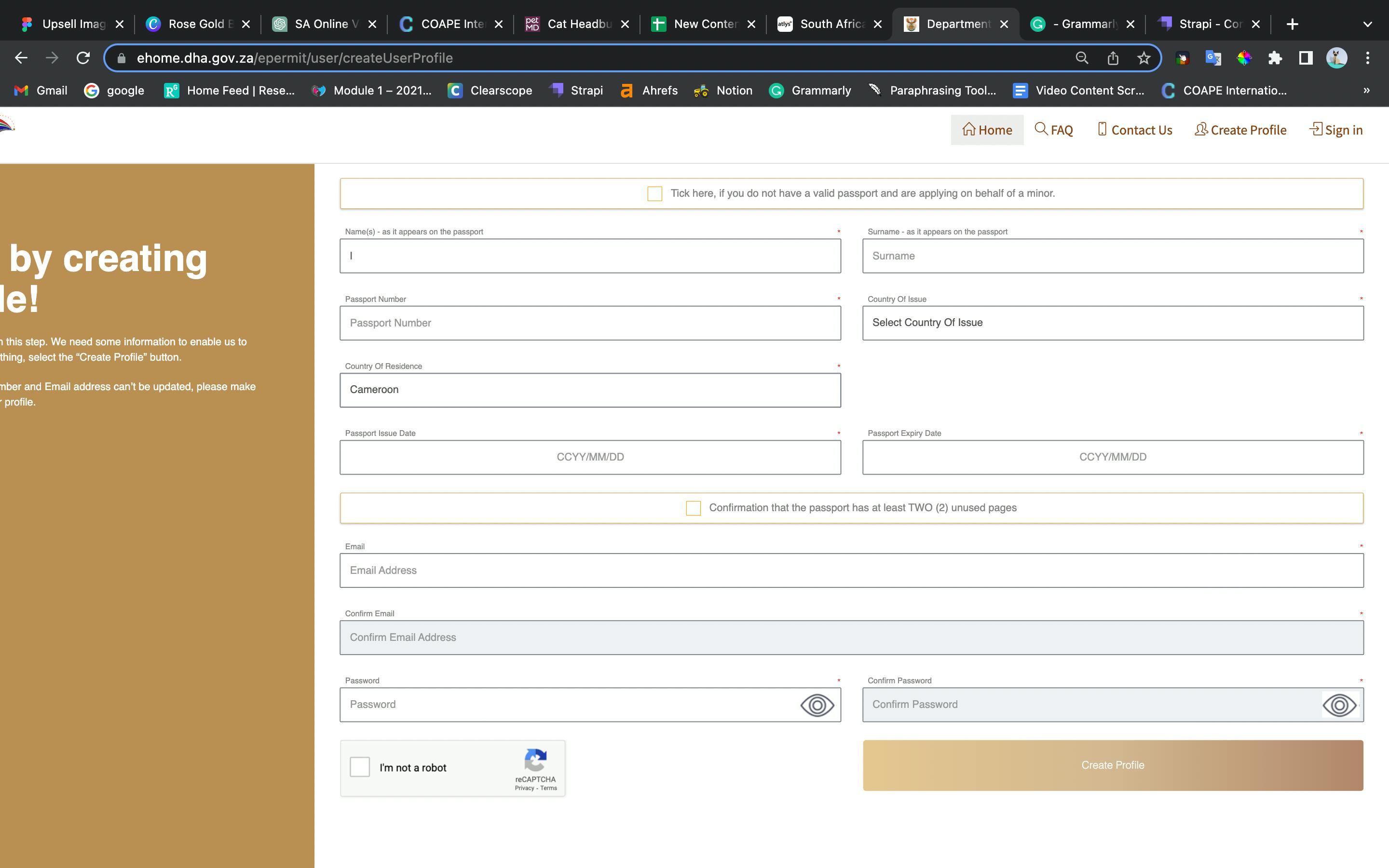 Step 3: Choose your purpose of visit
You'll need to choose your purpose of visit from a list of options they give you. It'll look something like this:
Step 4: Complete the application form
You must complete the application form truthfully. Any incorrect information can cause your visa to be rejected.
You must provide information like your name, surname, date of birth, passport type, occupation, contact information, etc.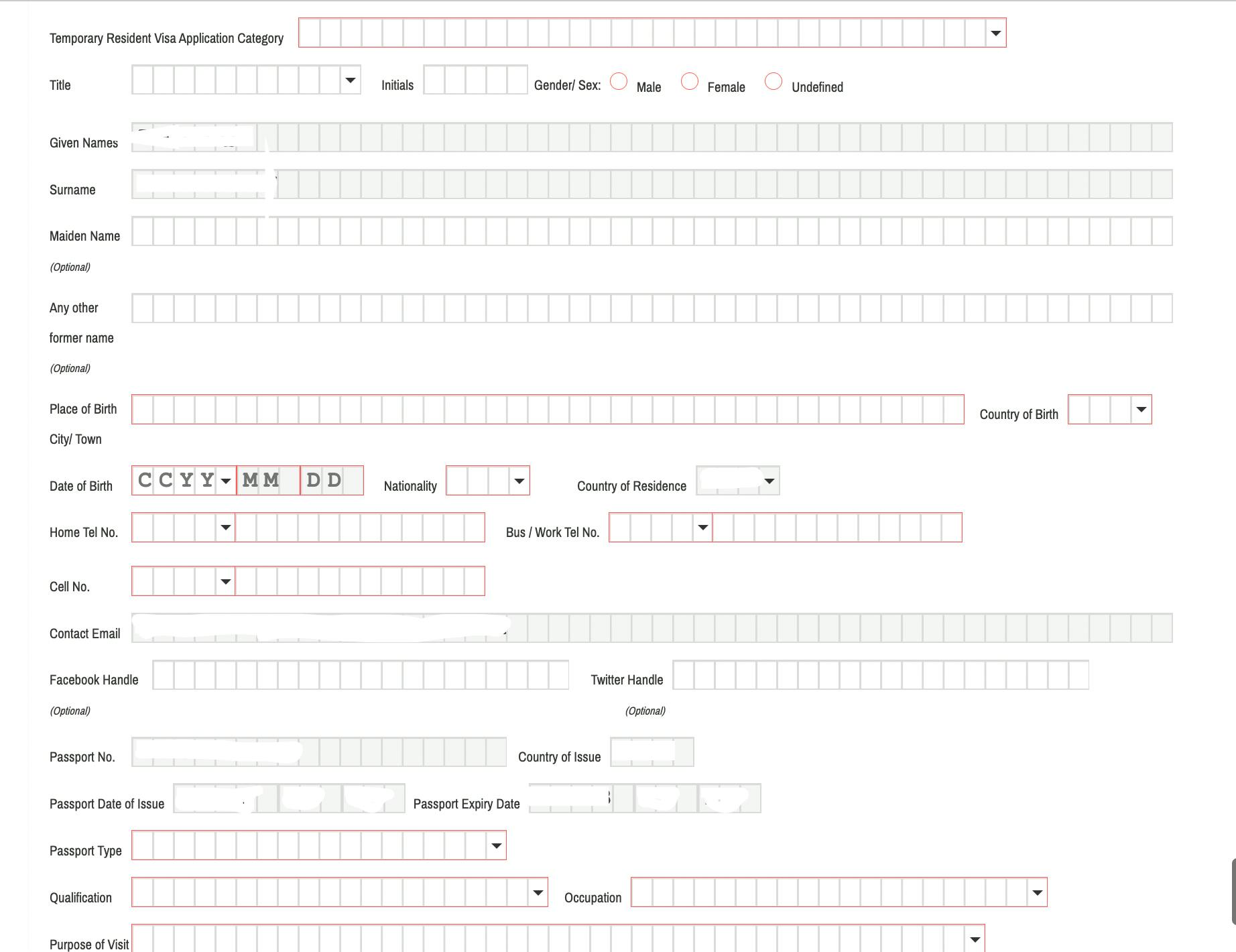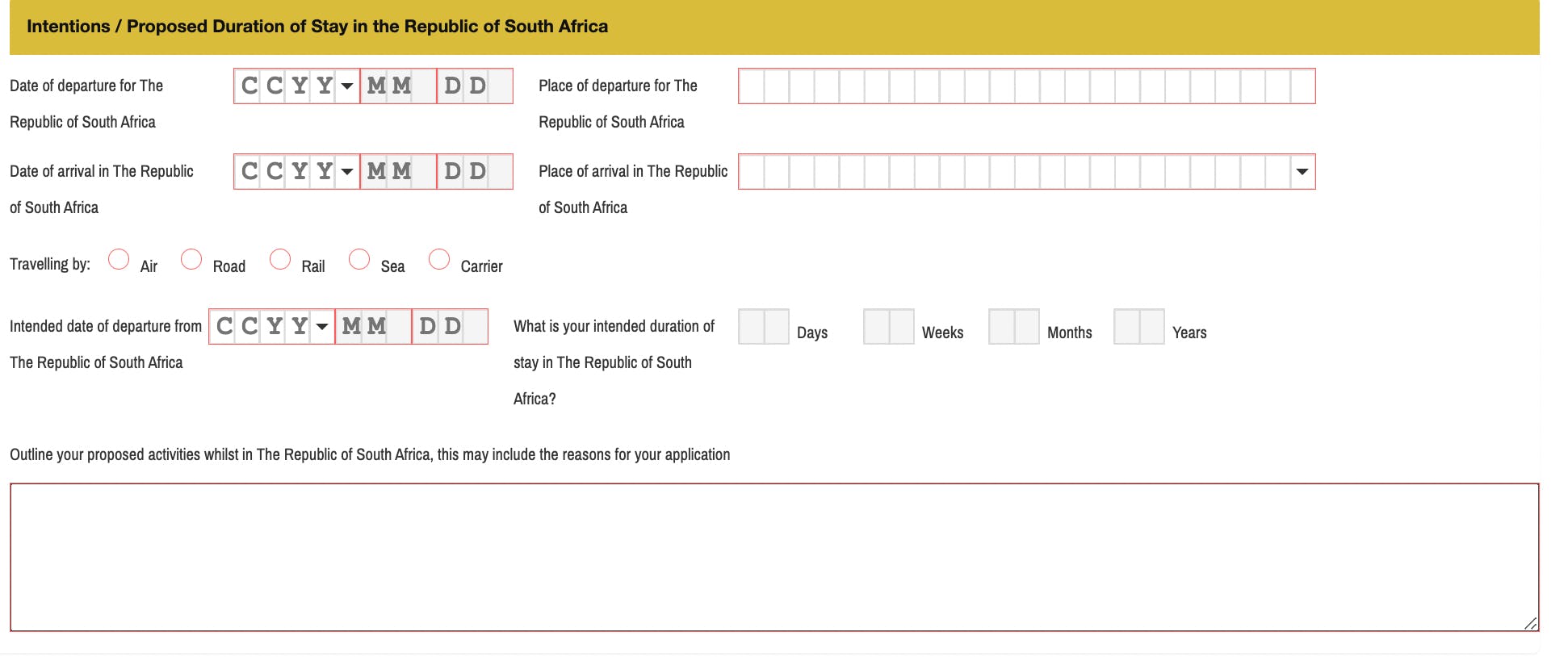 You must also provide your physical address and the contact number of someone in your home country. Next, complete the financial and health declaration.
Step 5: Upload travel documents
Next, you need to upload all the relevant travel documents, like a copy of your passport, a passport-size photo, and anything else they might ask for.
Step 6: Pay The Visa Fees
Last but not least, you need to pay the visa fees. They'll show you the amount you need to pay at the end of your application process. But, again, you can pay securely online with your debit or credit card.
You're done with your visa application! They will let you know via email if they accept your visa application.
You'll receive an electronic visa via email when they accept your application. Then you need to print it out to present to the Immigration Officer at your port of entry.
Everything You Need To Know About The South Africa eVisa
Let's take a look at some important information you need to know about the visa for tourism purposes.
What Countries Can Travel To South Africa Without A Visa?
There are over 50 nationalities who can enter the country without a South Africa visa for up to 90 days. The nationalities which are eligible for visa-free travel include:
Andorra, Argentina, Australia, Canada, Denmark, Israel, Italy, Monaco, Qatar, Switzerland, Spain, Tunisia, United States of America, Zimbabwe, and many more.
How Long Does It Take To Process A South Africa eVisa?
Usually, the visa process takes 3 business days. Unfortunately, there are instances where it could take longer to process your visa. Therefore, I recommend waiting 5 business days before checking your status.
What Is The Visa South Africa E Visa Cost?
The cost of the e visa is around 87 USD. However, you'll be able to see the cost of your visa before paying.
How Long Is The South Africa eVisa Valid?
The visa is valid for 90 days. This means that you can visit South Africa for 90 days or less, and you have the leave the country before it expires.
What Should I Do At The Airport With A South Africa E Visa?
Once they approve your visa request, you'll receive your South Africa e-Visa by email, or you'll need to pick it up at the Embassy or Consulate. Once you arrive at your South African ports of entry, you must show your travel document and valid visa (the visa issued to you) before entering. You'll need proof of a return flight ticket and proof of sufficient funds.
The passport must be the original passport you used to apply. The South African authorities will decide if you can enter the country after examining your travel document and (if applicable) your luggage.
At border control, it is important to co-operate with the South African officers and answer all questions they may ask. After all, they are the people who decide whether or not you'll be entering South Africa.
That's all!
Now you know everything you need to know about getting a South Africa Visa. If you have any lingering questions, you can check out our FAQ section. For more information, you can check out our FAQ section.
The information in this post was gathered from reliable sources such as:
Frequently Asked Questions
Yes, you can. Passport holders from eligible countries can choose between a single-entry visa or a multiple-entry visa during their application process.
Author: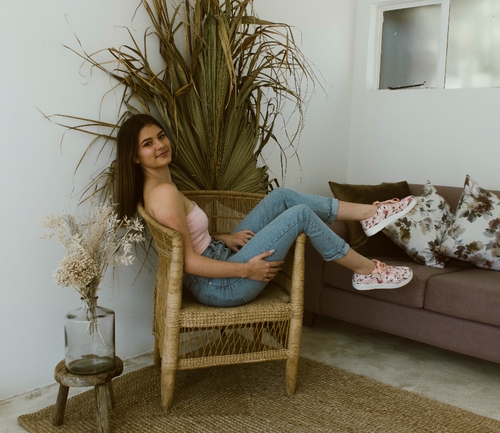 Laliq Schuman
Verified Author: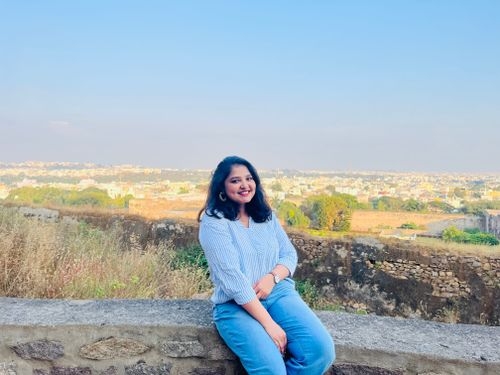 Nikhita Rathod