Get Up-To-Date Information On The South Korea Travel Authorisation (K-ETA)
Last Updated : Oct 2, 2023
Atlys in the news
Before you read further, please note that US citizens no longer need a K-ETA to travel to South Korea."The government of the Republic of Korea announced that from April 1, 2023 to December 31, 2024, the Korean Electronic Travel Authorization (K-ETA) is no longer required for U.S. citizens visiting Korea for 90 days or less for business or tourism." (U.S. Mission Korea, 2023)
Korea's electronic travel authorization
The K-Eta is something that makes travel to South Korea easier than ever. This online visa waiver is available to many countries.
In this post, I'll discuss everything you need to know about the Korea ETA. First, let's take a look at some of the important information:
Do I need a K-ETA? Yes, you do.
How much is a K-ETA? 9-10 USD
K ETA processing time: 72 hours.
Fastest way to apply: Atlys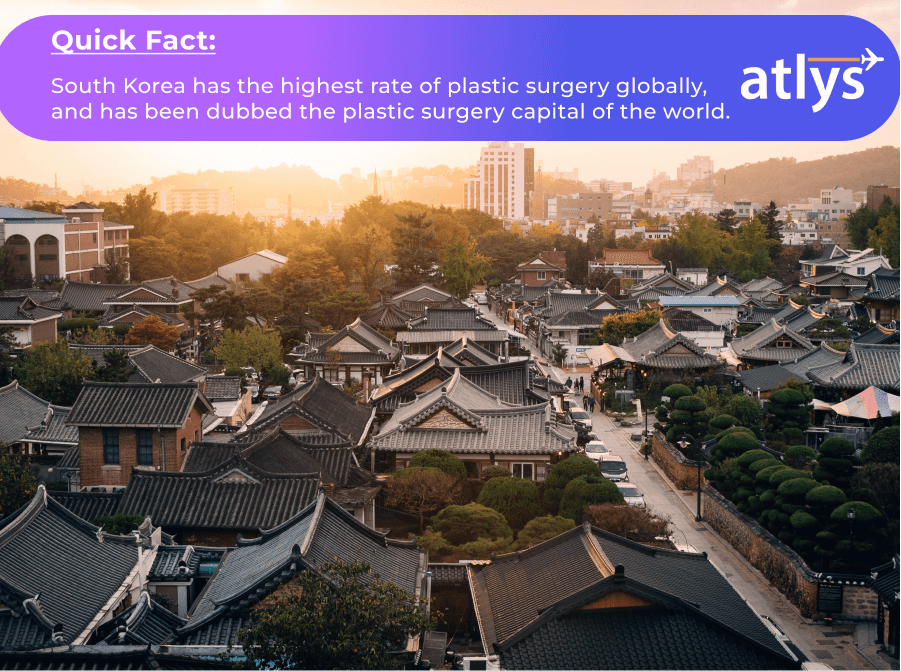 Want To Apply For Your K-ETA In The Blink Of An Eye?
If you do, you should use Atlys. This app helps you through the application process faster than you can say "travel."
But this is what you can expect from Atlys:
Straight-forward application process

Support with gathering your documents

Step-by-step instructions - Atlys will be there every step of the way!
Don't believe that it can be that easy? Try it for yourself!
What Is A South Korea ETA?
The online visa waiver is a Korea electronic travel authorization.
As well as speeding up the application process and streamlining border control checks, it also improves security checks. As a result, traveling to South Korea is now safer than ever, thanks to the K-ETA.
If you're eligible for a K-ETA, you can visit South Korea for tourism, to visit family or friends, and for business activities (meetings and seminars.)
This means you do not have to apply for a traditional valid visa for South Korea; instead, you must complete an online travel authorization.
To visit the country for purposes other than those permitted with the South Korea ETA or for more extended consecutive stays, you should contact the nearest Consulate or Embassy of South Korea to find out about other visa types.
Do You Need A Visa To Go To South Korea From The US?
No, US citizens are part of the visa waiver countries for South Korea. This means that you don't need a visa to travel to South Korea. All you need to do is apply for a K-ETA online.
Is The ETA Mandatory For South Korea?
No, please note that the K-ETA is no longer required to enter South Korea as a US citizen.
What Are The Requirements For The K-ETA?
Before you start the application process, you need to make sure that you meet the requirements. These requirements include:
What Are The K-ETA Required Documents?
To apply for K-ETA, you need certain travel documents, which you must resent during your application process. Therefore, you need to provide the following travel documents or requirements:
Credit card or debit card (I'll discuss the cost later in this post).
What Are The K-ETA Photo Requirements?
The image selected for the visa or visa waiver application must be the correct size. Photos that are either too large or too small will not be accepted.
The K-ETA photo size limitations are:
Less than 700 x 700 pixels.
The passport-size picture must:
Be a recent photograph (taken in the last 6 months).

Not blur and have no glare or shadow.
You need to wear everyday clothes, your eyes should be visible, and you must have a neutral facial expression.
K-ETA Photo Requirements For Infants And Babies:
If you travel to South Korea with a child, you should be aware that they need their own South Korean visa or K-ETA. A few extra photo requirements apply specifically to young children and babies:
Babies and infants cannot hold any objects in the photo, like toys, pacifiers, and bottles.

The child or baby's eyes must be open and fully visible, and the mouth must be closed.

The top of the shoulders must be visible, and the head should fill around 70% of the photo.

The photo can be of the child sitting, being held, or lying on the floor. However, the hands of others cannot be visible in the photo.

The visa photo size for children is the same as for adults.
What Are The Passport Requirements For The K ETA?
To apply, you must have a valid passport that meets the requirements. You must make sure that your passport has two blank pages and is valid for at least 6 months after your intended date of travel. You won't be able to apply without a valid passport.
The passport you use to travel to South Korea must be the same one used to complete the ETA application form. Dual nationals with multiple passports (dual nationality) should keep this in mind.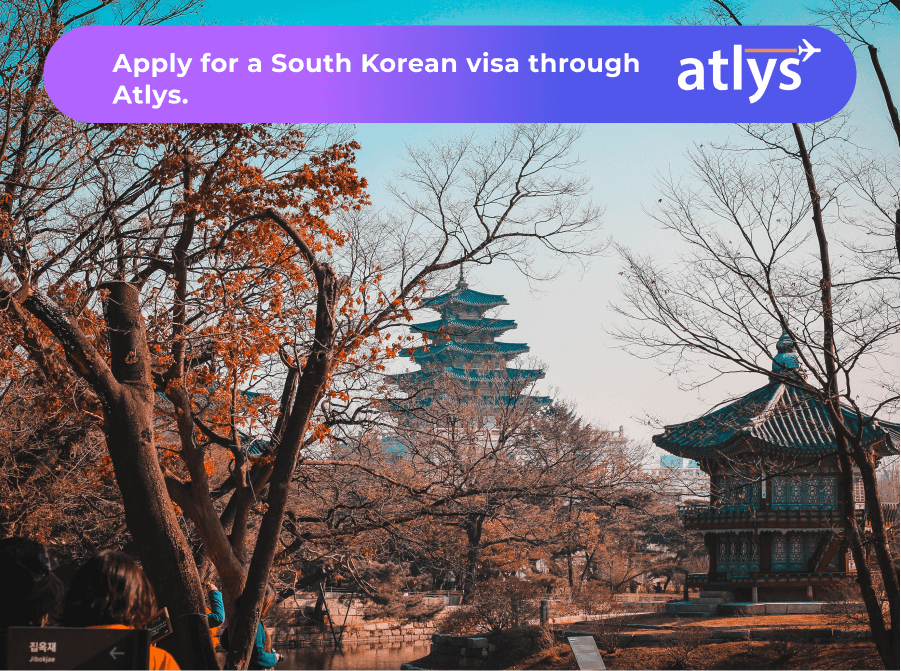 South Korea Travel Authorization Application Process
You can apply for your K ETA in two ways, through Atlys or through the K ETA official website. I'll discuss the application process for both.
How To Apply Through Atlys
If you choose to apply through the Atlys app, the application process will look like this.
The first and most obvious step is that you have to download the Atlys app. Once you have, you can log on and choose the country you want to travel to. Next, you need to enter your travel dates and complete the application form.
The best thing about the Atlys app is that you can scan your documents, and the app will automatically upload the information. All you need to do is check if the information is correct!
Next, you need to upload the required documents and pay the visa fee of USD 50. Then, you can submit your application.
Atlys will keep you up to date on the progress of your K ETA via the email you used to apply.
How Can I Apply For A K-ETA For South Korea?
Applying for a K-ETA for South Korea is very straightforward. I'll take you through the application process in a step-by-step guide.
Step 1: Access the K ETA website
First, you need to access the K-ETA official website you use to apply. Next, you need to select "Apply for K-ETA" at the top. Then, you must select your continent and agree to the terms and conditions.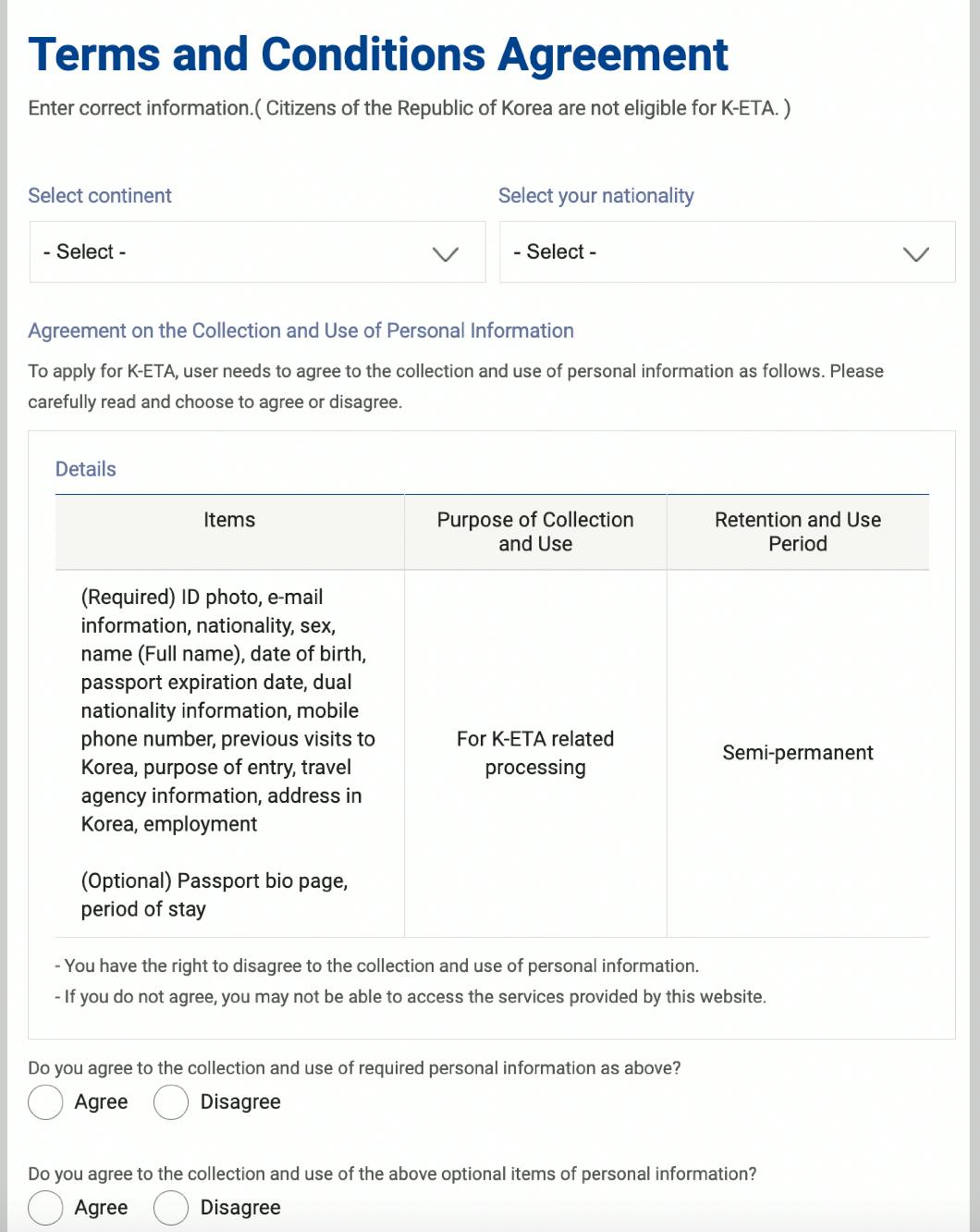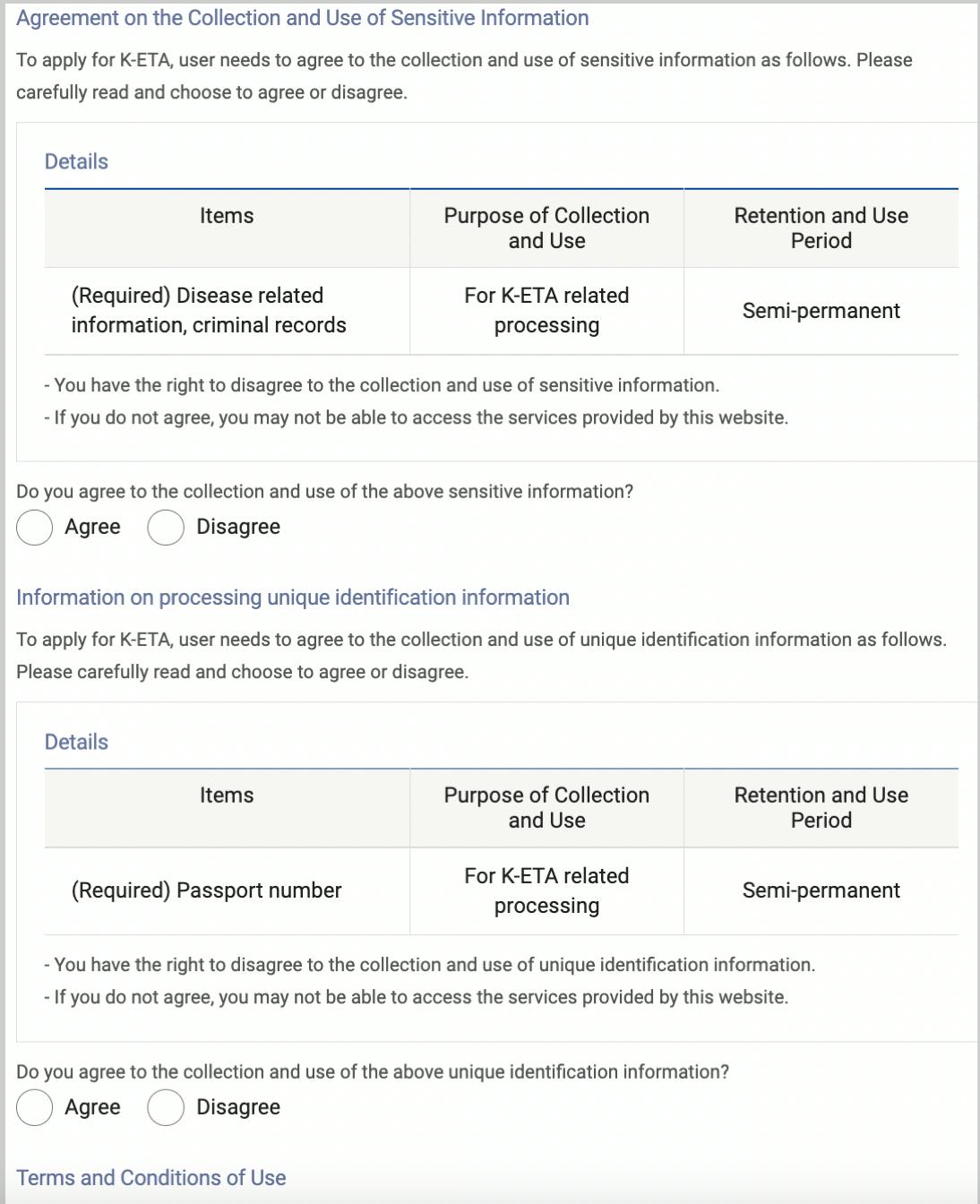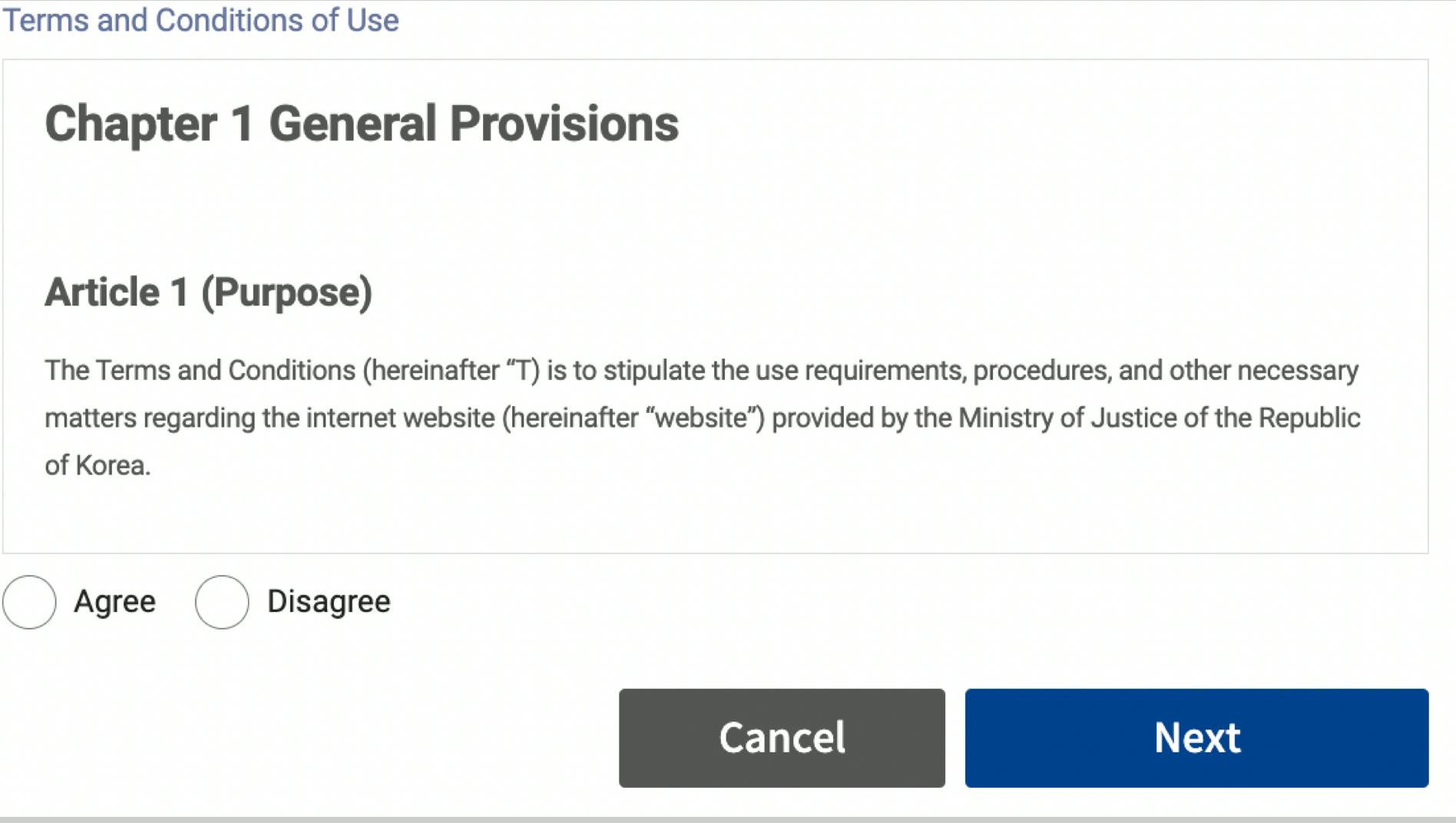 Step 2: Provide your email address
Next, you need to provide a valid email address. This is the address they'll use to contact you, so make sure it's correct. You must also provide your passport number.
Step 3: Enter passport information
Next, you need to provide your passport information. The relevant information they'll need includes the following:
Your passport biodata page.

Surname and name (in English).

The expiration date of your passport.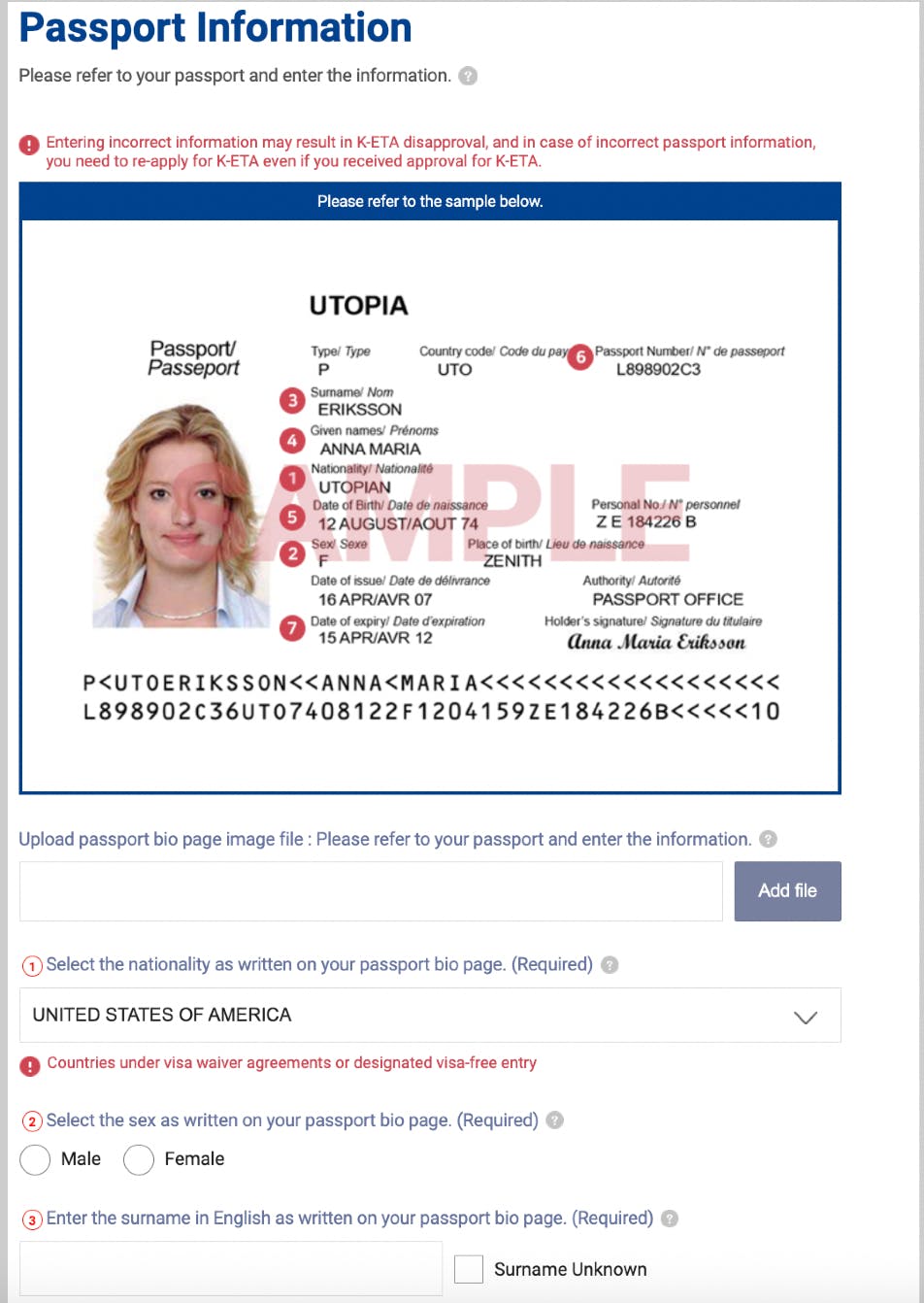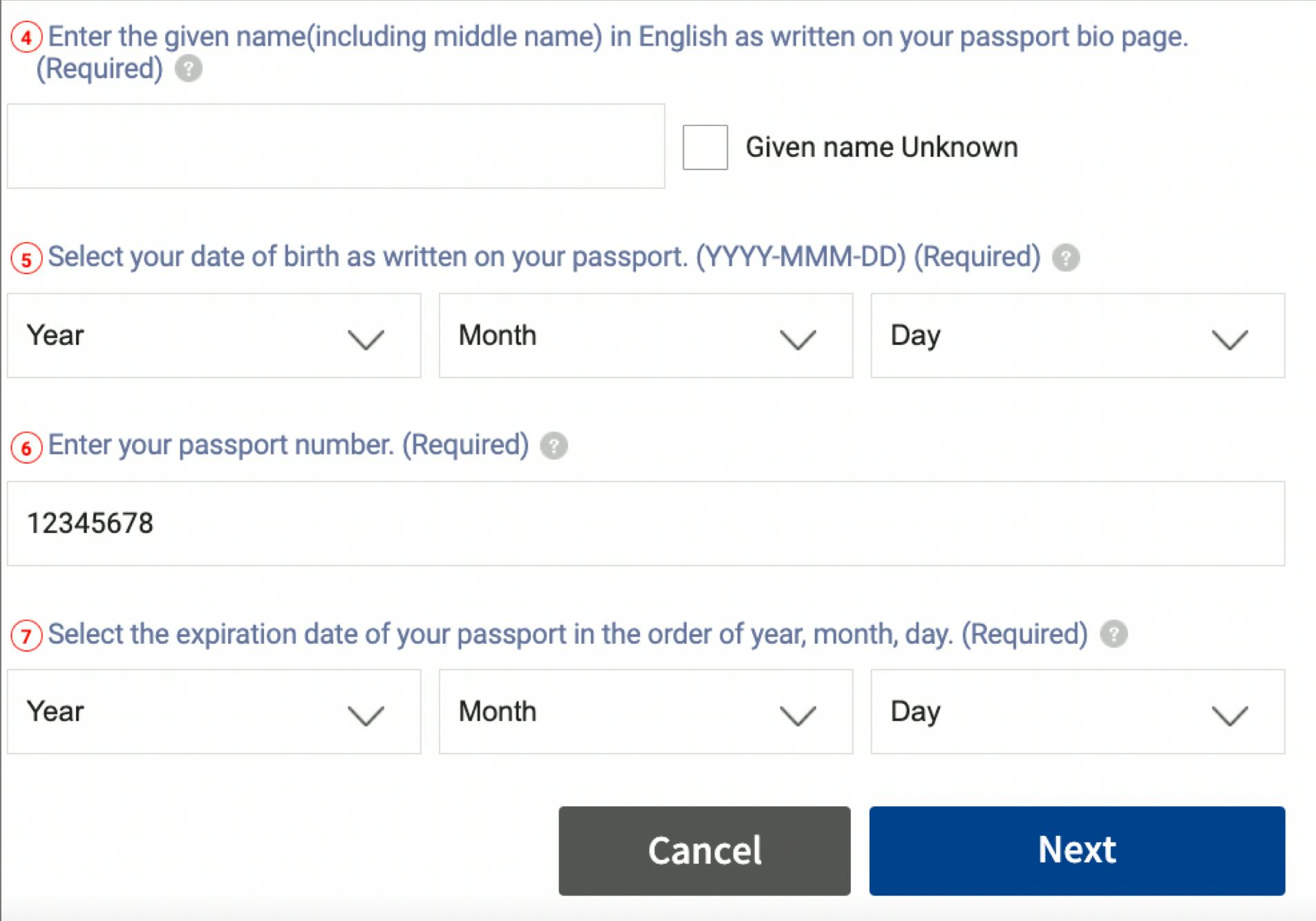 Step 4: Enter application information
Next, you need to complete the K-ETA application form. You need to provide information like your name, address, hotel bookings, flight information, arrival date, and exit date.
Step 5: Review your application
Once you're done with the application form, you need to review every piece of information you provide. Then, if there's incorrect information, you can go back and fix it.
Remember that providing incorrect information could extend the processing time; in extreme cases, your K-ETA will be denied.
Step 6: Pay the application fee
Lastly, you must pay the visa application fee (mentioned earlier in this post). The payment is a secure online payment with a credit or debit card. Now all you need to do is wait for the results. They'll send you an email detailing whether or not you got your K-ETA. If you get your K-ETA, you must print it out to show Immigration officials at your point of entry.
You can check your K-ETA application results on the same website you used to apply.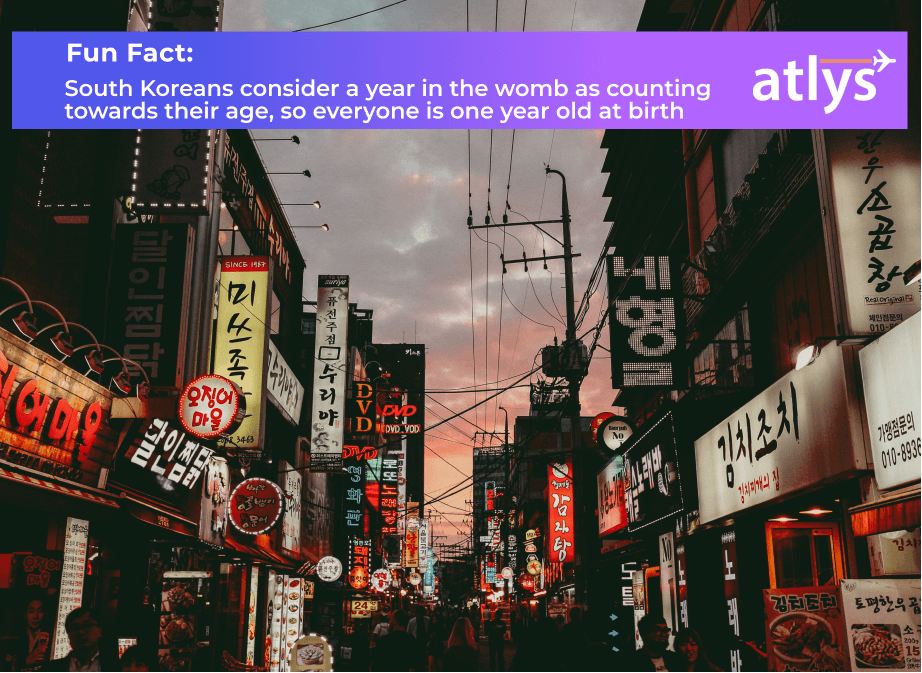 An Overview Of The K-ETA
You need to know a few things before we jump into the application process for the K-ETA. These things include:
Which Countries Are Eligible For A K-ETA?
Citizens from certain countries can apply for a South Korean ETA. For example, if you're from one of the following countries, you're eligible:
Albania, Andorra, Antigua and Barbuda, Argentina, Australia, Austria, Bahamas, Bahrain, Barbados, Belgium, Bosnia and Herzegovina, Botswana, Brazil, Brunei Darussalam, Bulgaria, Canada, Chile, Colombia, Costa Rica, Croatia, Czech Republic, Denmark, Dominica, Dominican Republic, Ecuador, El Salvador, Estonia, Fiji, Finland, France, Germany, Greece, Grenada, Guatemala, Guyana, Haiti, Honduras, Hungary, Iceland, Ireland, Israel, Italy, Jamaica, Kazakhstan, Kuwait, Latvia, Lesotho, Liechtenstein, Lithuania, Luxembourg, Malaysia, Malta, Marshall Islands, Mauritius, Mexico, Monaco, Montenegro, Morocco, Nauru, Netherlands, New Caledonia, New Zealand, Nicaragua, Norway, Oman, Palau, Panama, Paraguay, Peru, Poland, Portugal, Qatar, Republic of Cyprus, Romania, Russian Federation, Saint Kitts and Nevis, Saint Lucia, Saint Vincent and the Grenadines, San Marino, Saudi Arabia, Serbia, Seychelles, Singapore, Slovakia, Slovenia, South Africa, Spain, Suriname, Swaziland, Sweden, Switzerland, Thailand, Trinidad and Tobago, Tunisia, Turkey, Tuvalu, United Arab Emirates, United Kingdom, United States, Uruguay, Vatican City, and Venezuela.
How Much Does A K-ETA Cost?
The K ETA fee is 10,000 KRW per person (9-10 USD, additional charges aren't included), and you can pay the fee with one of the global online payment-enabled international credit cards or debit cards.
Note that the application fee is non-refundable after payment is made, regardless of the result of the application.
How Long Does It Take For A K-ETA To Be Approved?
The processing time for the ETA is 72 hours, but it can be as fast as 30 minutes. It all depends on if your information is correct and whether or not they're receiving a high volume of applications.
What Is The Validity Of The K-ETA?
The K-ETA is valid for 90 days, and you can only apply if your purpose of travel is for leisure or tourism. If you wish to stay in South Korea longer than the ETA permits, you must apply for a visa before you travel.
What Can I Expect At Immigration?
Unfortunately, the K-ETA is not a visa that allows you to enter South Korea. Immigration officials decide whether or not you can enter and how long you can stay. I know this sounds scary, but I have some tips for you to ensure your entry.
Tip Number One:
Make sure that you have your valid passport (the one you use for the K-ETA application), return flight ticket, proof that you can cover the costs of your trip (bank statements), and your printed K-ETA.
Tip Number Two:
Be prepared. Immigration officers might ask you a few questions regarding your trip before entering South Korea. The question might be along the lines of your purpose of travel, your country of origin, and how long you plan on staying in South Korea.
Tip Number Three:
Stay calm. Remember, they're just doing their job. If you have everything you need, there's no reason to worry!
In What Cases Should I Re-Apply For My K-ETA?
You must apply for a new South Korea ETA if One of the following information changes:
Passport expiration date.
If any of the information mentioned above changes, you must apply for a new ETA, even if your current one is still valid.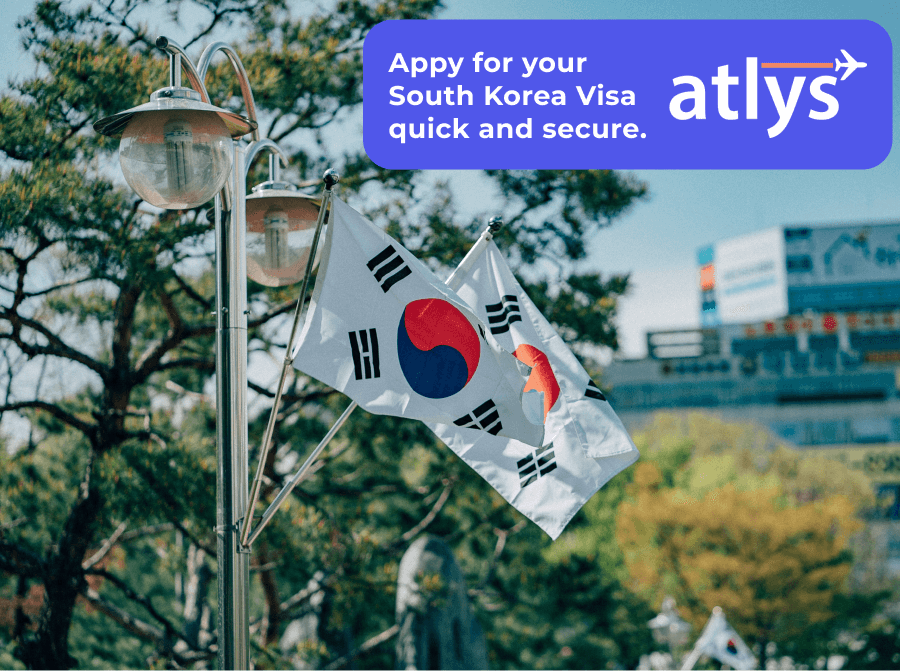 An Extra Tip!
If you have any questions during your application or just questions in general. You can go to the K-ETA website and click on "Notice." Underneath, there will pop up different categories. Click on "Ask Us."
This will then take you to another page where you must agree to the terms and conditions and enter your valid email address. Once you click next, you can type up your question or concerns, and you'll receive feedback on the same email you used.
That's it!
Now you can seamlessly apply for your K-ETA and enjoy your visit or business trip to The Republic of Korea. If you're there for business, make sure you have time to see some attractions. South Korea is really beautiful!
All the information in the blog are from reliable sources such as:
Frequently Asked Questions
In principle, foreign nationals cannot stay in Korea beyond the period of stay granted upon entry. If you want to stay long-term, you need to obtain an appropriate visa at a diplomatic mission of the Republic of Korea. Those who enter Korea visa-free with a K-ETA can stay up to the visa-free sojourn period granted to their country per visit.
Author: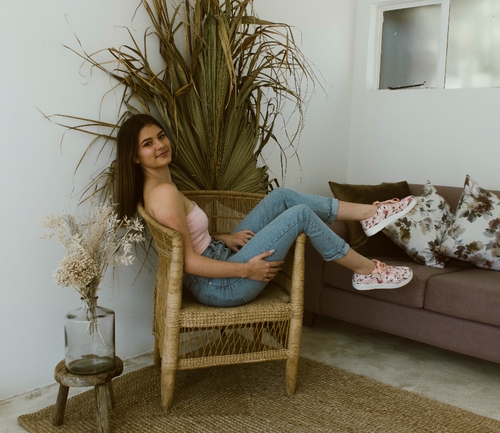 Laliq Schuman
Verified Author: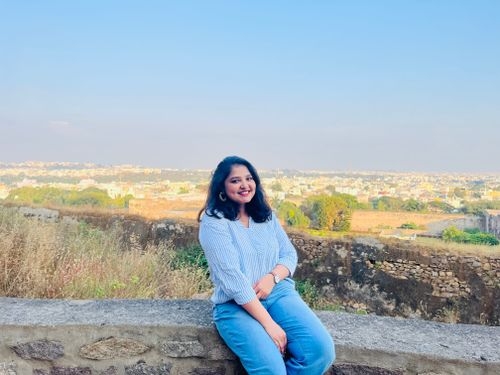 Nikhita Rathod