Get Your Sri Lanka Visa Easily - A Guide On How To Apply
Last Updated : Oct 2, 2023
Atlys in the news
In this blog, we will look at how US citizens can travel to Sri Lanka and what requirements are needed for the Sri Lanka Visa process.
Some important information you need to know includes:
Do US citizens need a visa for Sri Lanka? Yes, you do.
Type of visa required: ETA Sri Lanka visa
Cost of the visa: The ETA for the Tourist Visa costs 35 USD, the Business Visa is 40 USD, and the Transit Visa is free of charge but only valid for 2 days.
Sri Lanka visa processing time: 3-5 business days.
Validity of the visa: 90 days, but you can only stay in the country for a maximum of 30 days.
The fastest and easiest way to apply: Atlys.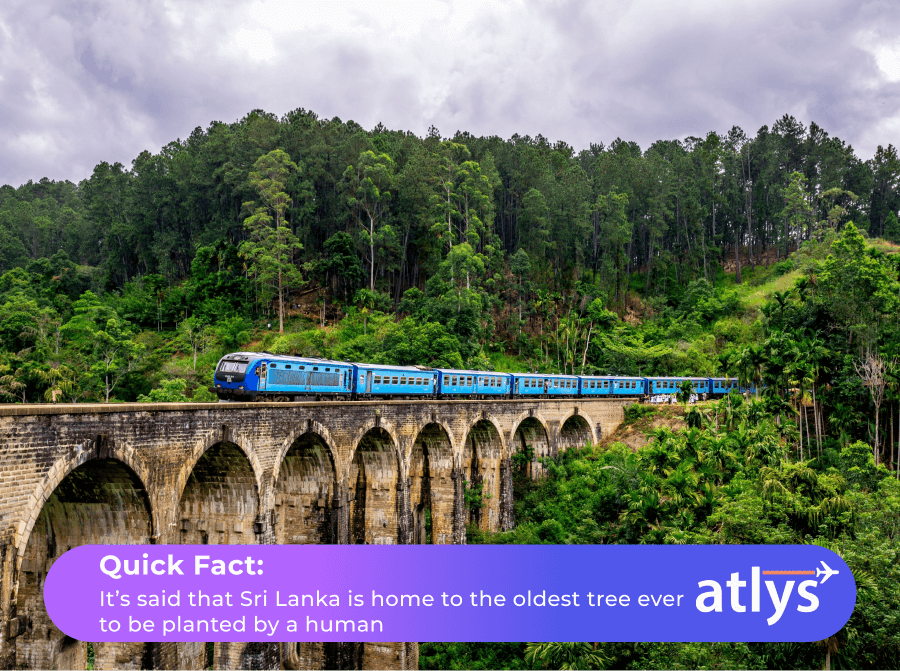 The Easiest Way To Apply For The Sri Lanka Visa For US Citizens
We all know how tedious visa applications can be, from getting the correct information from US Embassies, making sure you meet the entry requirements, gathering all the documents, and finally submitting your application.Luckily you can use Atlys to get your visa without hassle. With Atlys, you can expect the following:
A straightforward application process - Save hours and complete your application in minutes!

All the documents required for your application - Saves the hassle of gathering documents yourself!

Step-by-step instructions - So you can get your visa with certainty.

Real-time visa notifications - So you can keep up to date with your visa status.
Curious about Atlys? Download the app now and see how easy it is to get your visa.
Overview Of The Sri Lanka Visa For US Citizens
In this section of the blog, we'll be looking at all the information you'll need to know about the visa before applying for it.
Let's get to it:
Do I Need A Visa For Sri Lanka?
Yes. US citizens will need an ETA Sri Lanka visa before traveling to the country.
What Is The Sri Lanka Visa?
It's a travel document that allows foreign nationals to visit the country for a short amount of time. The Sri Lanka Visa is also known as the Sri Lanka ETA (Electronic Travel Authorization).
Note: There is more than one kind of ETA Sri Lanka visa you can apply for depending on your purpose of visit, such as a Tourist Visa, Business Visa, and Transit Visa.
How Can I Get A Visa To Sri Lanka?
You can apply for a visa at the Department of Immigration, VFS Global, or a visa application center or visa services such as Atlys.
There is no need for you to apply at your nearest Sri Lankan Embassy, Consular Office, or High Commission.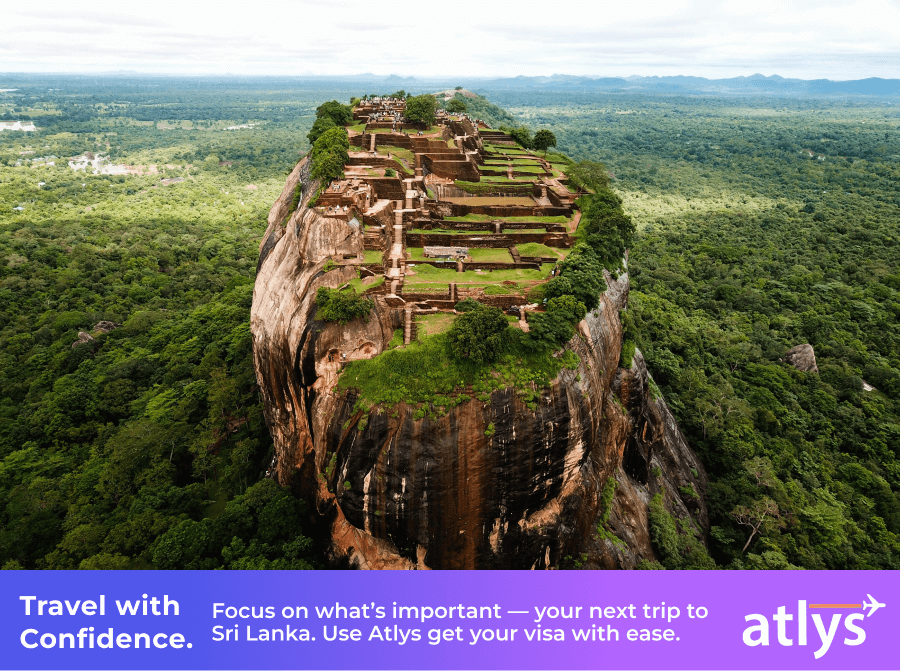 What Are The Requirements For Visiting Sri Lanka?
The requirements cover a host of things. Some requirements can include the required documents, passport requirements, passport photo requirements, etc.
However, when you apply for the Sri Lanka visa you only have to worry about the required documents and passport requirements.
Remember that the requirements also means the documents you need to enter the country. In this case, you need your passport and valid visa. It could also help to have proof of flight tickets and accommodation.
Documents Required To Complete The Application Form
You don't need to upload any documents during your application. However, you need certain supporting documents to complete the application.You'll need the following documents:
A working debit or credit card.

An email address to receive your visa.

Travel insurance or medical insurance (not mandatory but very beneficial).

Proof of accommodation in Sri Lanka.
Passport Requirements
Your must have a passport valid for 6 months from your date of travel. You also need to make sure that your passport has at least 2 blank pages.
How To Apply For The Sri Lanka Visa For US Citizens
Now we will look at how you can apply for the Sri Lanka Visa. The visa process is very straightforward. There are two possibilities you can choose from depending on your needs or preference:
Apply For The Visa Online
Applying With Atlys
Another way to apply for your visa is through Atlys' visa services. All you will need to do is download the app on your phone or go online and choose the country you want to visit.Then, you must complete the application form and upload your required documents.
To make this easier, Atlys has a feature where you can scan your documents and passport, which will automatically upload all the information into the form.
Once you've done this, you can submit your application and pay the visa fee.
Atlys will also save your information for the next time you make a visa application, thus saving you so much time. If you don't want us to save your information, you have the option to delete it after receiving your visa.
Apply For The Sri Lanka Visa Online
You can also apply for your visa online through the Sri Lankan Gov website. You can follow this easy step-by-step guide to make your Sri Lanka visa application hassle-free.
STEP 1: ACCESS THE WEBSITE
The first thing you will need to do is to go to the government website and agree to the terms and conditions and disclaimers.
Then you'll be directed to a different page where you will need to select which ETA you are applying for (tourism, business, or transit). Select "Apply for an individual."
STEP 2: COMPLETE THE APPLICATION FORM
Next, you need to complete the application form truthfully. You'll need to provide the following information: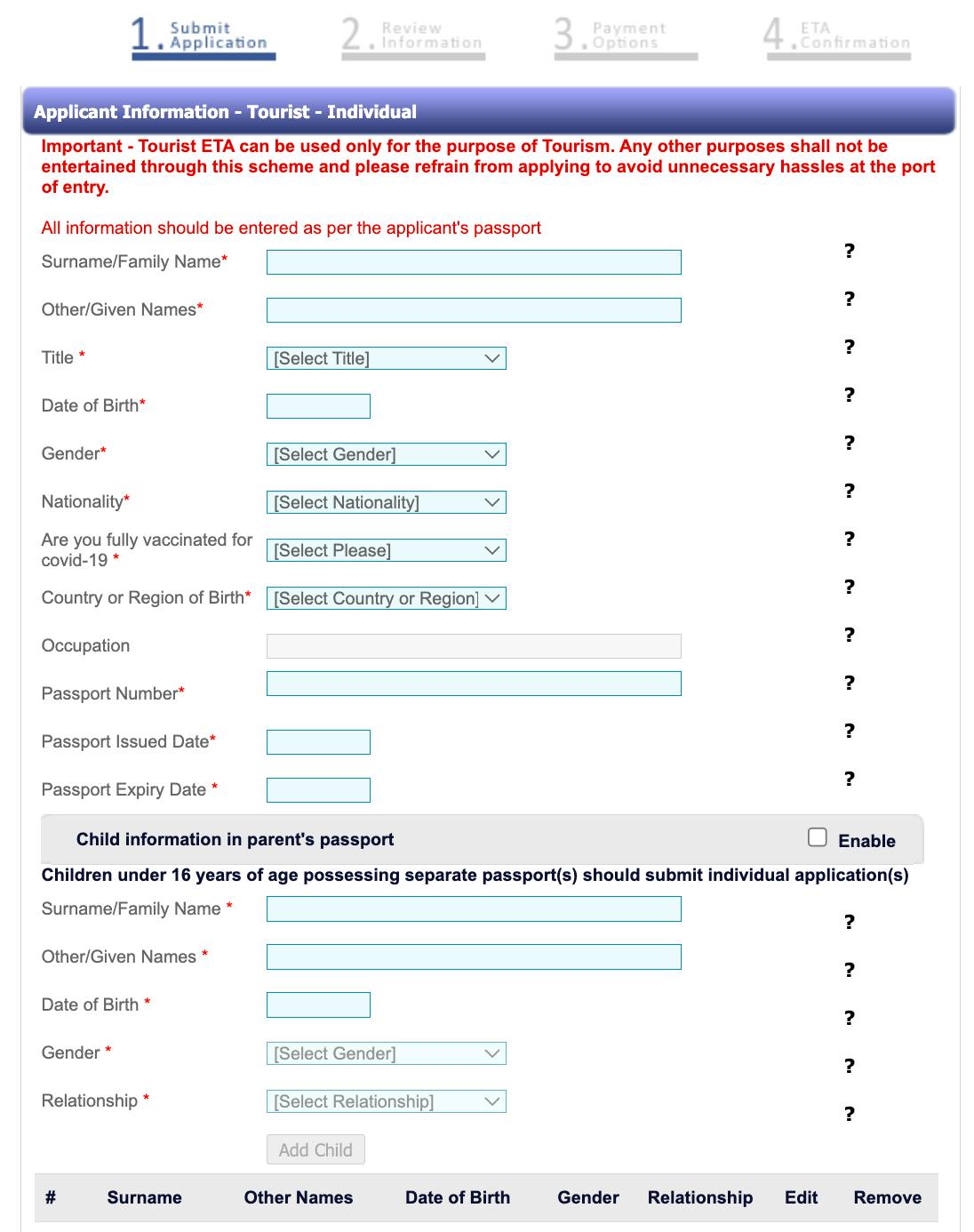 STEP 3: CONFIRM YOUR DETAILS
This part is very important. You need to double-check that all the information you provide in your Sri Lanka visa application is up to date and correct. If your application has any incorrect information, your visa can get rejected.Once you're sure the information is correct, move on to the next step.
STEP 4: MAKE THE VISA FEE PAYMENT
Before you submit your application, you need to pay the visa fee. You can use your credit or debit card. Then, submit your application.
You will receive an email that your application has been successfully submitted. After your visa has been accepted by the Ministry of Foreign Affairs, you will also receive your ETA via the email you used to apply.
Government visa portals are known to be complicated and riddled with issues. Use Atlys to avoid unexpected complications that can arise when using government portals.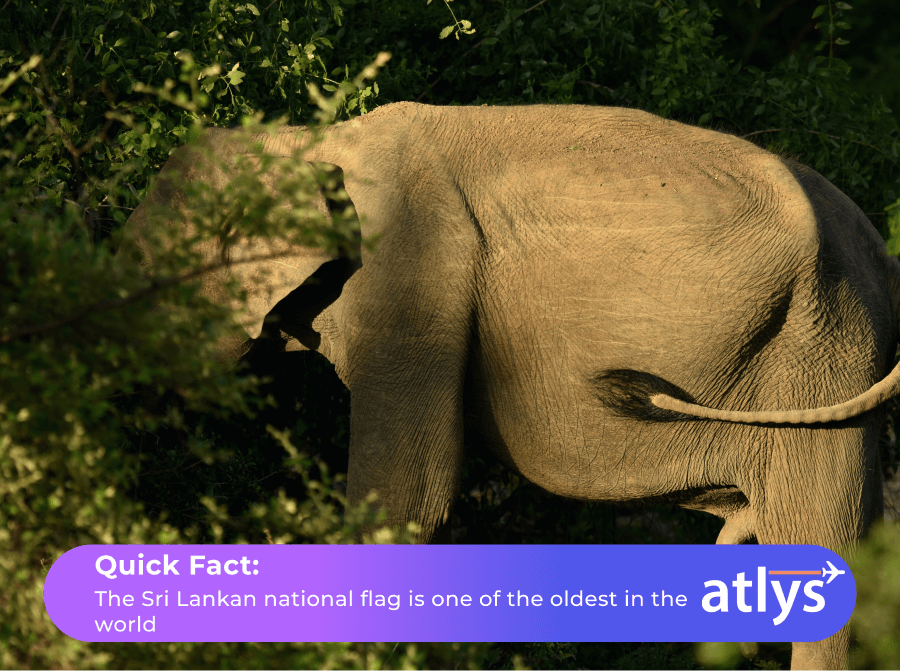 What Documents Do I Need Once I Arrive In Sri Lanka?
To get through immigration at your port of entry, you'll need your valid visa (ETA) and your valid passport with two blank pages. It would also be beneficial to have other supporting documents like your return flight ticket, proof of sufficient funds, and proof of accommodation with you.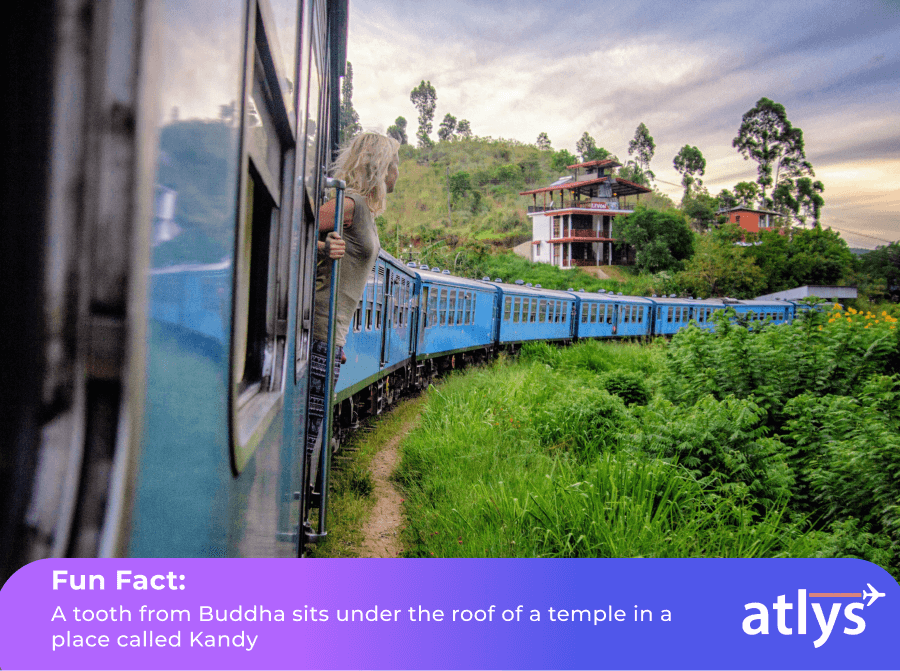 Additional In-Depth Information About The Visa
Now that you know how to apply, let's take a look at some other information you need to know. You might remember some of this information is discussed in the intro. Now, we'll take a more in-depth look at the questions.
How Much Does The Sri Lanka Visa For US Citizens Cost?
The costs for the visa will depend on which ETA you apply for:
The ETA for the Tourist Visa costs 35 USD.

The ETA for the Business Visa is 40 USD.

The ETA for the Transit Visa is free of charge but only valid for 2 days.
Please note that these visa fees aren't refundable.
What Is The Sri Lanka Visa Processing Time?
The processing time of the ETA Sri Lanka visa takes about 3-5 business days. But there are cases where you may get your visa sooner or a little later, so it's best to always apply earlier to avoid unnecessary delays with your trip in case the processing time takes longer than usual.
How Long Is A Sri Lanka Visa Valid For?
The visa is valid for a maximum of 90 days. But you will only be allowed to stay in the country for 30 days unless you apply for a visa extension if you would like to be in Sri Lanka for a longer period.
The visa can be extended for up to 90 days.
Can I Extend My Sri Lanka Visa?
Yes, you can. The short term visit visa can be extended a maximum of up to 270 days from the the date of arrival in three consecutive instances as granted 30 days on entry , 60 days at first extension and 90 days for second and third instances.
How Can I Extend My Visa?
Application for an extension should be submitted to the visa section of the Department of Immigration & Emigration (Head office) in person. Alternatively, you can apply for the visa extension through the online visit visa extension portal. You can extend your visa for up to 6 months.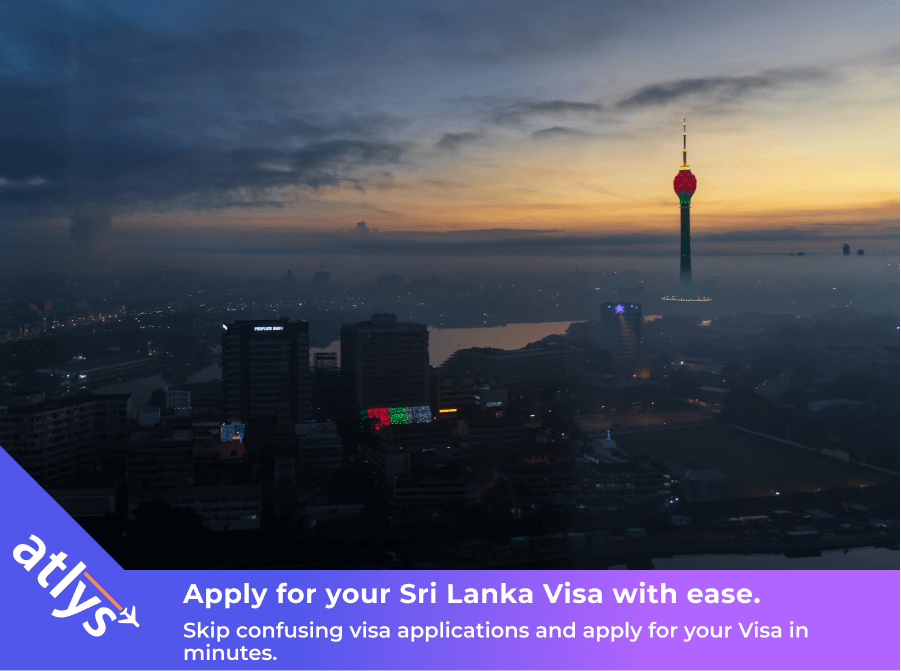 Happy Travels!
You can now dive into your Sri Lanka visa online application since you have all the details and requirements. Then, after applying for your visa online, you can just focus on packing and enjoying your trip.
For further information, check out the FAQ section below.
All the information above comes from reliable sources like:
Frequently Asked Questions
Yes. You can get a Visa on Arrival once you arrive in Sri Lanka, but first, you will need to apply for the Sri Lanka visa online.
Author: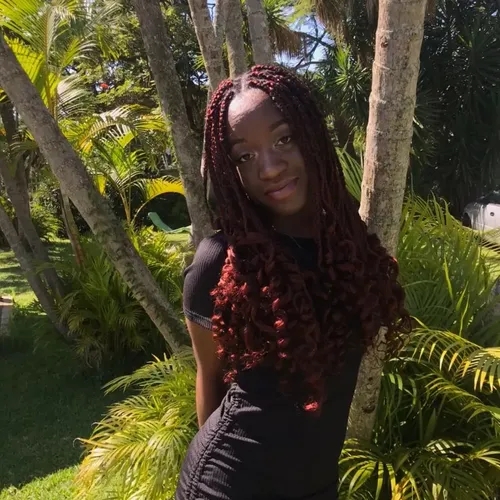 Vida Owusu
Verified Author: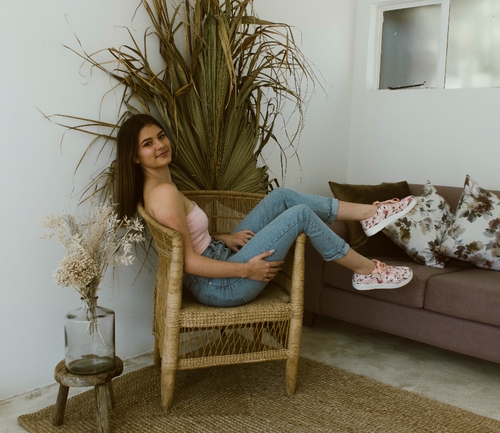 Laliq Schuman