Uganda e Visa: Uganda Visa Requirements and Application Process
Last Updated : Sep 4, 2023
Atlys in the news
If you want to travel to Uganda, this post is for you! It's now easier than ever to travel to Uganda with the Uganda e Visa, also known as the Uganda Tourist Visa.
In this post, I'll cover everything you need to know about the Uganda Tourist Visa, including the application process, costs, processing time, and a few Faqs for any lingering questions.
Get Your Uganda Visa In Minutes!
Download the Atlys app now and apply for your Uganda visa in minutes!
Atlys also has amazing tools you can use, like the passport photo tool, flight itinerary tool, and hotel itinerary tool.
What Is A Uganda Tourist Visa?
The Uganda Tourist Visa is an electronic visa (eVisa) foreign citizens can apply for online. You can also apply for the Uganda Tourist Visa at the embassy or consular. To travel to Uganda as a tourist, most international travelers must complete the visa application form for the eVisa.
Uganda visas can be used for single or multiple entries. You may be permitted to stay in Uganda for two to three months, depending on the specifics of your trip. If you wish to stay longer than the initial period provided, apply for an extension at the Immigration Headquarters in Kampala before the initial pass expires.
Visitors to Uganda should not overstay their visa validity; otherwise, they may be fined USD 30 per day and may face other legal consequences. You can also contact the embassy for further visa information.
Who Can Travel To Uganda Without A Visa?
Some countries are free from obtaining a visa to visit Uganda. These countries are part of the visa-waiver program. These countries include:
Angola, Burundi, Comoros, Eritrea, Kenya, Malawi, Mauritius, Madagascar, Rwanda, Seychelles, Swaziland, Tanzania, Zambia and Zimbabwe, Antigua and Barbuda, Barbados, Belize, Fiji, Gambia, Grenada, Jamaica, Lesotho, Malta, Sierra Leone, Singapore, Solomon Islands, St. Vincent & Grenadines, Tonga, Vanuatu, Italy (Only diplomatic holders), and Cyprus.
Do U.S. Citizens Need A Visa For Uganda?
Yes, US passport holders must have a valid visa for Uganda to enter the country. Luckily you can apply for an e-visa if you travel to Uganda for tourism or short stays.
This electronic visa system is the quickest way for citizens of the USA to obtain an Uganda visa.
Can I Apply For An East Africa Visa For Uganda For Tourism?
Yes, you can. An East Africa Visa is a joint tourist visa issued to travelers to and within Kenya, Rwanda, and Uganda for tourism. It is a multiple-entry visa.
How Much Does An East African Tourist Visa For Uganda Cost?
An East Africa Tourist Visa for Uganda costs USD 100. When you apply through the portals of each country, the amount you must pay is visible when you choose your type of visa.
Please note that these visa costs can change at any time.
What Are The Visa Requirements for Uganda
Before you apply for your visa, you need to know the visa requirements. You can apply for this visa online or at any Ugandan embassy or high commission overseas.
To apply for an Uganda Tourist Visa, you must meet specific requirements. You must have:
A valid passport. Your passport must be valid for at least six months beyond the date of your intended departure from Uganda (6 months).

Holders of a green card must present a copy of their green card.

You must have a Yellow Fever International Inoculation Certificate. An international health certificate proving you've taken a yellow fever shot will be required at the border or an international airport.
For more information about entry requirements, visit the Ugandan Directorate of Citizenship and Immigration Control website.
What Are The Required Documents For A Uganda Tourist Visa?
Before applying for the Uganda eVisa, you must have some required documents. These documents must be in digital format to submit during your online application. You need the following travel documents:
Passport-size photo. You can use the Atlys tool that turns any photo into a passport photo that meets the requirements.

A Yellow Fever vaccination certificate.

Invitation letter. You only need an invitation letter if you plan on staying with friends or family in Uganda.

Proof of accommodation like a hotel booking.
You might need to submit additional documents.
How Much Does An Uganda E-visa Cost?
The Uganda visa cost is USD 50. You must pay the Uganda visa cost before you submit the visa application; otherwise, officials won't process your application. These visa fees are subject to change. However, when you apply through the Immigration portal, they show you the visa fee.
How Can I Apply For A Uganda eVisa?
The application process for an Uganda visa is fairly straightforward. However, you should know that you can apply for your Uganda visa in two ways:
Apply Online
The online application for a Tourist Visa for Uganda is very straightforward, and the best part is that you can apply from the comfort of your own home. So, if you want to apply for an Uganda eVisa, just follow my step-by-step guide on how to get an Uganda visa.
Step 1: Access the website to apply
First, you must go to the Uganda Immigration website to start the Tourist visa application. You'll see at the bottom of the page you can click the "Start new application" option.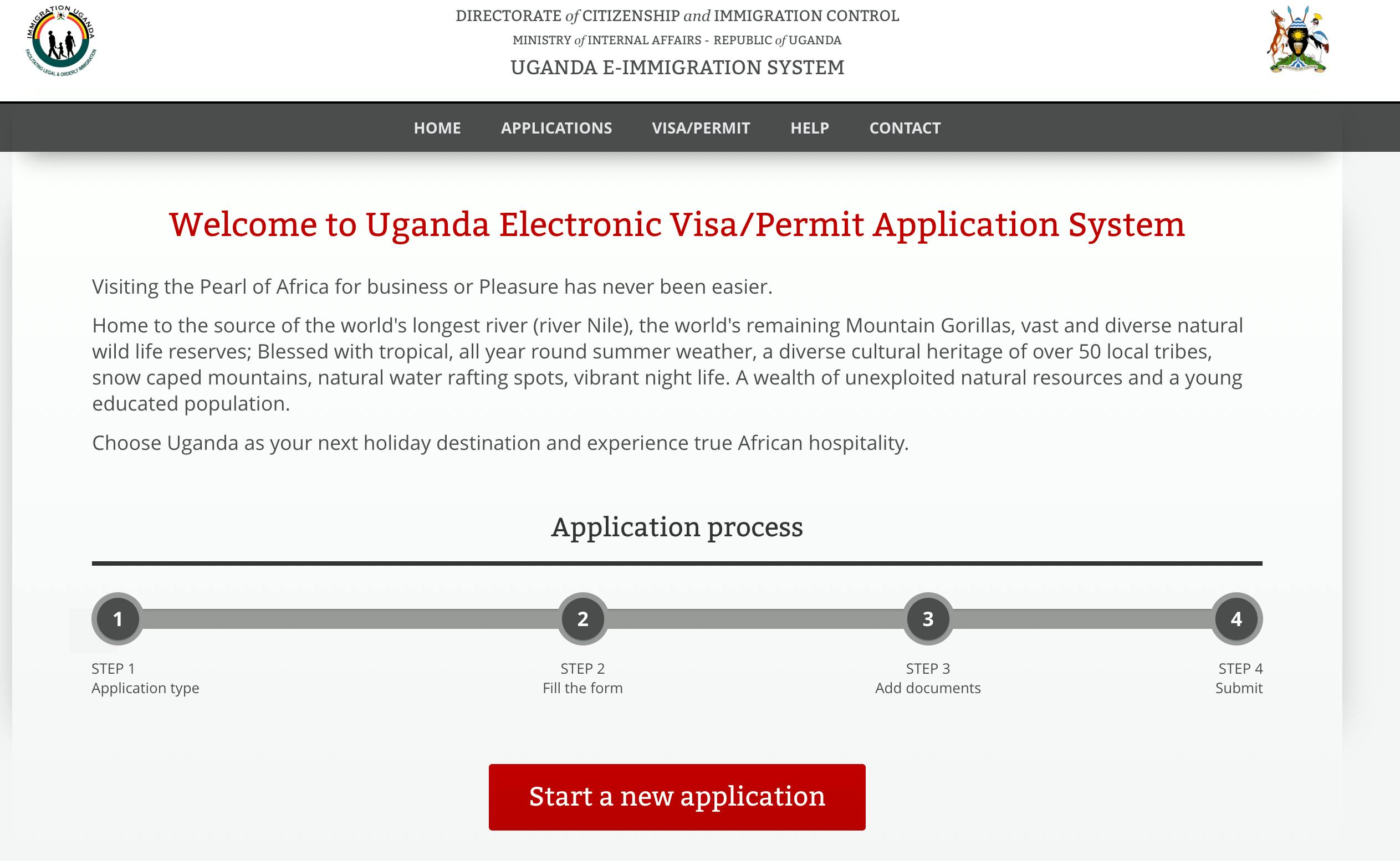 Step 2: Select your type of application
Next, you need to select the type of application. For example, under visa or permit type, choose "Visa" and then select your type of visa (Tourist Visa). With the subcategory, there's only one option, single entry. Click next when you complete this section.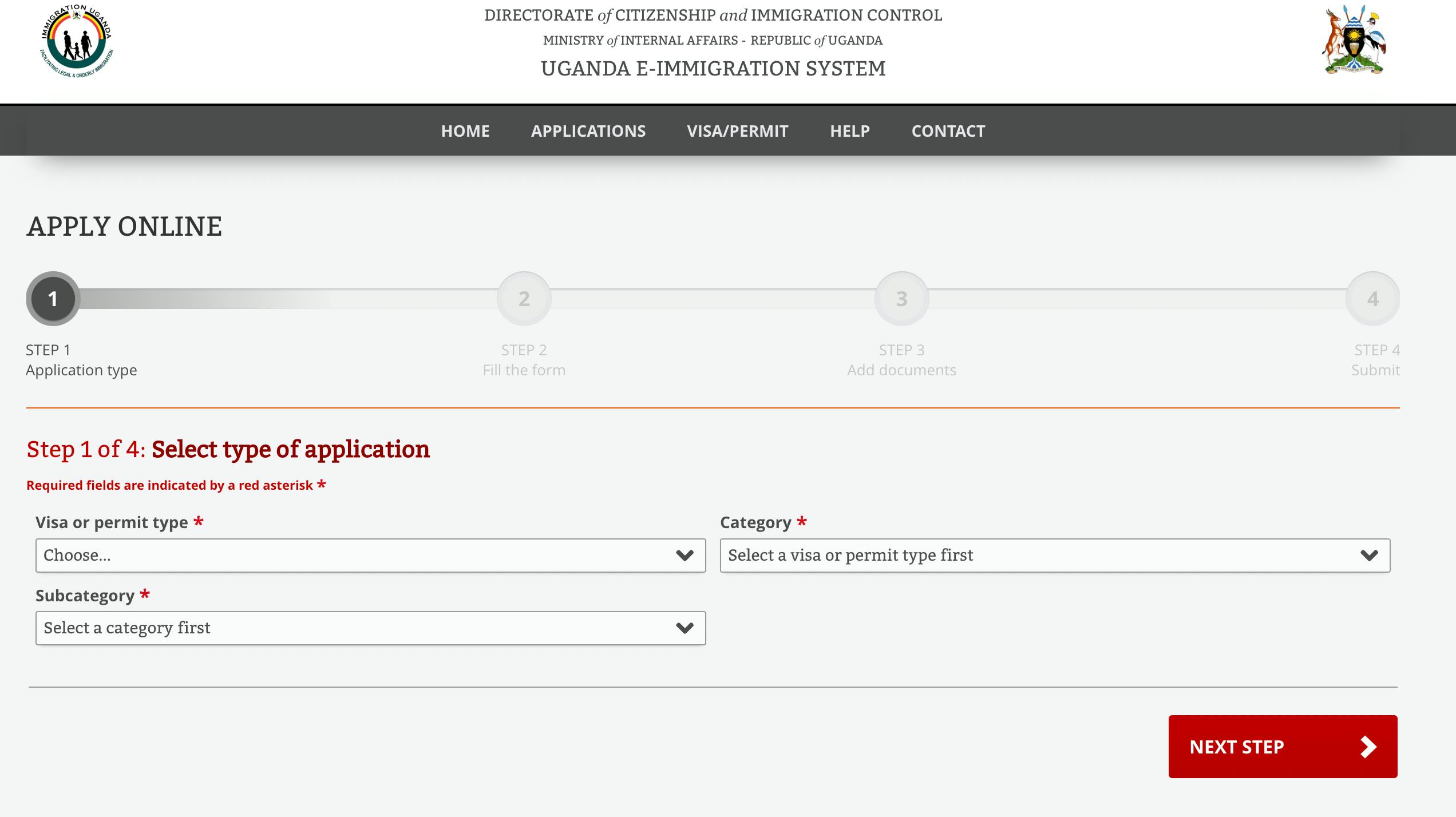 At the bottom of the page, you'll see a list of supporting documents you'll need for the application. It'll look something like this: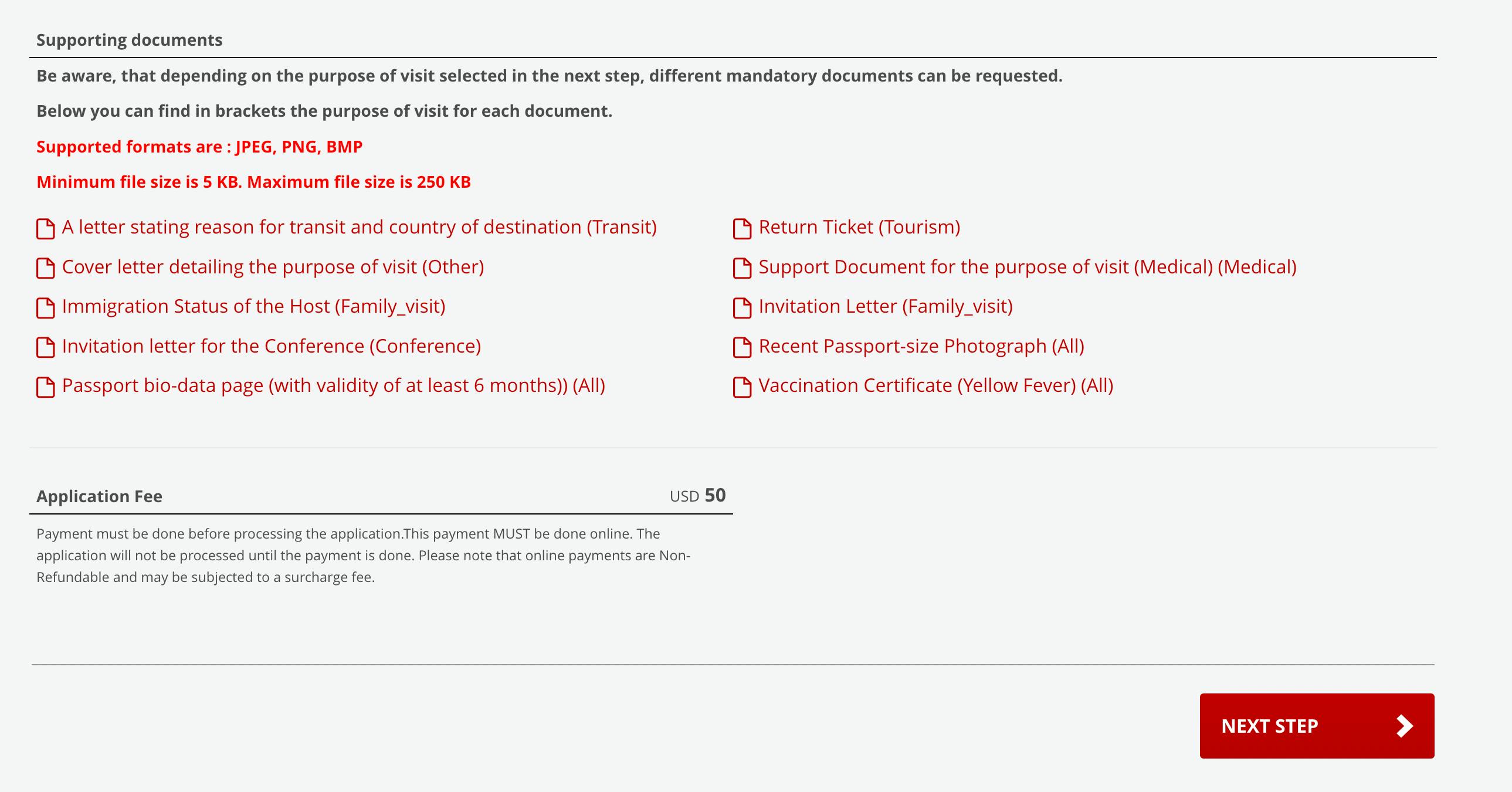 The visa fee you need to pay for your visa can be seen after the supporting documents. It looks like this:

If you read through everything and are happy, you can click "Next Step."
Step 3: Fill out the visa application form
Next, you need to fill out the visa application form. You need to provide information like your name, date of birth, gender, current nationality, passport number, travel history, and purpose of visit.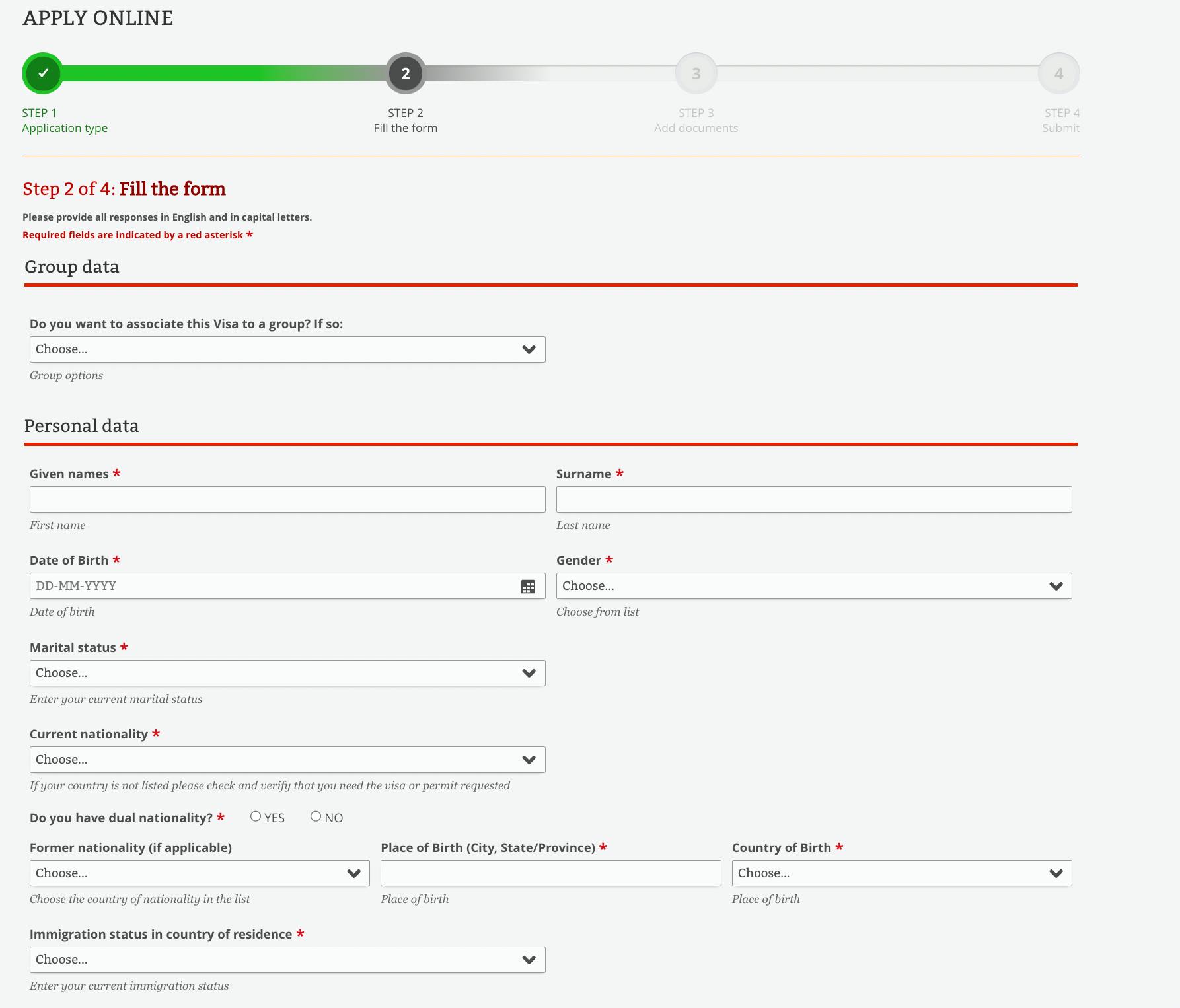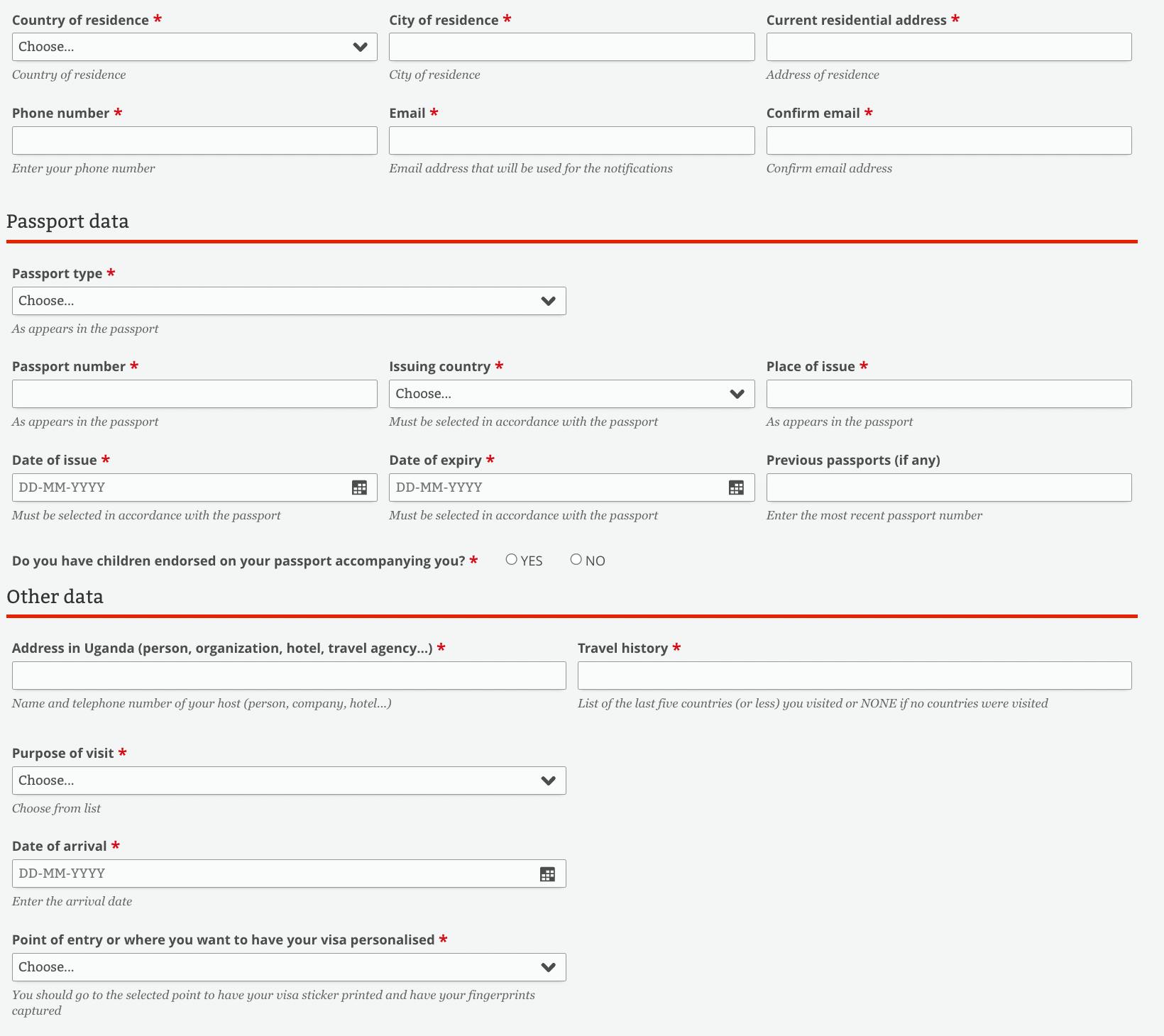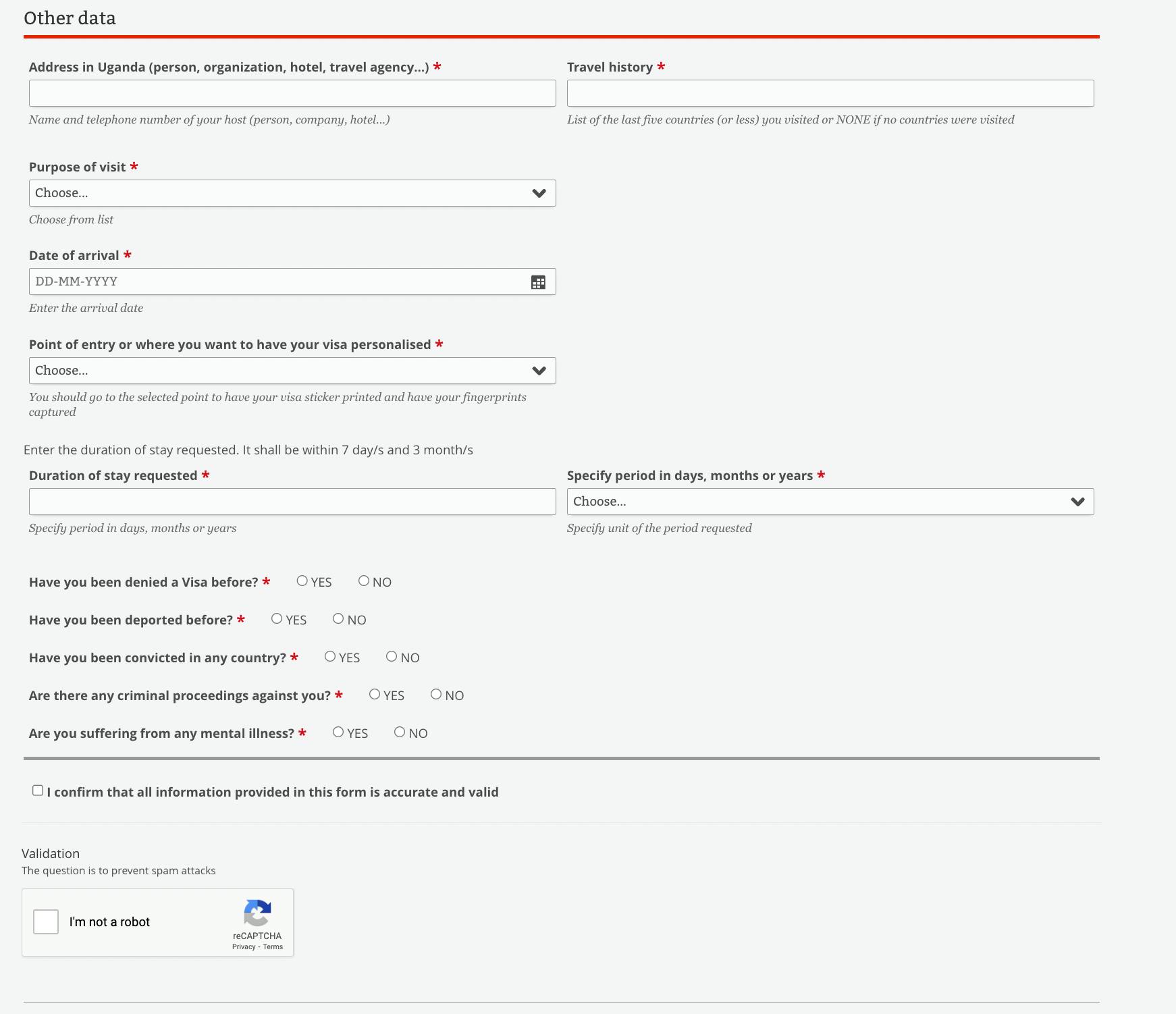 **Step 4: Submit your documents***
Next, you must submit all the required documents they ask for. These documents include your valid passport, passport-size photo, return flight ticket, and any other documents they ask for.
Step 5: Pay the visa fee
Lastly, you must pay the visa fee through the secure online portal with your credit card. Then you can submit your application and wait for officials to process the visa issuance.
You'll receive an email confirming your visa application. If officials accept your application, they'll send your visa through email.
Apply Through Atlys
You can apply for your visa through Atlys. This app guides you through the entire application.
All you need to do is select the country you want to travel to, complete the application form, upload your documents, and pay the visa fee. The best part is that the app saves your information. This means that you'll apply even faster for your next visa.
How Can I Check The Status Of My Uganda Tourist Visa?
Go to the Uganda Immigration website, the same website you used to apply for your visa.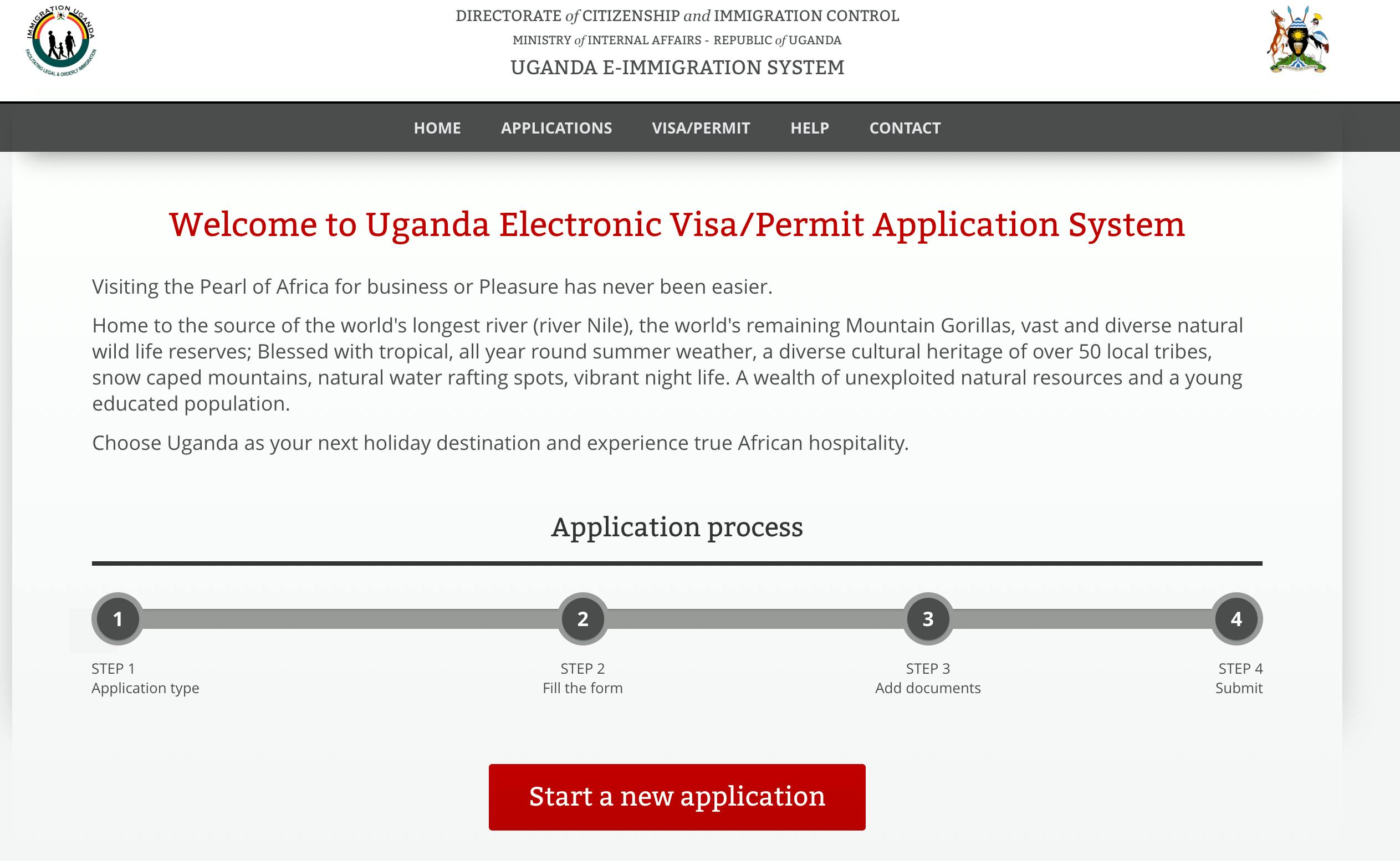 Please make sure you have your application identification number, passport number, and date of birth ready: click 'Applications,' 'manage my applications,' fill out your information and select "check the status of my application."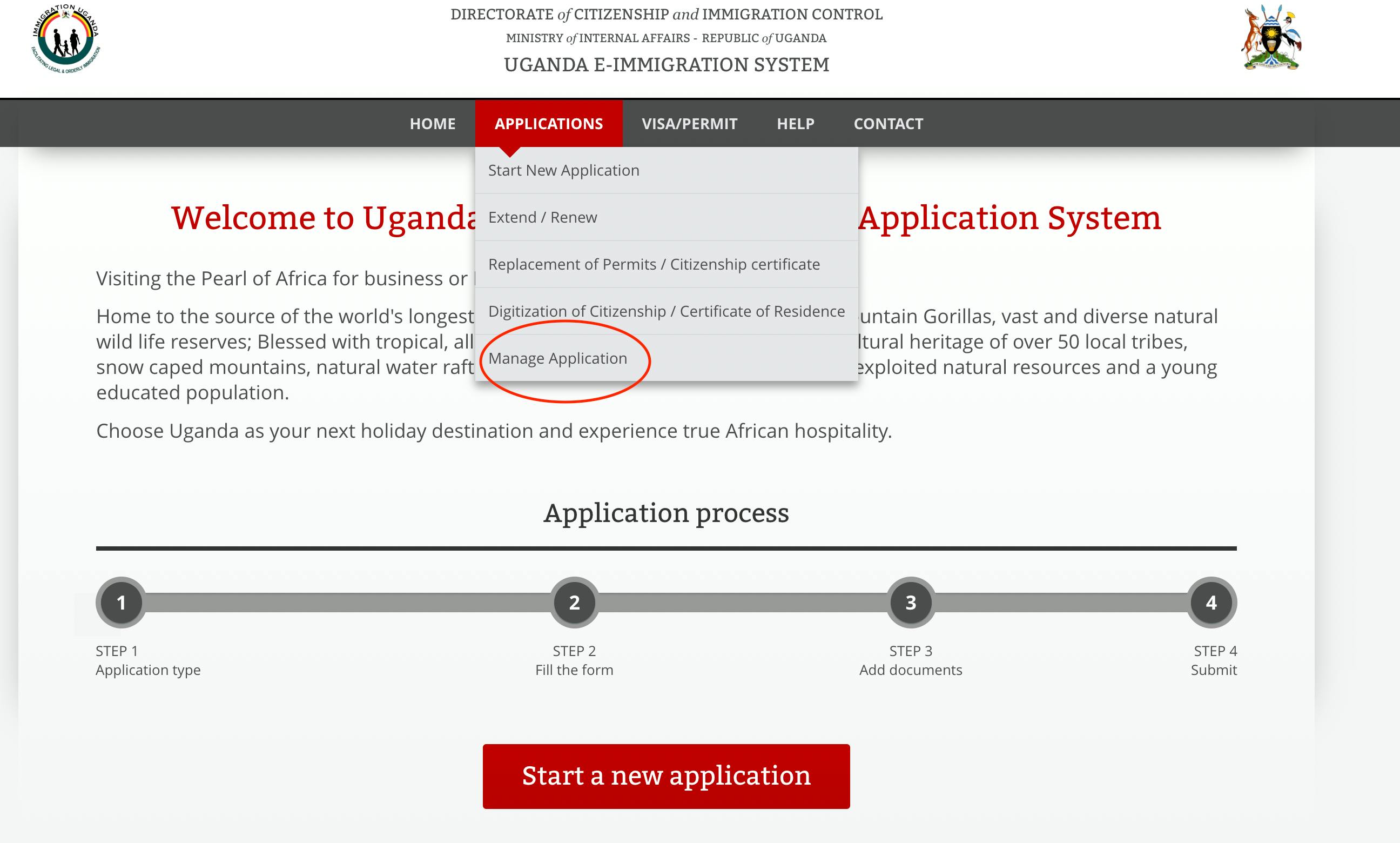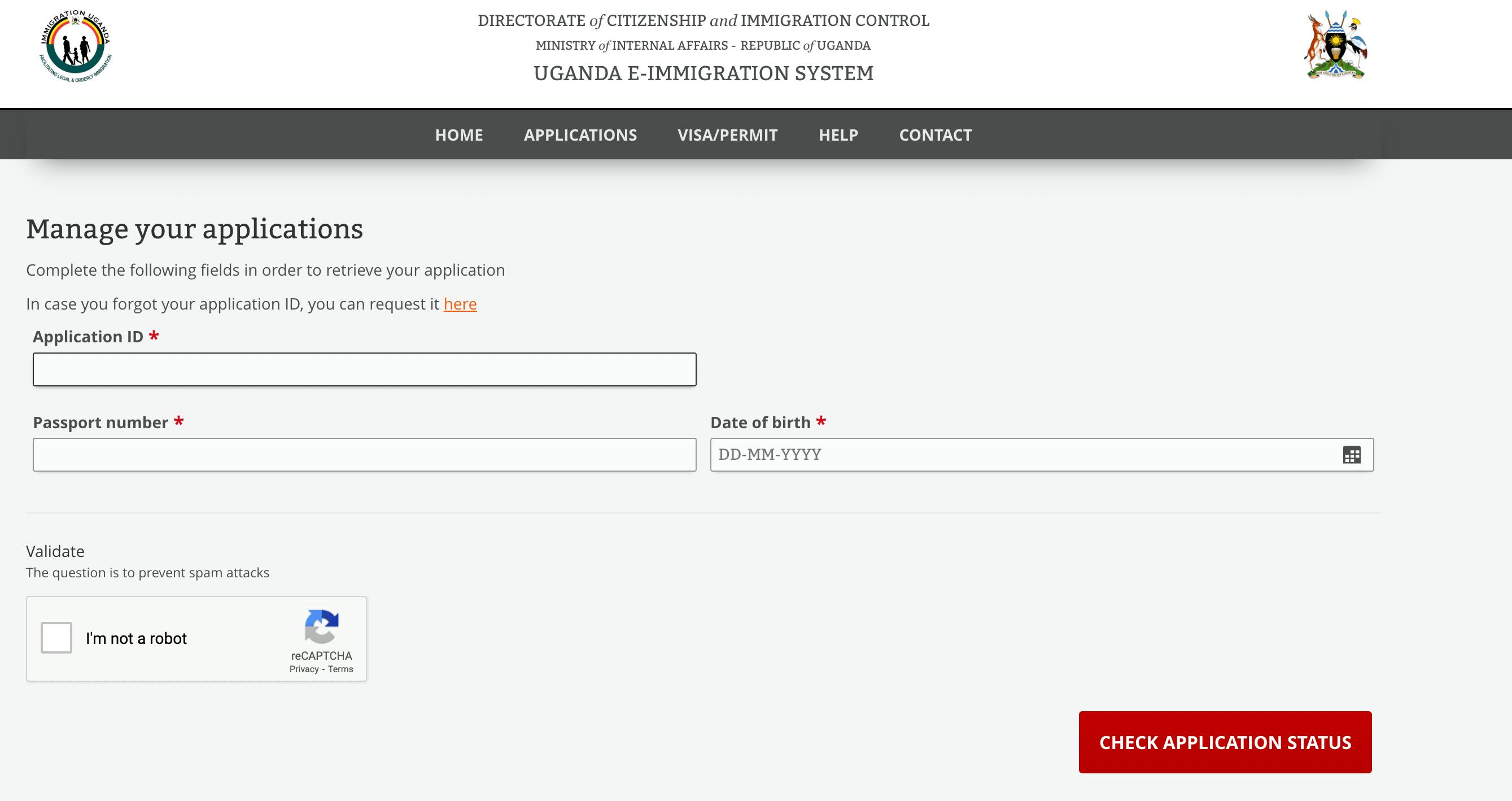 How Long Does It Take To Process An Uganda eVisa?
Once you submit your application and pay the visa fee, an Immigration Officer will review the application and decide whether to accept your application. This takes 2-3 business days. If approved, an email with the Travel Authorization/Approval letter will be sent to you; you must download it, print it, and embark on your travel.
Can I Extend My Uganda Tourist Visa?
Upon arrival, immigration officials will usually stamp your passport for a maximum of one month. However, at any immigration office, you can get a free three-month visa extension.
You may be requested to present an official letter from a sponsor or the hotel where you are staying in Kampala. However, according to recent studies, you are more likely to get your stay extended to three months in Jinja and Mbarara without filling out any papers. If you overstay your visa, you will be penalized $100 daily.
There You Go!
Now you're ready for your safari adventure in Uganda! The last thing you have to think about is your trip to Uganda. Please feel free to check out the FAQ section for answers to any questions you might still have
Frequently Asked Questions
A work permit is required for any foreign national traveling to Uganda to work (business travel). This criterion applies to both paid and volunteer work. Therefore, before beginning the application procedure, foreign workers should carefully select the appropriate type of work permit. The following are the several types of work permits available in Uganda for foreigners:

Class A and A2: work permits are for government and diplomatic service employees and government contractors.

Class B: This work visa is for foreigners who want to invest in Uganda's agriculture business.

Class C: This permit is for foreign nationals who wish to invest in the mining business.

Class D: Applicants who intend to do trade or commerce in Uganda must apply for this work visa.

Class E: Manufacturers that want to invest in or start a manufacturing firm in Uganda should apply for a work visa in this category.

Class F: This permit is for working professionals who want to exercise their profession in Uganda.

G1 and G2 Work Permits: These permits are for missionaries, volunteers, and foreign nationals who work for non-governmental organizations (NGOs).

You can go to the Ministry of foreign affairs website for more information.
Author: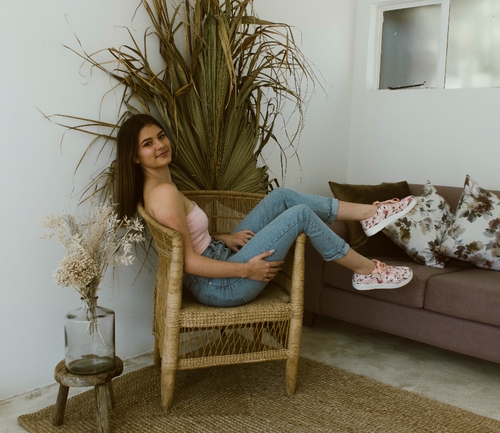 Laliq Schuman
Verified Author: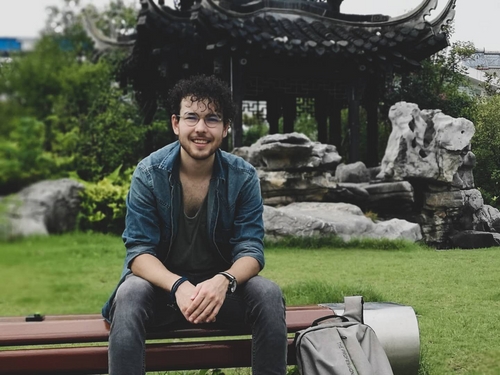 Richard Nathan
Related Articles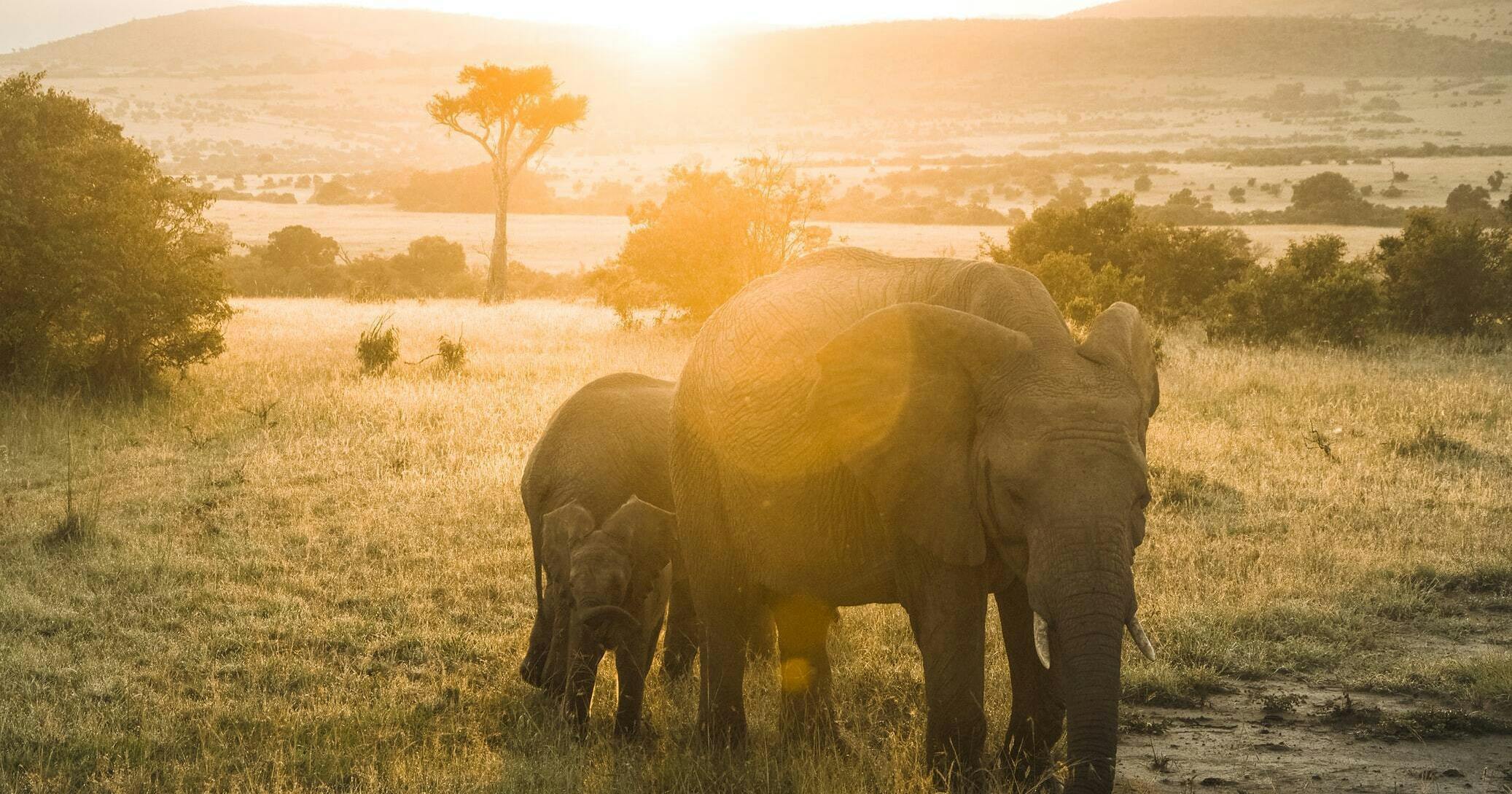 Going to Kenya, Rwanda, and Uganda on the same trip? Get an East Africa tourist visa to save time and money!This post covers everything you need to know about the application process, costs and requirements.