Revealed: These Are The Most Visited Cities In The World 2023
Last Updated : Oct 2, 2023
Atlys in the news
There are many reasons why it is essential to research travel destinations. Researching the most visited cities in the world can benefit any traveler - whether you are an adventure seeker, a paradise enthusiast, or simply a digital Nomad.
This research can enlighten you on the hottest tourist spots and help you gain great insight into what the vibrant city offers.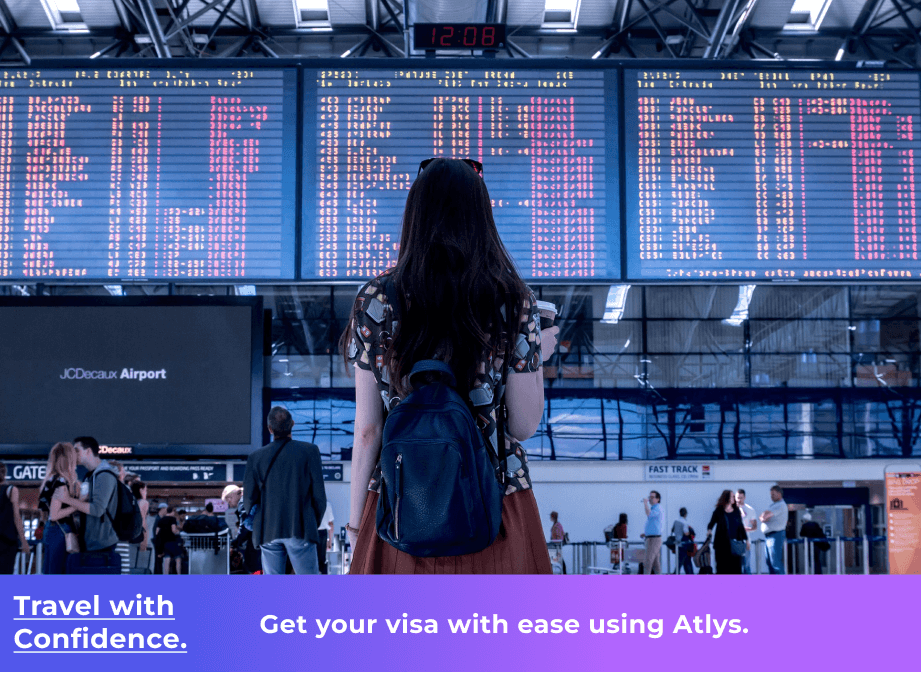 The Top 10 Most Visited Cities In The World 2023:
Mastercard's Global Destinations City Index has revealed the most visited cities in the world for travel based on overnight visitors and cross-border spending. What sets these cities apart is their diversity, which attracts travelers seeking unique experiences.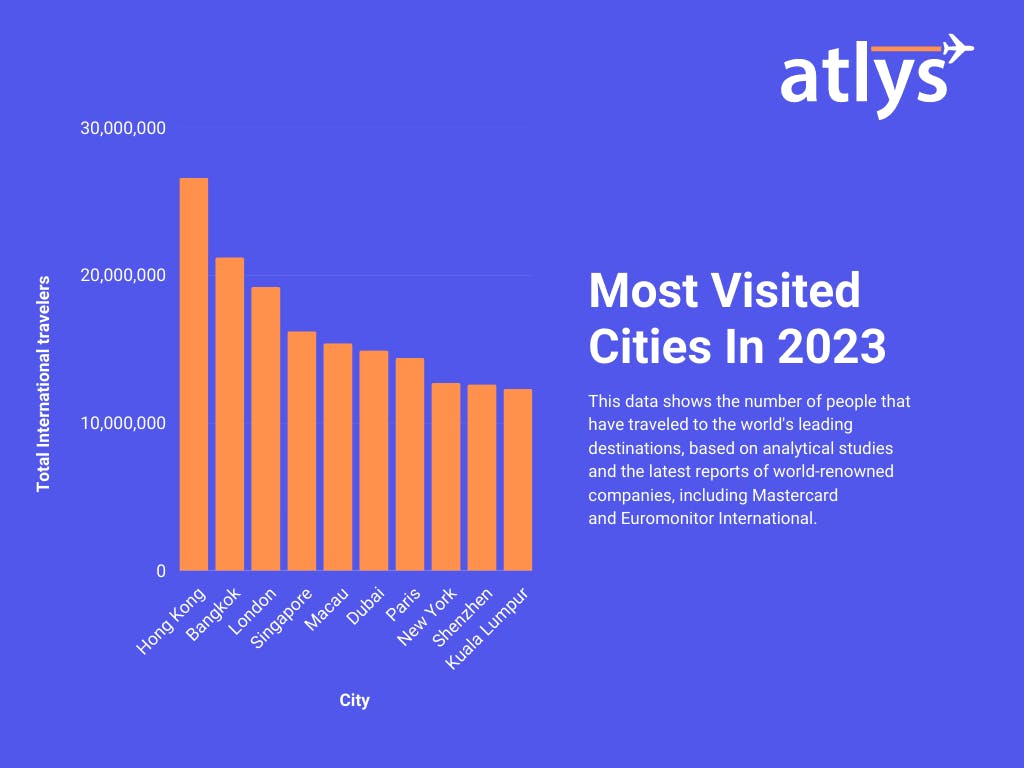 According to this graph, Hong Kong has dethroned its closest competitor, Bangkok, which held the top spot of the most visited city in the world for a few years.
Hong Kong is the most visited city in the world in 2023 with 26.6 million international visitors.
Let's Have a Look At The Top 5 Most Visited Cities In The World 2023:
Hong Kong
Hong Kong has become the most visited city in the world, surpassing Bangkok in recent times. Hong Kong welcomed 26.6 million visitors! With over 5 million more visitors annually than its closest rival, Hong Kong is expected to host at least 31 million tourists in the near future.
Attractions not to be missed:
Victoria Peak offers stunning views of the city skyline

The Big Buddha and Po Lin Monastery on Lantau Island

Hong Kong Disneyland is a must-visit for families who are Disney fans and is considered one of the most popular tourist destinations.

The bustling street markets of Mong Kok, such as the Ladies Market and the Temple Street Night Market

The Symphony of Lights shows a nightly multimedia spectacle of lights, lasers, and music.

The Avenue of Stars on the Tsim Sha Tsui waterfront, featuring statues and handprints of famous Hong Kong actors

The Hong Kong Museum of History, showcases the city's rich cultural and historical heritage.

The Star Ferry provides a scenic and affordable way to cross Victoria Harbour between Hong Kong Island and Kowloon.
Industry experts predict that by 2025, the number of visitors to this bustling financial hub will reach nearly 44 million.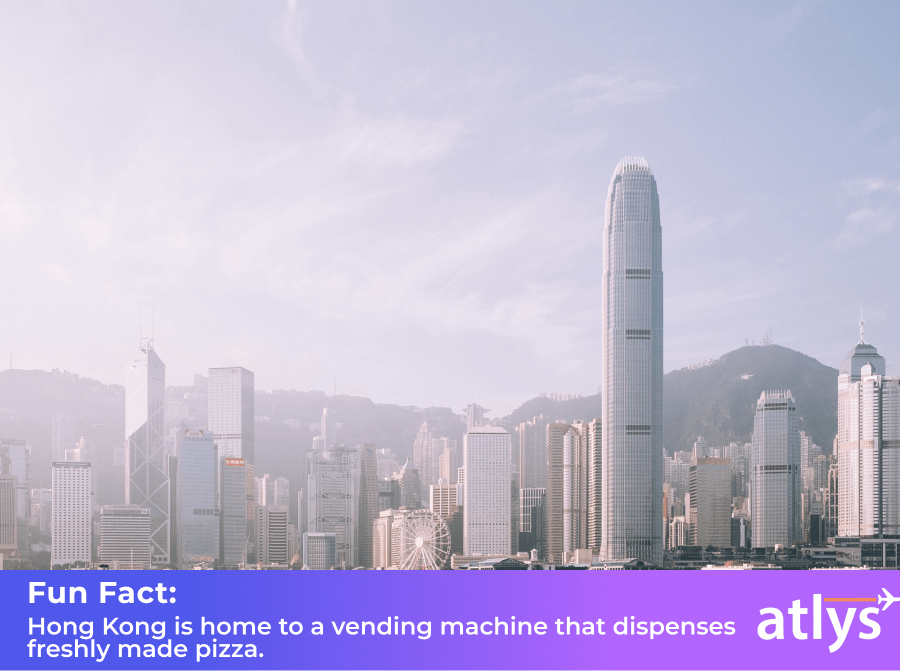 Bangkok
This famous busy city in Thailand ranks as the top-visited city in the world. Bangkok welcomed 21.2 million visitors! Imagine 21 million people flocking to one city, crazy! Bangkok has ranked as the most visited city in the world 5 times until being dethroned this year by Hong Kong.
Tourism abruptly stopped in March 2020 when no travelers were allowed until August 2020 due to the raging Covid-19 pandemic. After that, tourists could only enter Thailand under exceptional and stringent conditions. During the first quarter of 2023, tourism has astronomically increased from 2020 - 2022.
Attractions not to be missed:
The Grand Palace, a major historical attraction

Wat Arun, a beautiful temple

The Temple of the Golden Buddha, another beautiful temple

Wat Suthat, a must-visit temple

Damnoen Saduak Floating Market, where you can shop by boat

Khao San Road, the best place for explosive and world-class food
US citizens require a Thai Visa.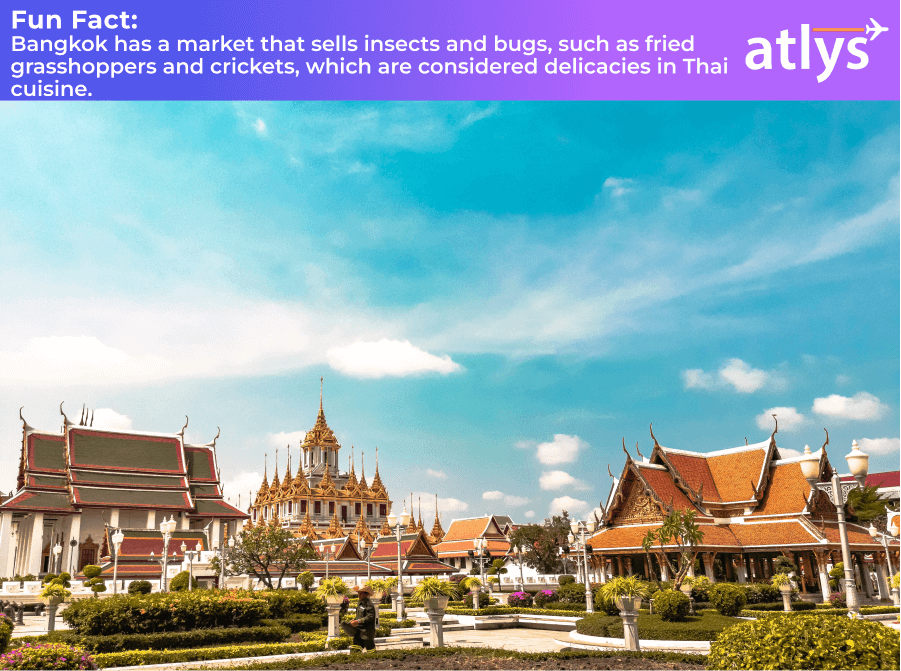 London
London has a total number of international travelers of 19.2 million, earning it the spot at number 3.
London has a gothic undertone with beautiful medieval buildings and many tourist attractions. London is full of character, offering incredible sights and a bustling nightlife, making it a trendy tourist destination.
Attractions not to be missed:
Big Ben, London Eye, and Buckingham Palace are some of the most significant and well-known tourist spots in London.

For a more Gothic grandeur, visit Westminster Abbey, where you can peruse graves, tablets, and stone dedications.

If you're looking for a more cultural experience, make sure to visit the Royal Opera House.
US citizens are required to obtain a UK Visa.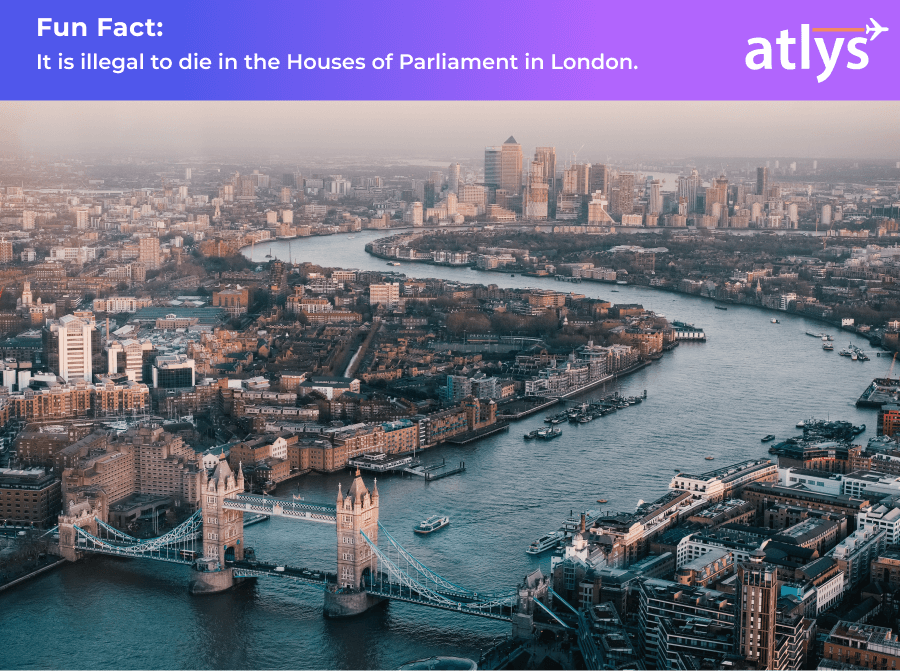 Singapore
It is no surprise that the 'Garden City' would be rated 4th on the list. Singapore welcomed 16.6 million international travelers in 2023.
Despite having a population of under 5.9 million people, Singapore welcomes over 16 million visitors each year, which is three times the number of locals.
Attractions not to be missed:
Gardens by the Bay, a stunning horticultural wonderland featuring futuristic Supertrees and flower domes

Marina Bay Sands, an iconic luxury hotel with a rooftop infinity pool and dazzling views of the city skyline

Sentosa Island, a resort island offering theme parks, beaches, and entertainment options for all ages

The Merlion, a mythical creature and national icon that spouts water from its mouth

Clarke Quay, a bustling riverside entertainment district with bars, restaurants, and nightclubs
Singapore is visa-free for US citizens.
Macau, China
Macau had 15.4 million international tourists.
A unique blend of Chinese and Portuguese cultures that transport you to a world of vibrant colors, mouthwatering flavors, and architectural wonders. As you stroll through the streets, the sweet aroma of egg tarts and pork chop buns fills the air, tempting you to stop and savor the local cuisine.
Macau's tourism industry has been heavily impacted by the COVID-19 pandemic, with visitor arrivals dropping by over 90% in 2020.
Attractions not to be missed:
The Ruins of St. Paul's, a majestic church facade and iconic landmark

The Historic Center of Macau, a UNESCO World Heritage Site featuring colonial buildings and Chinese temples

The Macau Tower, offering breathtaking views of the city and adrenaline-pumping activities like bungy jumping and sky walking

Senado Square, a bustling public square surrounded by colorful Portuguese-style buildings

A-Ma Temple, one of the oldest and most revered Taoist temples in Macau
In 2019, Macau received over 39 million visitors, with over 90% coming from Mainland China, Hong Kong, and Taiwan.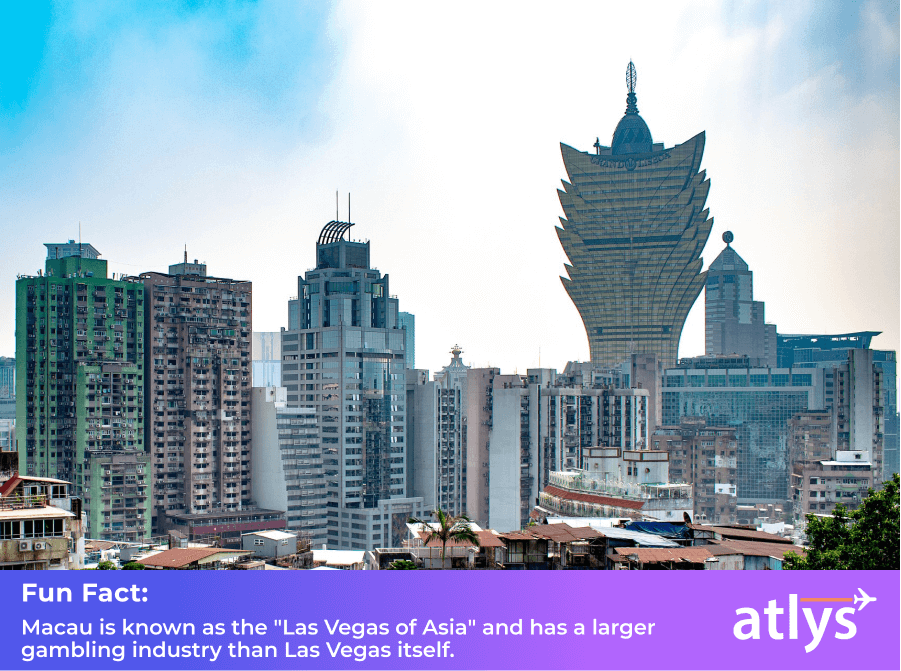 Atlys to the Rescue: Get Your Visa Quickly To Travel To Some Of The Most Visited Cities!
Have you ever found that applying for a visa is a very stressful and tedious process? From missing documents to tiny errors and websites crashing all leaving you wondering if you will ever get this visa. The process of obtaining a visa for these top cities might be difficult, however, it can be easy by using Atlys.
But this is what you can expect from Atlys:
Straight-forward application process - this can be done in minutes!

Support with gathering your documents - Atlys helps you gather all the required documents.

Step-by-step instructions - Atlys will be there every step of the way!
Still don't believe me? Download the Atlys app and start your application now. For instance, the process of applying for a Thai evisa to visit Bangkok is very easy when using Atlys.
What Do You Think The Travel Trends Of 2024 Will Be?
Do you think people will still travel to 'pre-covid' travel hotspots, or do people have new-found travel needs? It is interesting to compare 2021 with the statistics of 2023.
Who would have thought that Hong Kong would demolish the long-standing most visited city in the world- Bangkok?
According to the World Tourism Organisation, international tourism has recovered significantly since the onset of the COVID-19 pandemic, with some regions seeing more progress than others.
As of 2021, international tourism has recovered up to 63% of pre-pandemic levels, with Europe and the Middle East showing stronger signs of recovery compared to other regions.
According to UNWTO's projections for 2023, international tourist arrivals are expected to potentially reach between 80% to 95% of pre-pandemic levels this year. Where will you be traveling this year?
Author: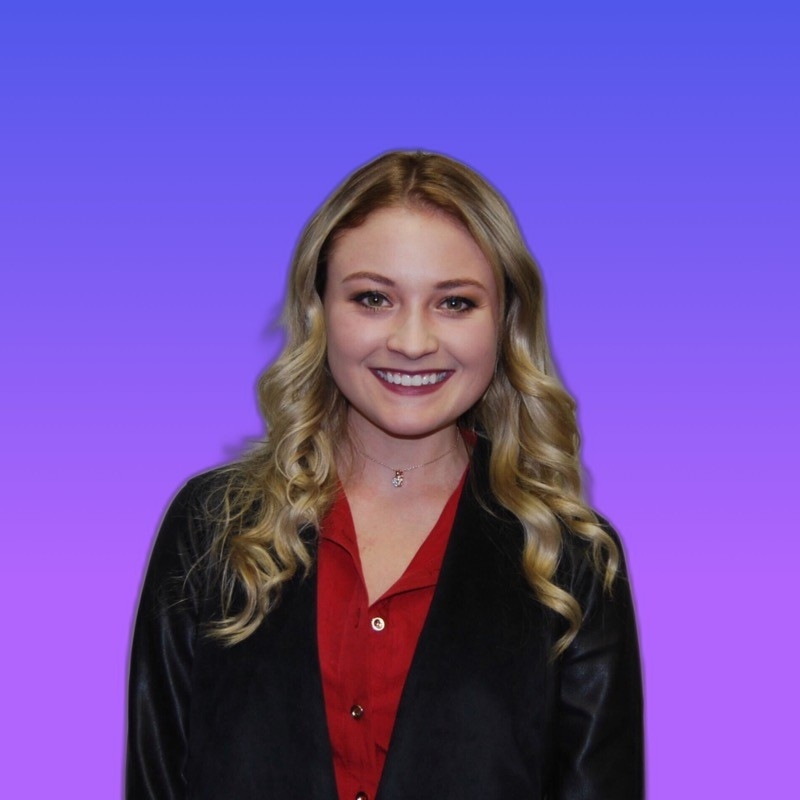 Shannon Reeler
Verified Author: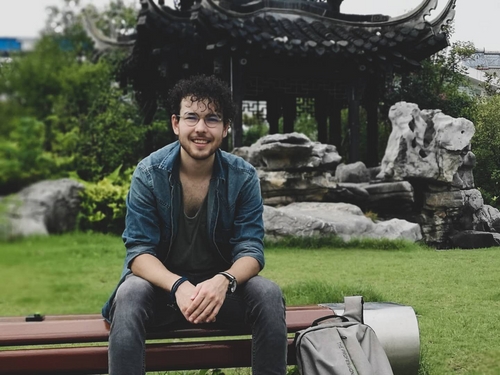 Richard Nathan