The Best Things to Do in Maui: A Tourist's Guide
Last Updated : Sep 4, 2023
Atlys in the news
Maui is a stunning island in the heart of the Hawaiian archipelago. Maui is a nature lover's paradise with its pristine beaches, verdant mountains, and lush rainforests. But the island has much more to offer than just natural beauty. Maui is home to a vibrant culture, a rich history, and some of the best cuisines in the world. Consequently, whether you're seeking a tranquil beach getaway or an exhilarating adventure, Maui has something for everyone.
Maui offers many fascinating museums and cultural sites for those interested in culture and history. Foodies will be in heaven on Maui, where they can enjoy fresh seafood, locally grown produce, and gourmet cuisine from some of the world's best chefs.
So let's get into everything you need to know when traveling to Maui:
When Is The Best Time To Travel To Maui?
Some of the world's most stunning beaches can be found on Maui, as well as a wide variety of activities and attractions. Maui is a great place to visit any time of year, but the best time to travel to Maui is during the shoulder season. The shoulder season is between the busy summer and the slower winter seasons. During the day, it's still warm and sunny during shoulder season, but there are fewer crowds and lower prices. Consequently, if you're seeking a calm and affordable vacation, the shoulder season is the perfect time to travel to Maui.
What Must I Pack When Traveling To Maui?
Maui offers stunning beaches, lush rainforests, and a variety of activities to keep visitors entertained. When packing for a trip to Maui, bring sunscreen, swimwear, and comfortable shoes for exploring. A light jacket or sweater is also a good idea, as the evenings can be cold. In addition, Maui is home to several world-class restaurants, so don't forget to pack your appetite. And lastly, remember to bring your sense of adventure – Maui is the perfect place to try something new. You should also not forget to pack your passport if you are not a United States citizen.
How Can I Travel Around In Maui?
For a variety of reasons, tourists flock to the island of Maui. Its tropical climate, beautiful beaches, and lush vegetation make it a perfect place to relax and enjoy the outdoors. However, Maui can also be hectic, especially during the peak tourist season. Here are some tips on getting around Maui and avoiding the crowds.
The best way to get around Maui is by rental car. You can then explore the island thanks to this at your own pace and make stops. Make sure to reserve a rental vehicle in advance., as they can be in high demand during the busy season.
If you decide against renting a car, another option is to take the Maui Bus. This public bus system runs throughout the island and stops at popular tourist destinations. The Maui Bus is an excellent option if you're on a budget or don't want to deal with driving in heavy traffic.
Another way to see Maui is by taking a tour. Many tours are available, from helicopter tours to snorkeling adventures. A tour is a great way to see the island and its many attractions without worrying about getting around on your own. Whatever kind of transportation you select, plan and allow yourself plenty of time to enjoy everything the island offers.
What Is The Best Things To Do In Maui?
Maui has something for everyone, from its beautiful beaches and hiking trails to its unique culture and history. For that reason, I will tell you about the 5 best activities you must do on your trip to Maui.
Maui is home to some of the most beautiful beaches in the world. From the white sand beaches of Kaanapali to the black sand beaches of Hana, there is a beach for everyone on Maui. Maui's beaches are not only beautiful, but they are also great for swimming, surfing, sunbathing, and snorkeling. Maui is your destination if you're seeking a spot to unwind and enjoy the sun.
The island is home to some of the most stunning landscapes, and hiking is one of the best ways to experience them. There are trails of all levels, from easy walks to challenging hikes. So no matter your experience level, you can find a hike to suit your needs.
One of the most popular trails in the Waihee Ridge Trail. This moderate hike takes you through the lush rainforest. The trail is approximately 4 miles long and can be completed in 3 hours. If you're looking for a more challenging hike, the Haleakala Crater Trail is worth checking out. This 10-mile trail takes you to the summit of Haleakala, Maui's highest point. The trail is strenuous, but the top views are incredible.
Maui is one of the world's top snorkeling destinations. The island's clear waters, diverse marine life, and easy access make it a perfect place to get your snorkel on. Maui has something to offer whether you're a first-time snorkeler or a seasoned pro. The island's many reefs and sheltered bays provide a safe and easy environment to explore the underwater world. And with a bit of help from a Maui snorkeling guide, you're sure to see some fantastic things.
Molokini Crater offers some of Maui's best snorkeling opportunities. This crescent-shaped volcanic crater is home to a diverse array of marine life, including colorful reef fish, turtles, and even sharks. The best way to experience Molokini is on a snorkeling tour, which typically includes stops at other nearby reefs.
Another excellent spot for Maui snorkeling is Ahihi-Kina'u Natural Area Reserve. This marine reserve is located on the south coast of Maui and is known for its abundance of sea life. Here you'll find turtles, reef fish, and even octopus. So whether you're snorkeling at Molokini or Ahihi-Kina'u, you will have an incredible experience.
One of the best ways to see all that Maui has to offer is from the air on a helicopter tour. Helicopter tours of Maui give you a bird's eye view of the island's stunning landscapes. You'll see the rugged cliffs of the West Maui Mountains, the lush rainforests of the East Maui Mountains, and the beautiful beaches that line the coast. You'll also see some of Maui's most popular tourist attractions, such as the Haleakala Crater and the Molokini Crater. A helicopter tour of Maui is an unforgettable experience.
Go on a whale-watching tour
The best way to experience the majestic beauty of Maui's whales is from the deck of a whale-watching tour boat. These tours take place in the calm, protected waters off Maui's western shore. During the tour, you'll have the chance to see humpback whales up close as they breach, tail slap, and spyhop. You might even see a whale calf swimming alongside its mother.
In addition, the captain and crew of the tour boat will provide commentary about the whales and their behavior. They'll also answer any questions you have. Whale-watching tours are a great way to learn about these fantastic creatures and create lasting memories of your Maui vacation.
Where Is The Best Places To Stay In Maui?
Maui offers a wide variety of accommodations for visitors, from luxury resorts to budget-friendly hotels and everything in between. Here is a list of the best places to stay during your trip to Maui.
The Ritz-Carlton, Kapalua
If you're looking for a unique and luxurious resort in Maui, look no further than The Ritz-Carlton, Kapalua. This resort is nestled on the stunning white-sand beaches of Kapalua Bay and features world-class amenities and service. From the moment you arrive, you'll feel like royalty. The Ritz-Carlton is the perfect place to relax, rejuvenate, and escape everyday life.
The Four Seasons Resort Maui at Wailea
The Four Seasons Resort Maui at Wailea is a world-class destination for luxury travelers. The resort offers breathtaking ocean views, five-star amenities, and a staff dedicated to providing the ultimate guest service. The accommodations at the resort are spacious and well-appointed, and the grounds are impeccably manicured. The resort's three pools are heated, and there are plenty of beach umbrellas and towels for guests.
The Grand Wailea, A Waldorf Astoria Resort
The Grand Wailea is a world-renowned resort located on the beautiful island of Maui. This luxurious resort offers its guests the perfect blend of relaxation and excitement, with plenty of activities to keep everyone entertained. From lazy days spent lounging by one of the many pools to exploring the nearby town of Wailea, there is something for everyone at the Grand Wailea. And at the end of the day, guests can enjoy a delicious meal at one of the resort's many restaurants or take in the stunning views from their room.
The Fairmont Kea Lani, Maui
Nestled on 22 acres of pristine Maui beachfront, The Fairmont Kea Lani is Hawaii's only all-suite and villa luxury oceanfront resort. The Fairmont Kea Lani features 442 beautifully appointed one-bedroom suites and villas, each with a spacious lanai. The Fairmont Kea Lani is the perfect place to relax and enjoy the Hawaiian sun, with three swimming pools, a world-class spa, and various dining options. The Fairmont Kea Lani is also the perfect place to explore Maui, with various activities and excursions available.
Montage Kapalua Bay is an idyllic oceanfront resort situated on Maui's northwest shore. Lush tropical gardens and an award-winning spa center surround the property. At the same time, the white-sand beach and azure waters of Kapalua Bay beckon just a step away. Visitors can partake in various water sports, such as stand-up paddle boarding and snorkeling, or relax on a chaise lounge and soak up the Hawaiian sun. With its stunning natural setting and luxurious amenities, Montage Kapalua Bay is the perfect place to escape the hustle and bustle of daily life and relax in paradise.
What Are The Best Travel Tips When Traveling To Maui?
When most people think of Maui, they think of sandy beaches, Mai Tai's, and luaus. While Maui is all those things, there is much more to this Hawaiian island. Maui is home to some of the most stunning natural scenery in the world, from the Haleakala National Park to the Road to Hana. If you're planning a trip to Maui, here are a few travel tips to help you make the most of your vacation.
Rent a car: Maui is a large island, so renting a car is the best way to get around. This will allow you to explore the island's different areas, from the beaches to the rainforests. Just be sure to drive carefully, as the roads can be winding and narrow.
Stay in a resort: Maui has some of the best resorts in the world, so take advantage of them! Staying in a resort will give you access to amenities like pools, beach umbrellas, and restaurants. Plus, most resorts are near the beach, so you won't have to go far to enjoy the sand and surf.
Get a Maui Activities Pass: Suppose you're planning on doing a lot of activities while on Maui; getting a Maui Activities Pass is a great way to save money. This pass gives you discounts on activities like zip-lining, snorkeling, and stand-up paddle boarding.
Eat at the food trucks: One of the best things about Maui is the food. There are countless restaurants to choose from, but one of the best ways to experience the local cuisine is to eat at the food trucks. These trucks serve delicious Hawaiian dishes at a fraction of the price of a sit-down restaurant.
Watch the sunrise at Haleakala National Park: Haleakala National Park is one of the most popular tourist destinations in Maui. And for a good reason, as the views from the summit are incredible. So if you're up for it, plan to watch the sunrise from the park. It's an experience you won't forget. These are just a few things you can do in Maui. By following these travel tips, you're sure to have a fantastic vacation.
Get Ready For An Unforgettable Adventure
If you're looking for an exciting vacation destination, look no further than Maui! Maui is sure to please with its beautiful beaches, lush rainforests, and stunning volcanic landscapes. And with its array of activities, from hiking and biking to snorkeling and surfing, there's something for everyone. So pack your bags and head to Maui for an unforgettable vacation.
Author: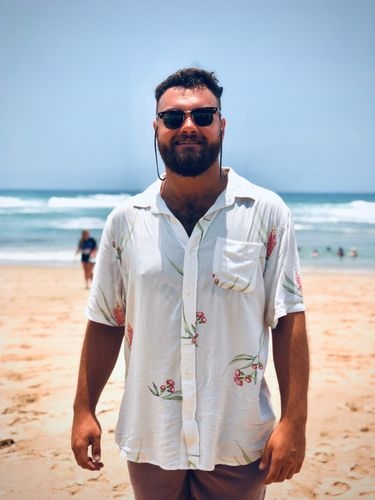 Armando du Preez