How An Unexpected Trip To Tenerife, Spain, Changed My Life
Last Updated : Oct 2, 2023
Atlys in the news
Traveling was never my thing. You see, I used to think that I had everything I could ever need. So why would I go out and search for something that I could find here in my own town? If I wanted some Italian pizza, I'd order from my local pizza joint. If I wanted to learn more about the Spanish-American War in 1898, I'd watch a short documentary on Youtube. For me, seeing new places and experiencing new things was overrated. I can do all that and more from the comfort of my own home! Well, at least that's how the old me used to think...
I Don't Do Travel!
It all started in May 2020. I was lounging on my couch, eating potato chips, while watching a documentary on the Spanish-American War when someone suddenly busted through my front door. After nearly having a heart attack, I noticed with great surprise that it was my best friend, James.
James was the complete opposite of me. First of all, James clearly didn't understand how a doorbell worked. And secondly, all he wanted was to travel the world and experience every little thing out there (Ugh). Nonetheless, I supported his dreams as long as he didn't drag me into them.
Apparently, the reason for my door needing new hinges was that his Uncle and Aunt in Spain were planning a trip to Australia, and they asked him to look after their home. "Great stuff, you must enjoy it!" I said. However, there was one catch: they told him he could bring along a friend and that they would cover all the travel expenses.
Naturally, James wanted me to come along with him. So I sat back down on my couch, started watching my documentary again, and told him I wasn't interested. I don't do travel! That's just who I was. Nevertheless, James was extremely persistent. Finally, after a frustrating conversation that nearly broke out into a fight, I caved and decided to go along with him (he didn't really give me a choice). I mean, it was only for 2 weeks, I could manage.
Excited that I agreed to come along, James told me that we should start with our Spanish Schengen Visa immediately, as our trip was in as little as a month. "What a drag!" I thought, now we have to go through the tedious visa application process too! Luckily, he found an app called Atlys, which made the entire visa application process extremely easy. We applied on the same day and scheduled our visa appointment for the following week.
Before attending our appointment, we started preparing our things for the trip. During this time, we had to ensure that we had travel insurance, filled out our Spain travel health control form (for our health QR code), got our coronavirus Antigen test/PCR test (as neither of us had the COVID-19 vaccine), and so on and so on. "This is one of the reasons why I don't do travel" I said to James. There were so many entry requirements we had to meet just to enter the European Union.
As soon as we had finished with all the requirements to enter Spain, we finally had some time to sit back and relax. However, James insisted that we take the time to revise our travel plans. So, that's exactly what we did. We read through a lot of articles about travel advice, different parts of Spain, and what to expect from local authorities and Spanish health authorities. Thinking back, I was a bit curious about how it would be in Spain and if I would actually enjoy it. However, I was still not excited at all - for me, travel is overrated, remember!
Maybe Travel Isn't So Bad
Anyway, fast forward to the day of our flight, I noticed this funny feeling in my stomach. "I'm just nervous," I thought. After all, that was the first time I would be leaving my home country.
After we landed in Spain, I thought we would just take a taxi to Jame's Uncle and Aunts house. That was not the case. Apparently, their house was in Tenerife, one of the Canary Islands. This meant we had to take a taxi to Huelva, in the region of Andalusia, and from there, take a ferry to Tenerife's major port in the capital of Santa Cruz de Tenerife. This is where I realized that traveling might not be as horrible as I made it out to be...
While enjoying a relaxing ride on the ferry, I was dumb-struck by how gorgeous Spain actually was. The crisp fresh air, clear blue skies, and turquoise blue water of the Atlantic ocean had my mouth hanging open. I distinctly remember thinking how wrong and foolish I was to believe that I could find this in my own town.
After arriving at the port, we used public transportation to get to the house. James asked me what I thought about the Island. I couldn't really describe my feelings. I mean, it's nothing like the Youtube video I watched before our trip. All I knew was that I was definitely wrong about travel and experiencing new things.
For the next 2 weeks, we tried to do as many things as possible. We made use of a car rental company to travel around the Island. Some of the highlights of our trip included a heart-pumping quad bike excursion through the Island, a mesmerising scuba diving experience in the Tenerife sea, and a challenging (yet rewarding) hike through the picture perfect Masca Valley. And that doesn't even include all the delicious foods we ate or the golden beaches we visited.
I Admit, I Was Wrong
Another memorable moment was when James and I booked a 9-hour tour to watch the sunset and stars in the Teide National Park. Never in my life have I seen so many stars. It reminded me how small we actually are and how little time we have to live our lives on this planet. While admiring the stars, I admitted to James that I was naive to think that there is nothing out there that I don't already have. In fact, I made a promise to live a life with no regrets, to experience things that very few can, and to make memories that pictures can't capture!
After our trip, I started planning my next great adventure! I'm planning to travel back to Spain as I didn't really have the entire experience. After Spain, I plan to travel to other Schengen Countries. This will be easy as the Schengen Visa allows me to stay in the Schengen Area for a total of 90 days per 180 days. Meaning, I could visit 4 other countries if I plan to stay 15 days in each one. And even if my visa expires, there are so many different countries outside Europe I can visit. The opportunities are endless!
Personal Advice
If you've made it this far, I would like to give you some personal advice. If you've ever thought about traveling or even experiencing something new, just do it! I never wanted to go to Spain or even have that experience. But because I stepped outside of my comfort zone, I can't think of a life where I won't be able to travel.
Author:
Verified Author: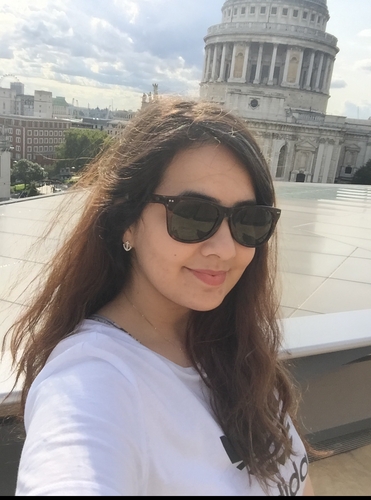 Lamia Darwish