Dubai Visa From Bangladesh: Dubai Tourist Visa Requirements and Costs
Last Updated : Sep 4, 2023
Atlys in the news
Bangladeshi nationals planning to visit Dubai, must obtain a Dubai visa from Bangladesh in order to enter the country. Understanding the visa application process and the processing time is crucial to ensure you get a visa fast and easily. Let's get started right away.
Bangladeshi nationals must apply for a Dubai visa before traveling to the country. Here's what you need to know:
Type of visa for tourism: The Dubai visit visa, also known as the Dubai tourist visa or short-stay visa.

Number of entries allowed: You can apply for a multiple-entry or single-entry visa.

Duration of stay: Choose between 30 days or 90 days (depends on your travel dates).

Dubai tourist visa price in Bangladesh: Expect to pay approximately $ 220. However, if you use a visa agency you'll also have to pay a service fee.

Dubai tourist visa processing time: 3 - 5 business days.
Next, we'll take a detailed look at the Dubai visa application from Bangladesh.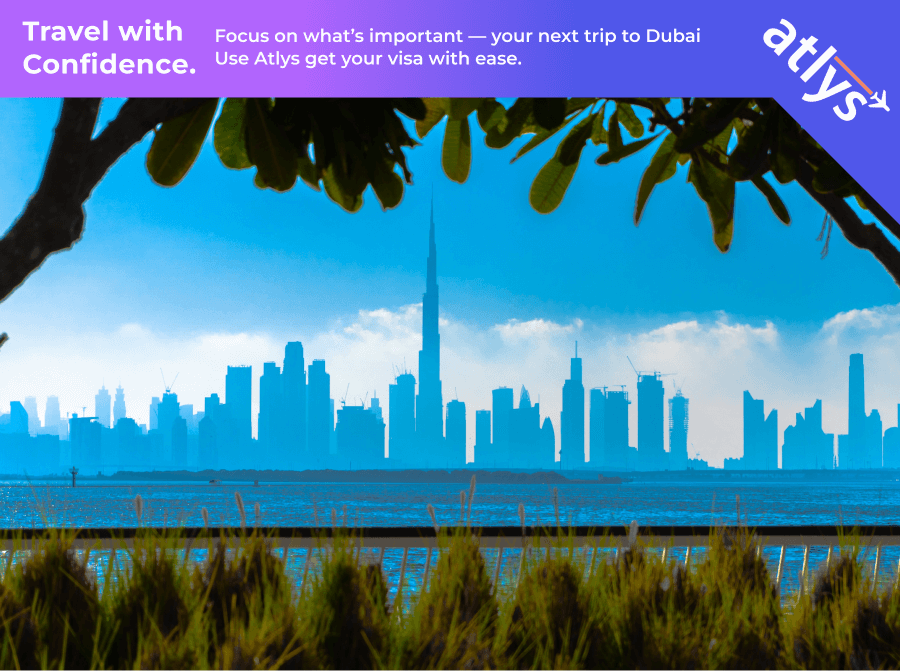 The Easiest Way to Apply for a Dubai Visa from Bangladesh
The Dubai visa process is a relatively simple and easy process. However, if you're inexperienced in navigating foreign government websites, you may find the Dubai visa quite difficult. Luckily, there are much easier ways to apply for a Dubai visa from Bangladesh.
Consider using Atlys to get your Dubai visa online.
Why waste your time and energy trying to figure out the visa process when you can have Atlys do it for you? Atlys provides a quick and easy visa application process that you can complete in less than a minute.
Atlys is user-friendly and allows you to apply for family members as well. This app streamlines the visa process and guides you through every step.
Atlys aims to make your travels easier and hassle-free. Use Atlys and get your Dubai visa from Bangladesh with confidence.
Dubai Tourist Visa Application Process from Bangladesh
Getting a Dubai tourist visa can be hard and take a lot of time, especially if it's your first time. There are many things to think about, like what type of visa to apply for and what requirements you need to meet. It can be confusing and frustrating.
<u>Use the following guide to apply for your Dubai visa from Bangladesh with ease.</u>
Note: There are many terms for the "Dubai tourist visa." To avoid confusion, I'll briefly mention the most common terms that will be used: Dubai visit visa, Dubai short-term visa, Dubai tourist visa, UAE visa, UAE visit visa, and online Dubai visa. All these terms refer to the same visa but are used interchangeably.
Do Bangladesh Citizens Need A Visa For Dubai?
Yes, Bangladesh citizens must apply for a visit visa to Dubai or the UAE. There are different types of Dubai visit visas available for Bangladesh citizens. This includes:
30-day Single Entry Dubai visa — allows you to enter and exit Dubai once and for a maximum time of 30 days.

30-day Multiple Entry Dubai visa — allows you to enter and exit Dubai more than once for a maximum time of 30 days.

90-day Single Entry Dubai visa — allows you to enter and exit Dubai once and for a maximum time of 90 days.

90-day Multiple Entry Dubai visa — allows you to enter and exit Dubai more than once for a maximum time of 90 days.
All the visas mentioned above can be extended twice for 30 days at a time. This means you can extend your visa with 90 extra days in total. More about visa extensions later.
What Are The Dubai Visa Document Requirements From Bangladesh?
To get a Dubai visa from Bangladesh, you must submit the required documents as indicated by the government website. If you decide to apply by yourself, it's best to start gathering your documents as soon as possibly
You'll need the following documents for a UAE visa from Bangladesh:
A copy of your Bangladesh passport bio page. A clear copy with at least 6 months remaining validity.

One passport-size photograph with a white background. Black and white photographs will not be accepted.

Proof of sufficient funds (bank statements).

Hotel booking Details (If you are staying with family or friends, you can share their Emirates ID)
You may require additional documents depending on where you decide to apply. We'll discuss the different ways of applying later in this post.
If you apply for a UAE visa using Atlys, you can use your phone camera to scan your documents, making the "upload process" much faster and easier.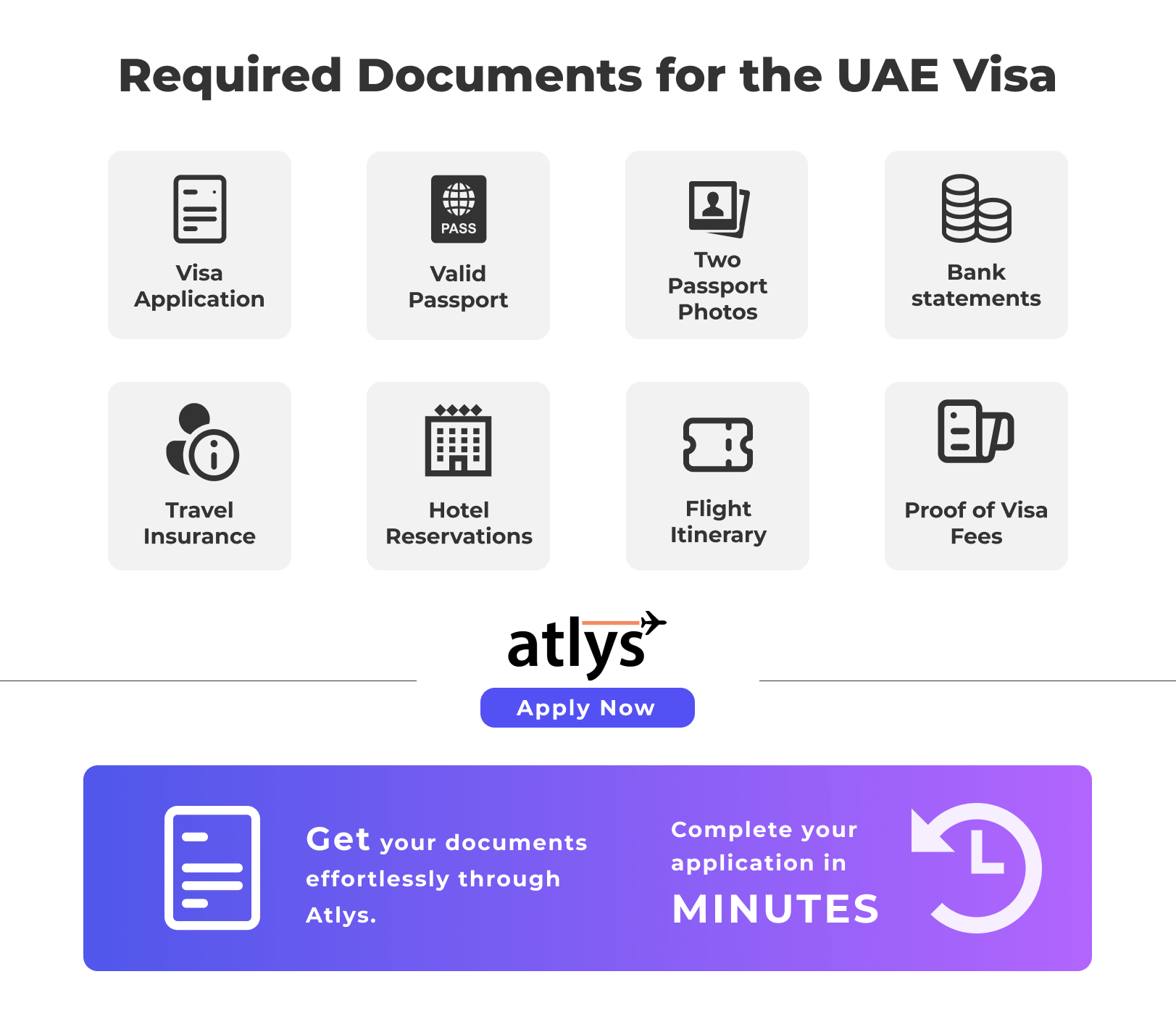 What Is The Dubai visa fee for Bangladeshi?
The Dubai tourist visa price in Bangladesh starts at BDT 10,222 but can vary depending on the type of visa you apply for. Let's take a look at the different types of UAE visa fees from Bangladesh:
30-day Single Entry Dubai visa price — BDT 7200 (AED 250)

30-day Multiple Entry Dubai visa price — BDT 20,000 (AED 690)

90-day Single Entry Dubai visa price — BDT 17,200 (AED 600)

90-day Multiple Entry Dubai visa price — BDT 50,000 (AED 1740)
These costs are subject to change based on the currency exchange rate and also where you apply. Some Dubai/UAE visa agencies and service providers (like Emarites) may add additional service fees for handling your visa. For the cheapest service fees, use Atlys to apply.
How Long Does It Take To Process A Tourist Visa for Dubai?
The processing time for a Dubai visa from Bangladesh is approximately 3-5 business days. Take note that the processing time can be delayed if your application form is incomplete or if you didn't submit all the required documents. To avoid any UAE visa processing time delays, be sure to start your visa application at least 1 month before traveling.
For a full list of why your UAE visa is delayed (and potentially denied), read our dedicated blog, which highlights 25+ reasons for a visa denial.
If you apply using Atlys, the visa application is more accessible and will save you time. It will also show you the estimated processing time it will take for your visa approval.
What Is The Validity of A Dubai Tourist Visa For Bangladesh Citizens?
Depending on your travel dates, tourist visas to the UAE are valid for 30 days or 90 days for single entry or multiple entries.
Recently, the UAE facilitated a five-year visa that enables tourists to enter numerous times on self-sponsorship and remain in the country for 90 days on each visit, which you can extend for another 90 days.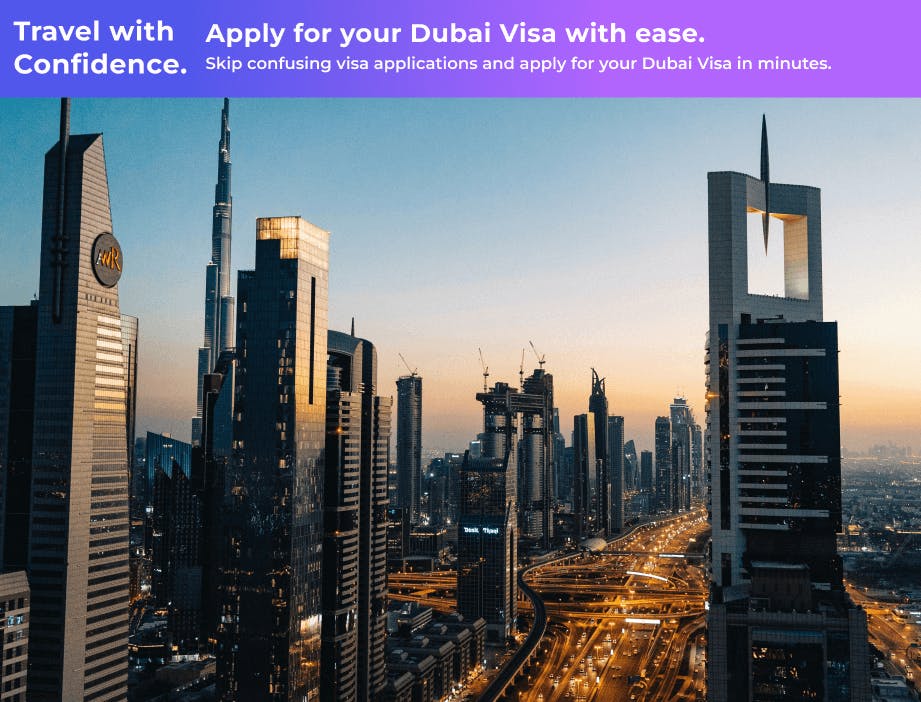 How Can I Apply For A Visit Visa To Dubai?
There are multiple ways to apply for an online Dubai visa. For example, you can get your Dubai visa online from Atlys, a hotel, an airline, or a travel company. Additionally, if you have friends or family members that are UAE residents, they can apply for a UAE tourist visa on your behalf.
Next, we'll provide an in-depth explanation of how to get your UAE visa from Bangladesh through the different methods listed above.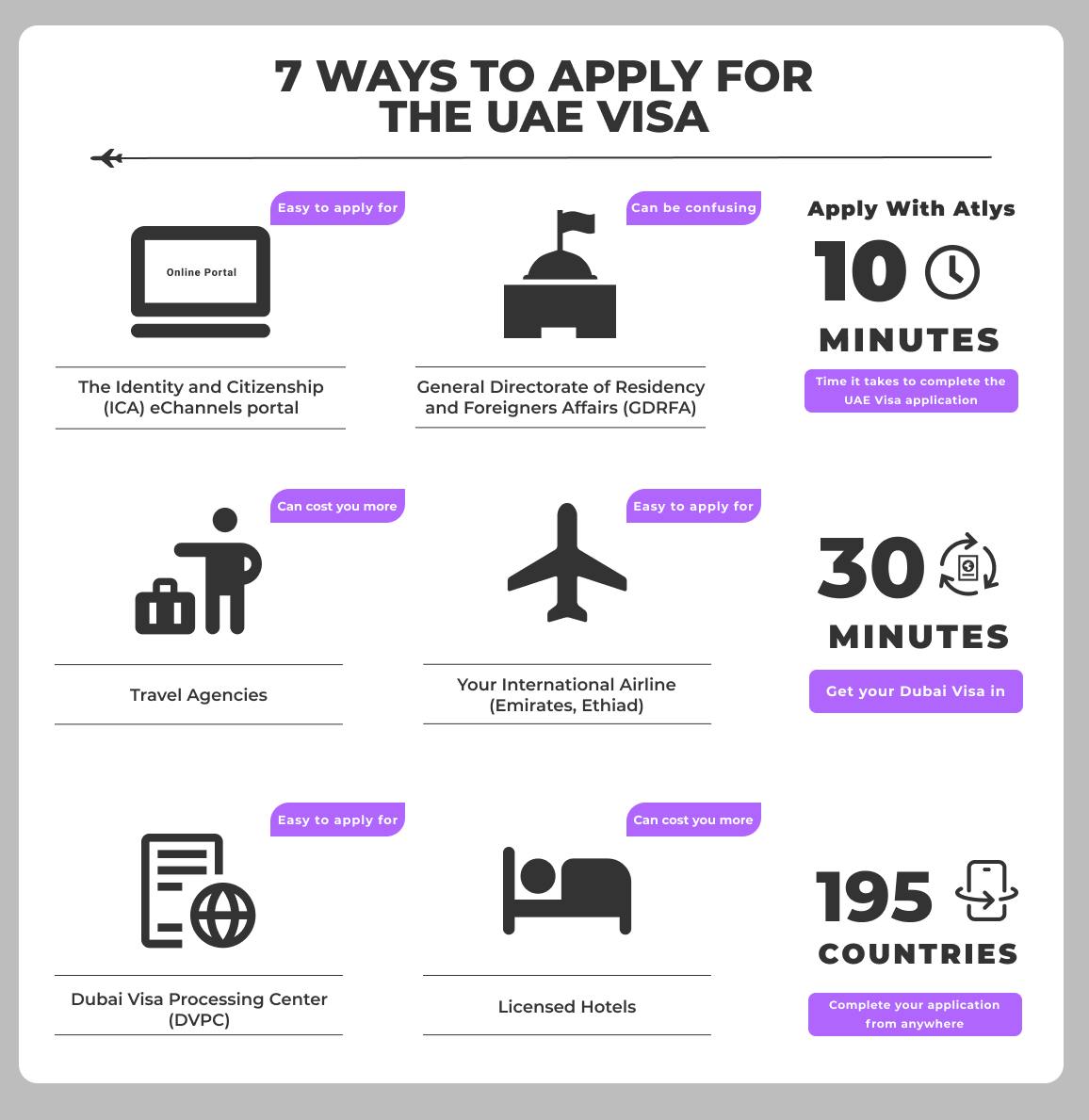 How To Apply For Dubai Visit Visa Yourself
When you want to apply for a Tourist Visa, there are a few ways you can do it. Most of these are entirely online, which means you can apply from the comfort of your own home. These are the online channels for applying for your Dubai visit visa:
Atlys: With Atlys, you can apply for your Dubai visa online in a few simple steps and without leaving your house. The app can sort out minor details for you, such as scanning the documents, and you can pay for your visa online.

The Identity and Citizenship (ICP) eChannels portal: Through the eChannels portal, individuals and companies registered in the UAE can apply for a new visa or renewal. To apply, individuals and companies must first register themselves. Note that you can use the eVisa Dubai at the entry port in the UAE without putting the original visa in the entry port before the sponsor's arrival.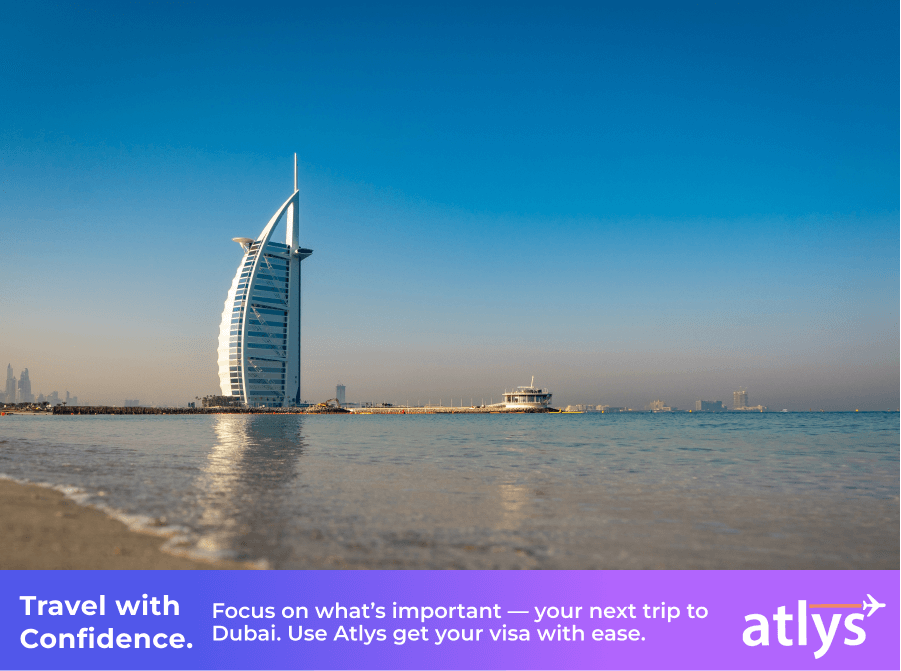 How To Get A Dubai Tourist Visa Through Airlines?
Each airline has some conditions which you must meet for them to arrange your visa. One of the conditions is flying with them. Etihad Airways, Emirates Airlines, Fly Dubai, and Air Arabia offer visa services.
Dubai Visit Visa Through Etihad Airways
The application process is very straightforward, and best of all, it's an online visa application process (e-visa). All you need to do is go to the Etihad Airways website and click on "Apply for UAE visa." This will redirect you to another website where you need to choose the type of visa you want to apply for; in this case, it's the Dubai Tourist Visa.
Next, you must fill out the visa application form (provide all the necessary details) and attach the required documents like your passport, passport photo, and flight ticket. Lastly, you must pay the application fees through the secure online portal and wait for your visa.
Dubai Visit VisaThrough Emirates Airways
You can apply for your visa through Emirates.
If you're traveling to or stopping over in Dubai with Emirates. In that case, you can apply for and receive your United Arab Emirates (UAE) visa online without submitting your passport for stamping. You can apply for your UAE visa through Manage your booking after booking your Emirates flight.
The online visa application service is available for residents and nationals worldwide.
This service is only available to passengers with a confirmed Emirates booking where an Emirates ticket has already been issued, and the flight itinerary includes the desired time in Dubai. The itinerary into and out of Dubai should be on one ticket (PNR), which must be an Emirates flight. A minimum of four international working days before arrival in Dubai is required. However, Emirates recommends that you apply online as early as possible.
Dubai Visit Visa Through Fly Dubai
This can be a bit tricky. You can't necessarily apply for the visa online through their website like with the other airlines. Instead, you need to contact a travel shop near you to see if they can help you with your visit visa application. Unfortunately, only a few travel shops can help with your visa application for Dubai, so be sure you call to get all the relevant information.
Dubai Tourist Visa Through Air Arabia
Just like with FlyDubai, you can't apply online through the website. Instead, you need to contact the Air Arabia sales center near you. When you contact them, they'll tell you everything you need to know about applying for the Dubai Tourist Visa through Air Arabia.
Dubai Tourist Visa Through Agencies And Hotels
Licensed travel agents and hotels in the UAE can arrange a Tourist Visa if you purchase the ticket through them and maintain a hotel reservation with the specific hotel. When contacting the hotel or travel agency, ask them if they can make the visa application on your behalf.
They will likely also say if they can make the Dubai Tourist Visa application on your behalf on the website. If they can apply on your behalf, you'll need to send through all the required documentation and information they might need during the application process.
You can also contact travel agencies in your country for any tourist packages available to the UAE in collaboration with a local tour operator. It is essential to check the authenticity of the travel agents you're dealing with. Don't pay or send copies of your official documents until you are 100 percent sure the tour operator is genuine.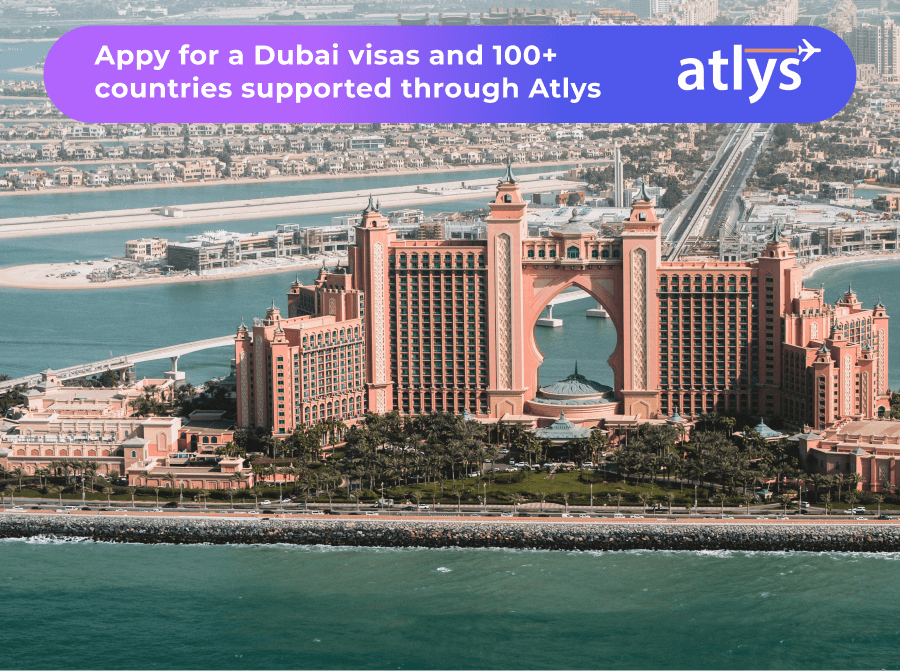 Can Bangladesh Citizens Extend Their Dubai Tourist Visa?
You can extend all types of visit and tourist visas for 30 days twice upon applying for it and after successful approval by the relevant authority. You can do this without leaving the country.
You can apply for the second renewal before the expiry of the first one against AED 600 for renewal. However, as mentioned above, visa overstayers who do not renew will have to pay an AED 100 fine for each day of their overstay, to be calculated from 10 days after the visa expiry.
How Can I Extend My Dubai Tourist Visa?
You can apply for a visa extension through the Federal Authority For Identity & Citizenship, Customs & Port Security website. When accessing the website, click on the "Public Visa Service" option.
This will take you straight to the page where you can apply for your Dubai Tourist Visa extension.
First, you must provide your passport number, passport type, date of birth, and nationality. Then, at the bottom of the page, you'll see the types of Dubai Tourist Visas you can extend.
The visa extension process is very straightforward; you must provide personal information, attach the required documents (the same documents as your visa), and then pay the service fee.
Finished!
Now you are a Dubai Tourist Visa pro! All you need to do is follow the instructions, and you'll be all set for your sunny vacation in Dubai. Feel free to check our FAQ section for answers to any lingering questions.
Visa Infromation Sources:
We understand that obtaining a visa can be a complicated and overwhelming process, especially if you're traveling to a new destination. We only use trusted government websites to provide you with the most accurate visa information available. We want you to travel with confidence. See the government sources below: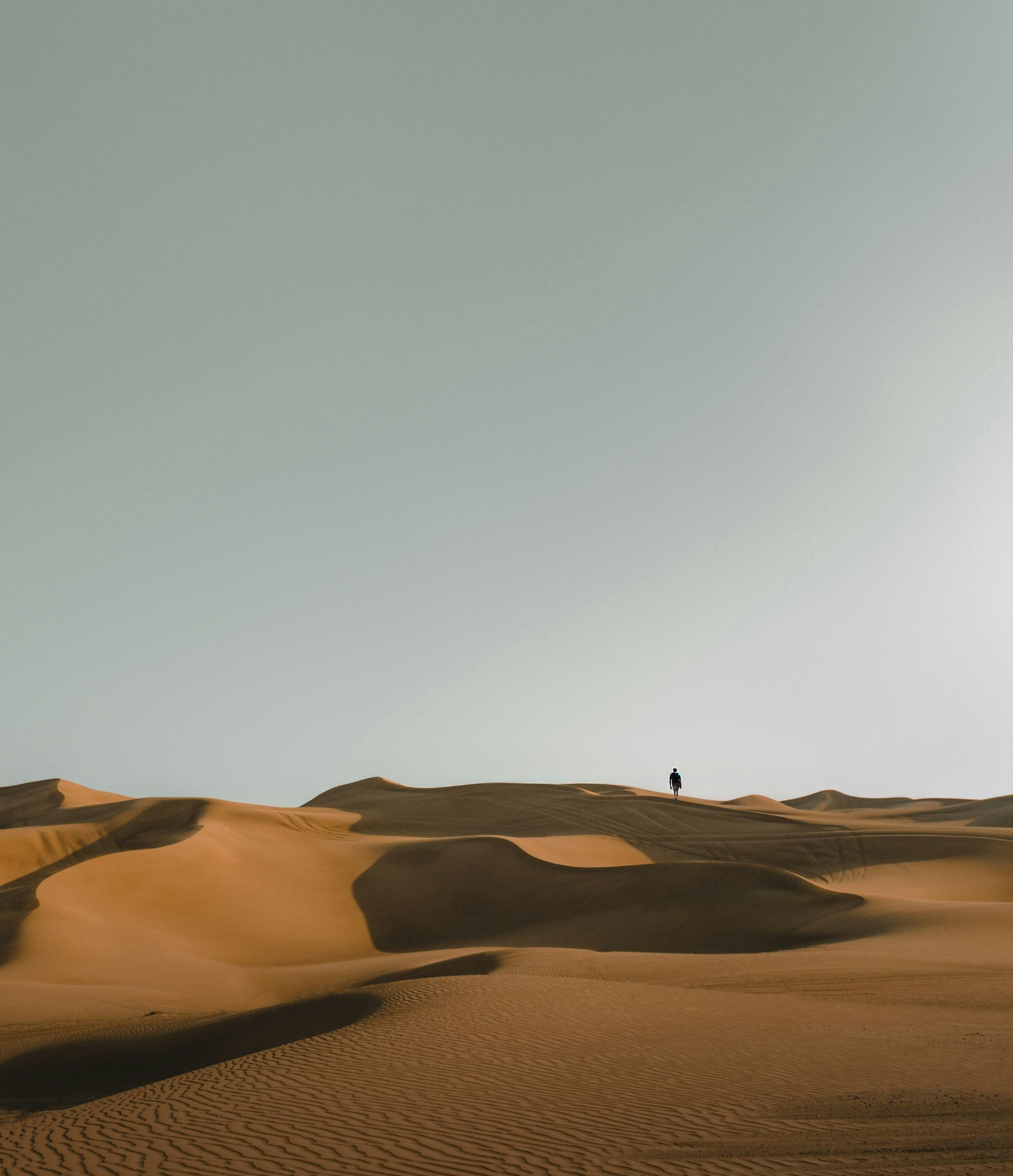 Frequently Asked Questions
A Dubai Tourist Visa (Dubai Visit Visa) is for foreign nationals who are not eligible for a visa on arrival to Dubai or visa-free entry to the United Arab Emirates.

According to a Cabinet resolution passed in July 2018, children under 18 accompanying adults can get a free visa for their visit from 15 July to 15 September each year. However, females below 18 are not eligible to apply for this type of visa unless they travel with their parents.

A Tourist Visa for Dubai From Bangladesh is a short-term visa, meaning the visa is only valid for a short period. If you stay longer than the date of issue (your visa's expiry date), you will get a fine.

I recommend contacting your nearest UAE Embassy or Consular if you're unsure about the Dubai Tourist Visa.
Author: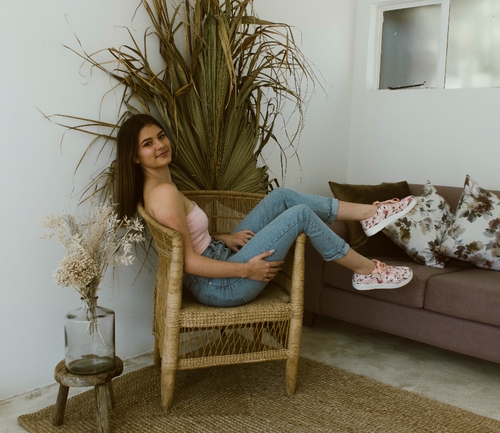 Laliq Schuman