If you're an Egyptian wanting to travel to Dubai, you must apply for a Dubai Tourist Visa.
In this post, we will cover everything you need to know about the Dubai visa for Egyptians, the application process, and all the requirements you need to know about. Furthermore, we'll also answer the question, 'how to get a Dubai visa from Egypt?'. First, let's answer some important questions:
Type of visa for tourism: The Dubai visit visa, alternatively referred to as the Dubai tourist visa or the short-stay visa.
Number of entries allowed: Choose between a Multiple-Entry or Single-Entry visa.
Duration of stay: Choose between 30 days or 90 days (depending on your travel dates).
Dubai tourist visa price in Egypt: Approximately EGP 2,084 (AED 250) for a 30-day Single-Entry Visa and EGP 5,750 (AED 690) for a 30-day Multiple-Entry Visa.
Dubai tourist visa processing time: 3 - 5 business days.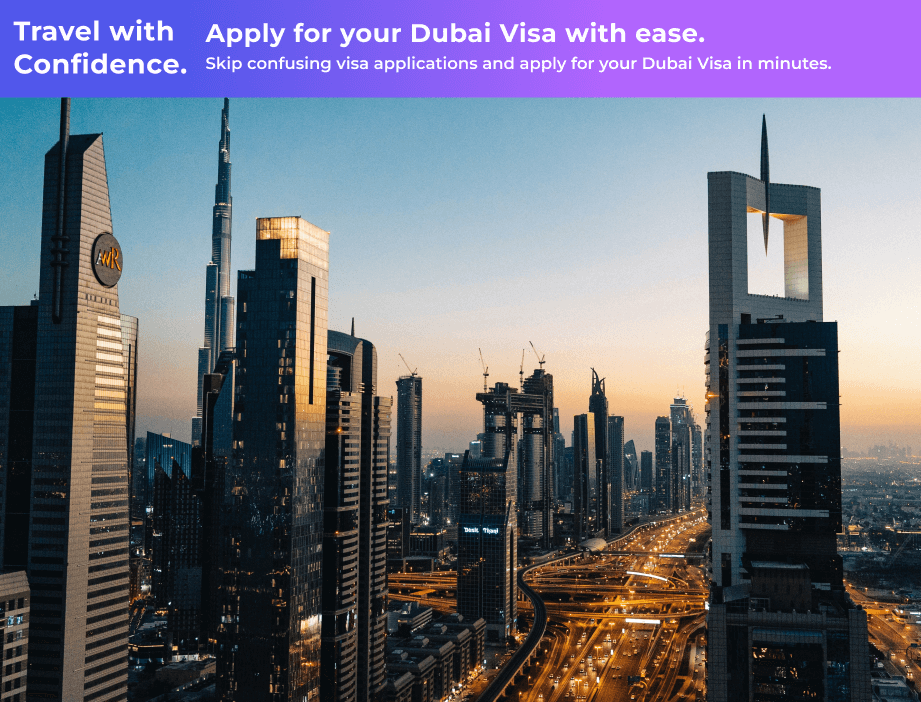 Well, what are we waiting for? Let's dive in!
---
Do Egypt Citizens Need A Visa For Dubai?
Yes, Egypt citizens require a visa for Dubai. This type of visa is for foreign nationals who are not eligible for a visa on arrival or visa-free entry to the United Arab Emirates.
Egypt passport holders will require a valid UAE visit visa for their Dubai travel. There are, fortunately, several ways to apply for a Tourist Visa
Who Needs A Visa To Dubai?
This Visa is for foreign nationals who are not eligible for a visa on arrival or visa-free entry to the United Arab Emirates. Females below 18 are not eligible to apply for this type of visa unless they travel with their parents.
According to a Cabinet resolution passed in July 2018, children under 18 years of age, and accompanying adults can get a free visa for their visit from 15 July to 15 September each year.
This visa is a short-term visa, meaning the visa is only valid for a short period.
However, if you stay longer than the date of issue (your visa's expiry date), you will get a fine.
---
The Dubai Tourist Visa At A Glance
This section briefly discusses everything you need to know before traveling to Dubai from Egypt.
What Is A Dubai Tourist Visa?
This visa is a short-term visa, meaning the visa is only valid for a short period. However, if you overstay your visa (longer than your visa's expiry date), you'll get a fine, so check your expiry date after your visa's date of issue.
You can apply for a visa to Dubai if you are going for tourism, visiting friends and family, or even for recreational purposes. You can apply for this visa without any hassle.
With this Dubai visa for Egyptians, you can enter any part of the UAE, including Abu Dhabi.
Are Egypt Citizens Eligible For A Dubai Visa On Arrival?
No, Egypt citizens aren't eligible to get a Dubai Visa On Arrival at an International Airport. Egypt citizens must apply for a Visit Visa (tourist visa) before they travel to the United Arab Emirates (UAE).
Who Can Get A Visa On Arrival For Dubai?
You can get a Visa On Arrival for Dubai if you're a citizen of one of the following countries:
Andorra, Australia, Austria, Bahrain, Belgium, Bulgaria, Brunei, Canada, China, Croatia, Cyprus, Czech Republic, Denmark, Estonia, Finland, France, Germany, Greece, Hong Kong, Hungary, Kuwait, Iceland, Ireland, Italy, Japan, Latvia, Liechtenstein, Lithuania, Luxembourg, Malaysia, Malta, Monaco, New Zealand, Norway, Oman, Poland, Portugal, Qatar, Romania, San Marino, Saudi Arabia, Seychelles, Slovakia, Slovenia, Singapore, South Korea, Spain, Sweden, Switzerland, The Netherlands, United Kingdom, and Northern Ireland (Except the British overseas citizens), Vatican.
They will grant your Visa (1 month) when you arrive at UAE airports. However, if you stay longer, you have to contact the immigration officer at the airport or the local immigration office in the UAE and apply for the same.
What Are The Different Dubai Tourist Visas For Egyptian Citizens?
As I mentioned, several types of visas to Dubai are available for Egyptian nationals. The Dubai Visas for Egyptians you can apply for are:
30-Day Single-Entry Dubai Visa: A 30-day single-entry visa is also for short stays and allows you to visit family and friends and enter Dubai for 30 days.
30-Day Multiple-Entry Dubai visa: allows you to enter and exit Dubai more than once for a maximum time of 30 days.
90-Day Single-Entry Dubai Visa: This visa allows you to travel to Dubai for tourism purposes and stay there for 90 days. You can only enter Dubai once with this visa.
90-Day Multiple-Entry Dubai Visa: You can enter Dubai as many times as you want during the 90-day visa validity. This visa is for tourism purposes or visiting family or friends.
What Is The Dubai Visit Visa Cost?
The Tourist Visa price depends on which visa you apply for and the method you choose to apply.
As I mentioned earlier in this post, there are different types of Visit Visas you can apply for, as well as many different options you can use to apply for a visa. Each of these options may ask for an additional service fee.
What Is The Dubai Tourist Visa Processing Time In Egypt?
You must be wondering how long the visa application processing will take. The visa processing time may differ, but it takes approximately 3 to 5 business days, whereas in visa processing centers, it takes from a week to 12 days to process your visa, excluding Saturday, Sunday, and any UAE Holiday.
What Is The Validity Of My Visa?
All visas are valid for 60 days from the date of issue until entry to the UAE, except the 48-hour and 96-hour visa Transit Visa (valid for 30 days).
When Should You Apply For A Dubai Visit Visa In Egypt?
You should apply for your Dubai visa for Egyptians well in advance. I recommend you start your visa application process 14 days before their departure date if applying through the embassy's Consular section.
If applying through the Emirates website, the visa processing could take more than 3 working days. Therefore, you should apply for your tourist visa as soon as you have all the documents.
How Can I Check My Visa Status?
Egyptian citizens can check their visa status online through the available portals. For example, to check the visa status of the visit visa for Egypt citizens, you can go to the website you used to apply and go to visa services. From there, you need to provide certain details in order to check your visa status.
---
What Are The Visa Requirements For A Dubai Visit Visa?
There are specific eligibility criteria that an Egyptian citizen must meet before applying for a visa. The visa requirements for the Tourist Visa are that you must have:
A valid passport.
Proof that you can support yourself financially.
A return flight ticket.
A sponsorship letter from their family member in the UAE (if applicable).
A valid copy of the UAE family member or host's ID card or residence visa.
What Are The Required Documents For A Dubai Visa For Egyptian Citizens?
Before you apply for your Visa to Dubai from Egypt, you need certain travel documents for your visa application process. In addition, you need to make sure that these documents are in digital format because you're applying online.
These documents are crucial for your application process. If you forget one of these documents, it could slow down the application process, or in extreme cases; officials can deny your visa. You need the following documents:
It is possible that you may need to provide additional documents, like your online visa application form.
A Copy Of Your Valid Passport
A clear scan copy of your Egypt passport (and the last page) with the information pages with a signature. Provide the pages of your current passport showing your photo, personal details, passport issue, and expiry dates. Your passport must have six months of validity beyond the visa's expiry date (beyond the date of travel).
A Passport-Size Photograph
You need a passport-size photo of yourself. This must be a recent photo taken against a white background in digital format. You must not wear anything in the photo that covers your face.
Atlys has free visa photo tool that you can use to generate a photo that meets the exact visa requirements.
Travel Bookings
You must provide round-trip flight tickets for UAE. An Onward Ticket is a flight reservation made by an actual travel agency that can be helpful for visa applications or if you want to enter a country without purchasing a return flight.
Invitation Letter
You must provide a letter from your family member, friend, or company inviting you to visit and their relationship with you. The letter could state the purpose of your visit and the length of stay if you were staying with them. If this person pays for your stay, provide proof of their funds.
If you have a sponsor in the United Arab Emirates, you need an invitation letter from your sponsor along with their passport copy and visa residency proof.
Proof Of Sufficient Funds
You need to provide proof of sufficient funds, like bank statements, to prove that you have enough money to cover the stay of your trip to the UAE.
---
How To Apply For The Dubai Visa for Egyptians?
The UAE embassies do not issue tourist visas.
In order to get a tourist visa to the UAE, you need to get in touch with one of the UAE-based airlines, a tour agency, or a hotel (where you intend to stay) in the UAE that will apply for a visa on your behalf to the official visa-issuing authorities in the UAE.
Each airline has some conditions which you must meet for them to arrange your visa. One of the conditions is flying with them. After booking your flight ticket, you can apply for a visa on their websites. Etihad Airways, Emirates Airlines, Fly Dubai, and Air Arabia provide visas.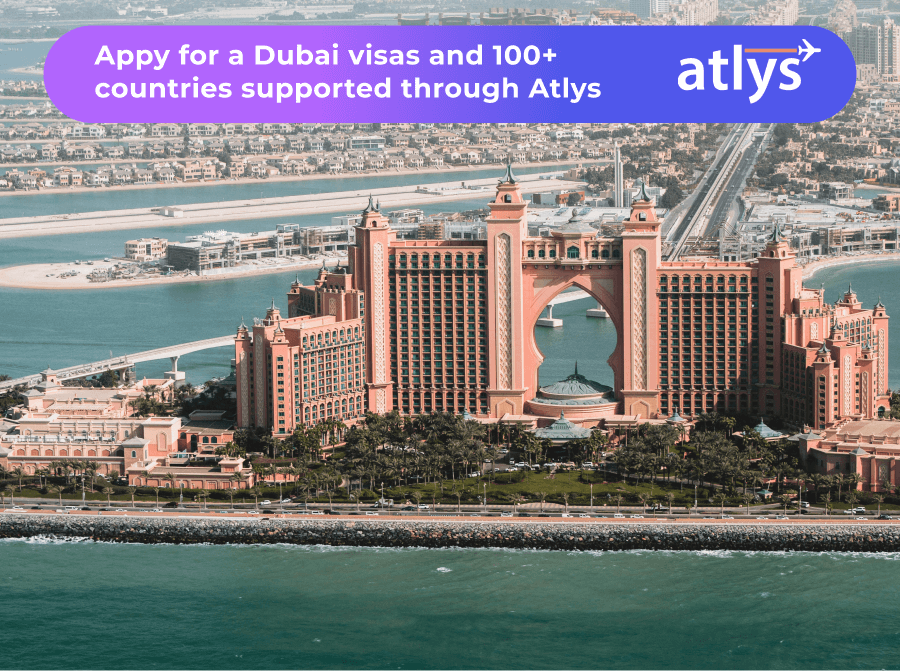 How To Apply For A Tourist Visa Through Etihad Airways
The application process is very straightforward, and best of all, it's an online application. All you need to do is go to the Etihad Airways website and click on "Apply for UAE visa." This will redirect you to another website where you must choose the visa type you want to apply for (Visit Visa).
Next, you must fill out the application form (provide all the necessary details) and attach the required documents like your passport, passport photo, and flight ticket. Lastly, you must pay the application fees through the secure online portal and wait for your visa.
Dubai Tourist Visa Fees
The visa fees depend on the type of Dubai Visa you apply for. For example, if you apply for a 30-day Single-Entry Tourist Visa, the visa fee is EGP 2,918 (AED 250). On the other hand, the multiple-entry Tourist visa costs EGP 5,420 (AED 690). Finally, if you apply for a 90-day Single-Entry Tourist Visa, the visa fee is EGP 5,837 (AED 600).
How To Apply For A Tourist Visa Through Emirates Airlines
You can apply for your Tourist Visa through Emirates. Suppose you're traveling to or stopping over in Dubai with Emirates. In that case, you can apply for and receive your UAE visa for Egyptians entirely online without submitting your passport for stamping. Instead, you can apply for your UAE visa for Egyptians through Manage your booking after booking your Emirates flight.
The online visa application service is available for residents and nationals worldwide. This service is only available to passengers with a confirmed Emirates booking where an Emirates ticket has already been issued, and the flight itinerary includes the desired time in Dubai. The itinerary into and out of Dubai should be on one ticket (PNR), which must be Emirates flights.
A minimum of four international working days before arrival in Dubai is required. However, Emirates recommends that you apply online as early as possible.
How To Apply For A Tourist Visa Through Fly Dubai
This can be a bit tricky.
You can't necessarily apply for the visa online through their website like with the other airlines. Instead, you need to contact a travel shop near you to see if they can help you with your Tourist Visa application. Unfortunately, only a few travel shops can help with your visa application for Dubai, so be sure you call to get all the relevant information.
Tourist Visa Processing Time Through FlyDubai
Your UAE visa application will take a minimum of 5 working days from the date of submission if you submit all the required documents.
How To Apply For A Tourist Visa Through Air Arabia
Just like with FlyDubai, you can't apply online through the website. Instead, you need to contact the Air Arabia sales center near you. When you contact them, they'll tell you everything you need to know about applying for a Tourist Visa through Air Arabia.
How To Get A Tourist Visa Through Agencies And Hotels
The UAE's licensed travel agents and hotels can arrange a visa to Dubai for Egyptians. To do so, you must first purchase the ticket and maintain a hotel reservation with the specific hotel.
You can also contact travel agencies in Egypt for any tourist packages available in the UAE. This will ensure that your trip is paid for and everything is pre-arranged for you before your trip to Dubai. The tour agencies in Egypt can also assist you or apply for a visa on your behalf. However, Egypt citizens will have to provide them with the required documents for their visit visa.
It is essential to check the authenticity of the travel agents you're dealing with. Don't pay or send copies of your official documents until you are 100 percent sure the tour operator is genuine.
---
Step-by-step Guide On How To Get A Dubai Visa From Egypt
Follow this step-by-step guide, and you will have an effortless visa application: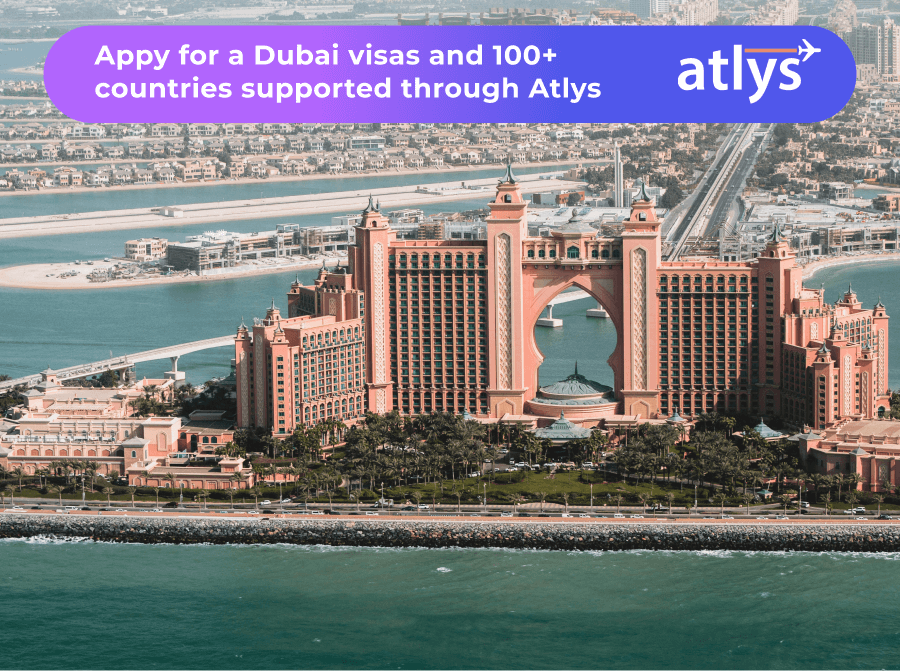 Step 1: Choose The Visa For The Purpose Of Your Stay
You must decide which visa fits your needs and the purpose of your stay in Dubai.
Then, depending on the visa type, you will have to gather the required documents to upload online or submit them to the relevant authority. In addition, you might have to submit additional documents depending on your eligibility for the visa application process.
Step 2: Choose How To Apply
You can choose the way which will be the most convenient for you and easiest for you to apply. For example, you can access the emirates website or apply through a tour company.
Step 3: Fill out the visa application form and submit the documents
Via Emirates, you will first have to choose your nationality and upload your documents and fill out the form at the end.
With some online applications, you will have to first create an account to be able to fill out the form and submit your required documents.
To fill out the online application form, you need to provide information like your email address, the purpose of your travel, and the travel date. You will also need to upload a passport-size photo, passport, and national ID.
If you are applying through someone or an agency, they will take care of the entire visa application. You must just provide them with the relevant and required documents.
Step 4: Check Your Information
Next, you need to review all the information you gave on the online platform. Any mistakes could lead to an immediate visa denial, so make sure to check everything.
You can check all the details and correspond with the relevant person when applying through a third party.
Step 5: Pay The Visa Fee
Before your UAE Visa application is made, the last step is to pay the visa fee. You will need to pay the amount depending on the type of visa you are applying for.
Suppose you are applying through a third party. In that case, you might need to pay additional service fees on top of the visa application fees.
Step 6: Wait For The Visa Approval.
Once they approve your visa application, they will send you your approved visa application via email. If you have applied through an agent or tour agency, they will contact you once your visa is approved.
---
Can I Extend My Dubai Tourist Visa?
Yes, you can. Egypt citizens can apply for a visa extension in Dubai. However, you must apply to extend your Visit Visa before your current visa expires, and you can do so online. You can apply for a 30-day visa extension.
When Should I Apply For My Dubai Visit Visa Extension?
You must apply for your Visa extension at least 10 days before your visa expires. If you delay the process till the last day of your visa's expiry, you must pay a fine, which is why you must plan accordingly and apply for the Visa extension on time.
How Can I Apply For A Dubai Visit Visa Extension?
There are two options for you to apply for a Dubai visa:
The first option is to physically go to a UAE Embassy and submit your application with the required documents.
The other and easier way is to submit your application and the documents online and get an e-Visa in a pdf form mailed to you.
You can apply for the 30-day tourist visa extension on the website you used to apply for your Visa to Dubai.
---
Use Atlys' Free Tool To Travel With Certainty
I know you will be very excited about this next section because I am. You've probably noticed that we've linked to our Passport Photo Tool. Let me tell you why it's beneficial:
It's as easy as taking your photo, uploading it to our free tool, and voila. You are ready to start your Dubai Tourist Visa application with a perfect passport photo. The time of finding a photo shop near you to get a passport photo is over. All you need to to is use our free tool.
All Done!
Now you know everything you need to know about applying for the Dubai Visa for Egyptians. This post is the only tool you need to apply for your Visa to Dubai.
Will you consider using Atlys to apply for your next visa? With Atlys, you don't have to stress about anything. You can just sit back and start planning your amazing Dubai trip!