Ghana Visa For Indians: Ghana Visa Requirements And Visa Fees
Last Updated : 04-Sept-2023
Atlys in the news
Indian nationals require a valid visa to travel to Ghana. In this blog, you'll find all the important information about the Ghana visa for Indians, which you must go through before you plan to travel to Ghana.
Here's a list of the most relevant visa information about Ghana for Indian nationals:
Type of visa for tourism: Ghana visa for Indians
Visa fees: ₹ 8,500 and a service fee of ₹ 1,800
Visa validity: 3 months
Visa processing time: 2 - 5 days
Do Indian Nationals Need A Ghana Visa?
Yes, Indian nationals need a visa to enter Ghana for any purpose, such as tourism, business, or work.
Overview Of The Ghana Visa For Indians
So before starting the Ghana visa for Indians application process, you must understand the Ghana visa. Here is what you need to know:
What Is The Ghana Visa?
A Ghana visa for Indians is a travel document that permits Indian nationals to enter and stay in Ghana.
Depending on their purpose of travel, Indians visiting Ghana may choose between a single entry, three-month tourist or business visa, a multiple entry, six- or one-year business visa.
Tourist visas are short-term visas that allow holders to enter and stay in Ghana for about 3 months.
For the purpose of this blog, I will be discussing the Ghana tourist visa for Indians.
What Is The Validity Of The Ghana Visa?
The Ghana visa for Indians is valid for 3 months from the date of issue.
How Long Can I Stay With Ghana Visa?
The Ghana visa for Indians allows you to stay for 30 days and is a single-entry visa.
What Is The Ghana Visa Fee?
The Ghana visa fee for Indians As of 2023 is ₹ 8,500, and a service fee of ₹ 1,800 for a single-entry tourist visa.
You'll have to make payment with the following ​​Debit Card, Credit Card, Net Banking, and UPI only.
Whether your application is approved or denied, visa application fees are non-refundable.
If your application information was not submitted for processing within 90 days of the application, the High Commission would not refund the money.
What Is The Ghana Visa Processing Time?
The processing time for a Ghana visa for Indians takes a minimum of 2 - 5 days for standard processing.
What Are The Ghana Visa Requirements For Indians?
To obtain a visa for most countries, including Ghana, you must submit documents and your visa application.
Here is a list of the most common visa documents required for a Ghana visa:
Passport: You must have a valid passport that is not expired and has at least two blank pages for visa stamping.

Visa application form: You must complete and sign the visa application form, which can be obtained from the Ghana embassy or consulate or completed online.

Passport-sized photographs: You must provide two recent passport-sized photographs with a white background.

Proof of travel arrangements: A copy of your flight itinerary or hotel reservation may be required.

Proof of financial means: You may be required to provide evidence of sufficient funds to support yourself during your stay in Ghana. A bank statement or an employer's letter could be included.

Invitation letter: If you are traveling to Ghana for business or to visit friends or family, you may need an invitation letter from a Ghanaian host.

Vaccination certificate: Proof of Covid-19 full (double) vaccination certificate.
Ghana Passport Photo Requirements
When you apply for a Ghana visa, your passport needs to follow the following specifics. Here are the specifics
Frame: The digital photo must be taken face-on and fill about 80% of the frame without sunglasses.

Head Gear: Normally without a hat or other head covering unless the applicant wears such items because of their religious belief or ethnic background.
The digital photo must adhere to the following dimensions, color, and file format as set out in the table below:
Dimensions: The minimum acceptable dimensions are 600 x 600 pixels. Maximum acceptable dimensions are 1200 x 1200 pixels.

Colour: The image must be in color (24 bits per pixel) in sRGB color space, the standard output for most digital cameras.

File Format: The image must be in JPEG, JPG, PNG, or GIF format.

File Size: The image must be less than or equal to 1 MB (Megabytes).

Compression: It may need to be compressed to keep the image under the maximum file size. The compression ratio should be less than or equal to 20:1.
How To Apply For A Ghana Tourist Visa For Indians?
Getting a Ghana visa for Indians is a straightforward process. You can start your Ghana visa application online on the government mission portal and finish it up by submitting at the Ghana embassy or consulate.
Fill out a separate online application for a visa for each applicant. Before completing the main section of the online visa application form, make sure you have uploaded the applicant's photograph.
Please write down your visa reference number because you'll need it for all communication from the government on this online visa application.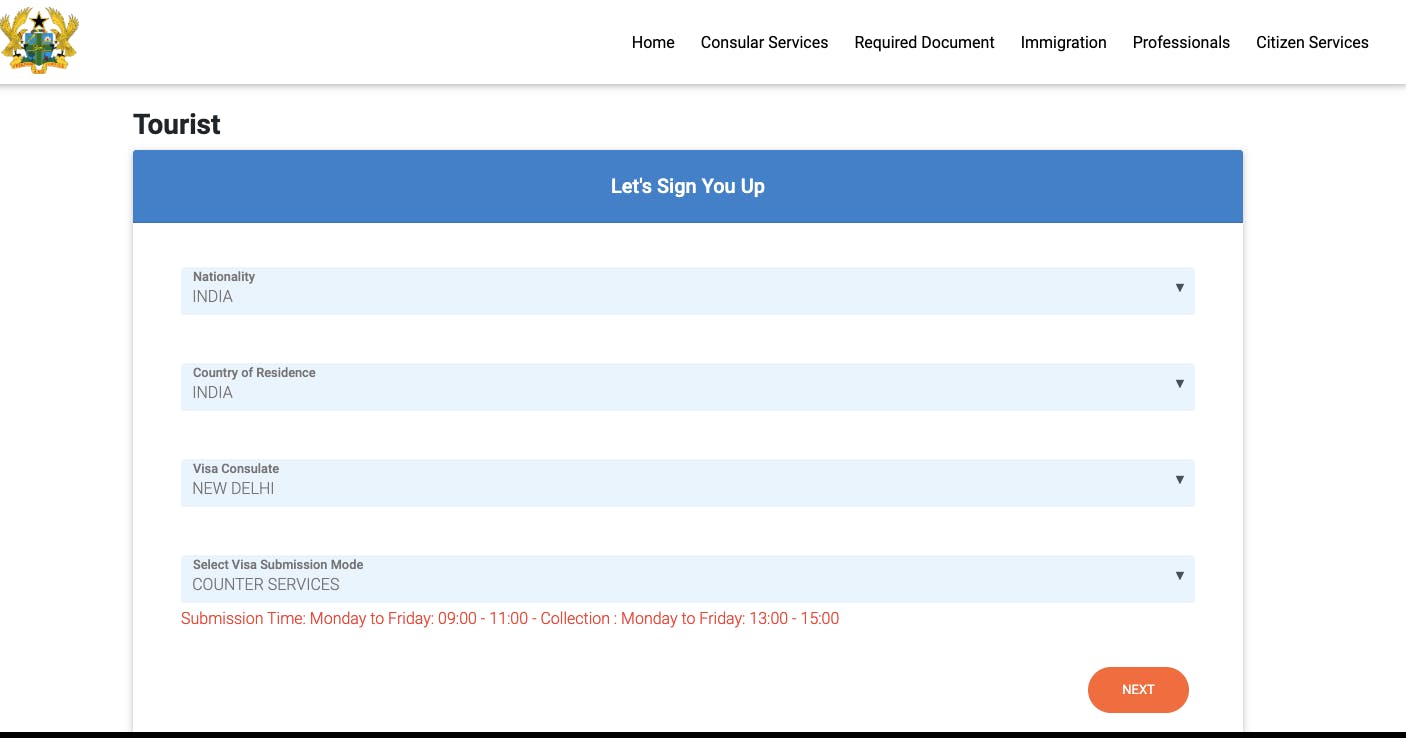 Step 1 Personal information: enter your personal information.

Step 2 Address information: enter the address information.

Step 3 Enter Profession: such as your employer/business name, position, and address, as well as your email address and contact numbers.

Step 4 Emergency Contact: Emergency Contact enters the emergency personnel that must be contacted in case of emergency. You'll add their names, contact details, address, and contact details.

Step 5 Travel Information: You'll enter the travel information such as the proposed date of departure, the purpose of the journey, the duration of the visit, if you have a round-trip ticket or traveling by Air, also, if it's your first time in Ghana?

Step 6 References information: ​​In this section, you'll enter the references Information, which is the Hotel Name, Address in Ghana, and contact details Email.

Step 7 Upload Documents: You'll have to upload all the required documents, such as the Proof of Covid-19 full (double) vaccination certificate, One recent passport-size photograph, Passport Required, Hotel reservation, Most Recent Bank Statement, Air ticket Reservation (return/onward journey).

Step 8 Review: In this section, you have to review all the information you provided and edit where you made mistakes

Step 9 Payment: Here is where you'll get your total visa fee, then you can continue to make the payment

Step 10 Processing: Go to submit the application at the Embassy you chose when you started the application. The processing of the online visa application will only begin after all the relevant supporting documents, and evidence of payment have been duly submitted at the Consular Section of the Ghana High Commission, New Delhi.
Successfully completing and submitting a visa application does not guarantee visa issuance.
What Happens After The Ghana Visa Online Application?
You will receive a minimum of 3 automatic notifications to the stated contact on the application form during the online visa application process. Communication notifications are sent as follows:
The first notification is sent upon successfully completing the Online Visa Application.

A second notification acknowledgment is sent once the Ghana High Commission, Consular Section receives your passport and all supporting documents.

The third notification is sent when the VISA Application is either approved or declined, together with the collection date.
Please don't go to the Embassy to collect your passport unless you have the collection notification.
Can You Extend Your Ghana Visa?
Yes. It is possible to extend your Ghana visa if you need to stay in the country for longer than the visa allows. To extend your visa, you must apply for an extension at the Ghana Immigration Service before the visa expires.
What Happens At The Immigration Checkpoints Once I Arrive With My Visa?
Upon arrival in Ghana with a valid visa, you must pass through an immigration checkpoint.
The immigration officer will verify your passport and visa information and may ask you a few questions about your stay in Ghana. Afterward, you will be allowed to enter the country.
All done!
Ghana is a fascinating country with much to offer visitors from India and around the world. By following our guide, you can ensure a successful and enjoyable trip to Ghana. So why wait? Start planning your next adventure today!
Government Sources
The information on this blog has been gathered from trusted government sources.
This content was written with the help of AI to make it easy to read and understand.
Frequently Asked Questions
No, is recommended to apply for an e-visa in advance to avoid potential delays and ensure a smoother entry process.
Author:
Mable Chidi
Verified Author: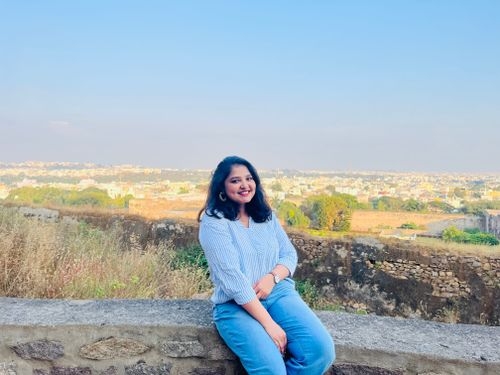 Nikhita Rathod