Uzbekistan Visa for Indians: Requirements and Application
Last Updated : 04-Sept-2023
Atlys in the news
30-Second Summary
Indian nationals travelling to Uzbekistan must apply for a visa. Indians can apply for the Uzbekistan e visa, which allows them to visit for tourism.
You can complete the application for a Uzbekistan tourist visa online.

The Uzbekistan visa for Indians does not require you to submit your passport or visit the Embassy for interviews.

Once your Uzbekistan evisa is approved, you will get a digital copy that you can use to enter the country (no visa stamp needed). 

You must submit your application at least 2 weeks before travelling.
Important Information
Uzbekistan
— Is a Visa Required?
Yes. Indian nationals must apply for the Uzbekistan evisa for Indians before travelling.
Learn More
— Visa Process Type
The Uzbekistan visa from India can be completed online.
— Uzbekistan Visa Validity
Your visa will be valid for 3 months (90 days) once it has been approved.
Learn More
— Length of Stay
You can stay in the country for up to 30 days.
— Uzbekistan eVisa Price
The Uzbekistan e visa fee is $20
— Processing Time
The processing time for the Uzbekistan evisa is around 6 days.
Learn More
Do Indian Nationals Need A Uzbekistan Visa?
Yes, Indian nationals need a valid visa to travel to Uzbekistan. The Uzbekistan tourist visa for Indians, and other visa types for Indian citizens.
An Uzbekistan visa is a document that allows Indian citizens to enter and stay in Uzbekistan for 30 days.
It's important to obtain the appropriate visa based on the purpose and duration of your trip.
Apply Through Atlys For Your Uzbekistan visa
Applying for your visa has always been challenging; Atlys makes the application straightforward.
In this section, we will cover everything you need to know when applying for your Uzbekistan visa for Indians on Atlys.
Atlys works with trusted government partners, which allows Indians to only submit the necessary requirements. To apply for your Uzbekistan visa for Indians on Atlys, you will only need to submit a:

Passport: You will need to submit a passport with at least six more months of validity.

Digital photo: You only require 1 digital photo for your application on Atlys.

Tip: Having your flight ticket with you when applying for your visa on Atlys will help you provide the correct dates for your arrival and departure.

Get your Uzbekistan visa for Indians in 5 easy steps:

1

Start your application: Head to our online portal to start your application. After choosing the type of visa you wish to apply for, click Proceed. After choosing the type of visa, click Proceed.

2

Travel details: Choose the trip dates and the number of people for whom you are applying.

3

Upload documents: Upload your digital photo and passport. The information and a passport copy will be saved on the app for future applications.

4

Review: Before continuing, review your application. Atlys also reviews your information in case you missed some information.

5

Check out: You can submit your application and pay the Uzbekistan visa fee for Indians using the card of your choice. Once you have paid the visa fees, the only time you will need to wait is for approval.
Applying For Your Uzbekistan Visa Through Government Channel
Here is a detailed step-by-step guide on how to apply for your visa through the Uzbekistan e-visa portal.
Passport: A valid Indian passport with a minimum validity of 6 months from entry into Uzbekistan is required.

Photograph: One recent passport-size photograph (3.5 x 4.5 cm) taken on a white background must be attached to the visa application. File size must not be more than 1 MB.

Visa Fee: The visa fee for Uzbekistan varies depending on the type and duration of the visa. The payment can be made online through the official website of the Uzbekistan e Visa system.

Travel Itinerary: A copy of your confirmed travel itinerary, including your flight details and accommodation bookings, must be provided.

Invitation Letter: If you are visiting Uzbekistan for business or work-related purposes, you must provide an invitation letter from your employer in Uzbekistan.

Medical Insurance: A medical insurance policy valid for your stay in Uzbekistan must be provided.

Criminal Record: Indian citizens may be asked to provide a criminal record certificate for the visa application process.
Overview Of The Uzbekistan Visa For Indians
Before you start the Uzbekistan visa for Indians, you need to know more about the visa. Here is what you need to know about the Uzbekistan visa for Indians.
The validity of an Uzbekistan evisa for Indians is 3 months (90 days).

The Uzbekistan visa allows you a maximum stay of 30 days from the date of arrival in the country.

The Uzbekistan evisa fee for Indians is $20. The amount of the visa fee is not refundable in the case that an electronic visa is not granted.
Uzbekistan Evisa Problems
Here are some common problems or challenges that travellers might face when applying for an Uzbekistan eVisa:
1

Technical Glitches: Online application systems can sometimes experience technical issues that might interrupt the application process.

2

Incomplete Documentation: Providing incorrect or incomplete documents can lead to delays or rejections.

3

Payment Issues: Problems with online payment methods or transactions can hinder the completion of the application.

4

Processing Delays: The processing time for an eVisa might vary, and delays could disrupt travel plans.

5

Misinterpretation of Rules: Misunderstanding or misinterpreting the entry rules and visa conditions can lead to problems at the border.
Helpful Tips When Applying For Your Uzbekistan Visa For Indians
Here are a few tips you can use when applying for your Uzbekistan visa online:
Ensure that you apply for the correct type of visa based on the purpose and duration of your trip.

Make sure you gather all your required documents before you start the visa application.

Ensure that the digital photo you are uploading does not exceed 1MB.

Always review your application before you submit it.

Be sure to apply for your e-visa at least 2 weeks before your travels.
All done!
If you are an Indian citizen with all the required information and documents, getting a visa to Uzbekistan might be a simple process.
However, you'll be well-prepared for your Uzbekistan visa application and improve your chances of a successful application if you follow the instructions in this book.
Start your application on Atlys immediately to avoid having the visa application process interfere with your travel plans.
Government Source
This blog was written with the help of AI to explain complex information easily and accurately. At Atlys, we're committed to offering reliable guidance from trustworthy government sources, making your journey smooth and well-informed. This blog is written using government websites such as:
Frequently Asked Questions
Yes, Indian citizens require a valid visa to travel to Uzbekistan.
Author:
Mable Chidi
Verified Author: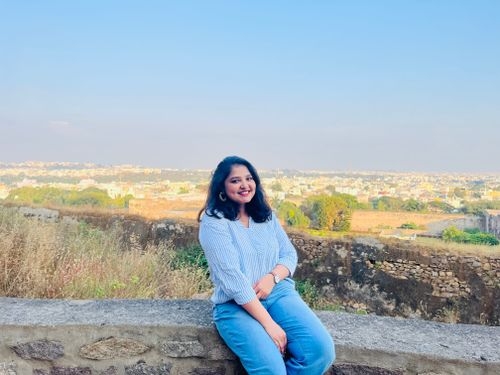 Nikhita Rathod