Japan Visa For Indians: Visa Requirements & Application 2023
Last Updated : 04-Sept-2023
Atlys in the news
30 Seconds Summary.
Indian nationals travelling to Japan must apply for the Japan Visa, which allows them to visit for tourism.

The Japan visa application requires you to submit your passport to the Embassy.

You can submit the Japan application online through Atlys.

Once your visa is approved, you will receive a Japan visa sticker on your passport.

It is recommended to apply at least 1 month before travelling.
Important Information
Japan
— Is a Visa Required?
Yes, Indian nationals need a visa for Japan.
Learn More
— Visa Process Type
Japan Visa For Indians can be done online through Atlys fulfilment center (AFC).
— Japan Visa Validity
The Japan visa is valid for three months.
Learn More
— Length of Stay
The Japan visa allows you to stays up to 90 days.
— Japan Visa Cost
The Japan visa fee is ₹ 5200 for a single entry.
— Processing Time
The processing time is atlys_time (including 10 days processing from the government).
Learn More
Do Indians Need A Visa For Japan?
Yes, Indian nationals need a visa for Japan.
The Japan visa is also referred to as a short-term visa. This visa allows you to enter the country for sightseeing, visiting family or friends, or attending conferences.
The Japan tourist visa for Indians allows you to stay in the country for up to 90 days.

Applying for a Japan visa through the Atlys Fulfilment Center makes the process really convenient. Atlys takes care of the hassle by arranging a courier to pick up your passport/s. This means you won't have to go in person, saving you time and effort. It's a simple and user-friendly way to handle your visa application.
Is There a Japan Visa on Arrival for Indians?
No, Indian nationals are not eligible for a Japan visa on arrival. Indian nationals must get a visa before their arrival in Japan.
What is the Process to Apply for a Japan Visa from India?
The Japan visa can be complex and complicated. You must collect the required documents and submit them to the Embassy (including your passport). Once your visa application and documents are submitted, they will be processed and approved. You will receive a Japan visa sticker on your passport which is then sent back to you.

Atlys understands the complexity of the Japan visa and provides a hassle-free solution. You can easily submit your visa with Atlys, and we will ensure that all your documents are correct before submitting them to the Embassy, giving you the best possible chance for approval.
Atlys will collect your documents in person and have experts review them before they get processed. Once your visa is approved, your passport and visa will be delivered back to you in person.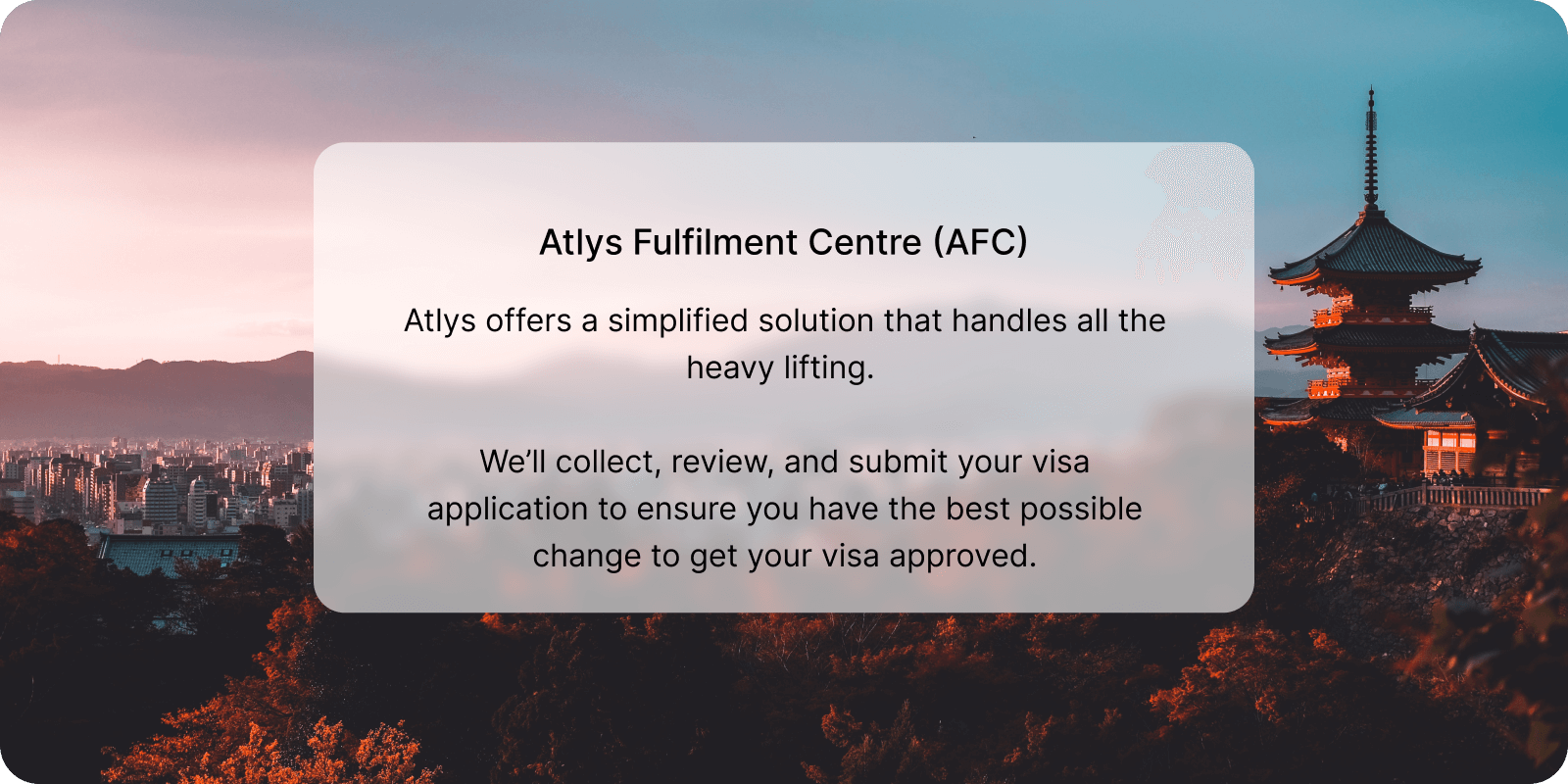 Documents Required With Atlys
Here are the documents you must submit when applying through Atlys.
Please note that Atlys works with different partners to simplify the document process. This means the list of papers needed for Atlys might not be the same as the Embassy's list.
1

Original Passport (all current and old passports): You must provide your current valid passport. Additionally, if you have any old passports, even if they are expired, it's important to include them as well. This is because your travel history might be relevant to your visa application. The authorities want to see where you've travelled before, which can impact their decision.

2

Selfie: you'll need to provide a recent selfie as part of your application. This helps the authorities to verify your identity and ensure that the photo matches your appearance in the passport and other documents.

3

Accommodation Address: You should provide the address of the place where you'll be staying in Japan. This could be a hotel, a friend's place, or any other type of accommodation. It's important to be accurate with this information as it's part of your travel plan that you're sharing with the authorities.

4

Flight Tickets / Details: You need to provide information about your flight to and from Japan. This includes details such as flight numbers, dates of travel, and airline information. If you have already booked your flight, you can share the actual tickets. If you haven't booked yet, you can provide the planned details. This shows the authorities that you have a clear travel plan in place.

5

Required Only for Chennai Jurisdiction: Pay slip for last 3 months in case of salaried or company registration/GSTN certificate as Proof of self-employment in case of self-employed. Then a copy of the last three months' bank statement. Chennai Jurisdiction requires Financial documents irrespective of travel history. They are required if you have a blank passport and no travel history.

6

Financial Document: If you're applying with a new passport and haven't travelled before, we might need a financial document. If you're in the Chennai jurisdiction, you'll need this document, no matter your travel history
How To Apply Through Atlys?
At Atlys, we're here to simplify difficult visa procedures. Our strong partnership with government agencies guarantees an easy and successful Japan visa application process.
To begin your visa application, visit our user-friendly online portal, accessible on desktop and mobile platforms. We're committed to making the process smooth and stress-free for you.

1

Go to the Atlys online portal. When you're there, search for Japan. The online portal is made to be really easy to use. If you have any problems, you can ask customer service for help. They will help you with everything you need to do.

2

Complete the Application: while applying, you'll need to provide personal information and upload documents before paying the visa fee. The documents required for upload include the following: Selfie, Flight Tickets / Details, Pay slip for the last 3 months in case of salaried or company registration/GSTN certificate as Proof of self-employment in case of self-employed. Then a copy of the last three months' bank statement. Chennai Jurisdiction requires Financial documents irrespective of travel history. They are required if you have a blank passport and no travel history.

3

Pay The Visa Fee: To complete your tourist visa application, you must pay ₹ 5200 as the Atlys visa fee. This fee includes both the government visa fee and the Atlys service fee, so there won't be any extra charges or hidden costs. After paying, you'll need to download the Atlys app. The app will help you track the status of your Japan visa application.

4

Pick-up From Courier: The Atlys App arranges for a courier to pick up your passport(s) and take them to the Atlys Fulfilment Centre (AFC).

5

Your application is now submitted. The AFC will send your application to the Japan Embassy/Consulate in either Mumbai, Delhi, or Chennai. They choose the one that matches where you live according to your passport.Your passport jurisdiction is like a rule that says which embassy should look at your application. You can't send it to a different embassy.

6

Visa Is Processed: Once your visa processing is complete, the AFC will use their trusted courier service to collect your application and documents. Afterwards, Atlys will inform you about whether your visa application has been approved or rejected.

7

Passport Returned: The AFC will ensure that your passport and documents are returned to your home address. If your visa is approved, you'll find it attached or placed inside your passport.You can apply for a Japan visa for Indians effortlessly with the Atlys fulfilment centre.
Visa Application Through Government Channels
In order for Indian nationals to apply for a visa, you need to meet the following requirements for the Japanese visa:

Valid Indian passport: Applicants must possess a passport valid for more than three months longer than the period of stay in Japan.

Proof of sufficient funds: Applicants must show proof of sufficient funds to cover their stay in Japan. The amount of proof required depends on the length of stay.

Visa application form: Applicants must complete and submit a visa application form, signed and dated.

Photographs: Two colour passport-size photographs taken in the last three months before the day of the application are required.

Return or onward journey ticket: An onward journey ticket showing that the applicant will leave Japan within the authorized period of stay.

Itinerary: A letter from the applicant's employer stating the purpose and length of stay and a copy of the applicant's detailed travel itinerary in Japan.

Flight Itinerary: You have to be able to show a return ticket.

In addition, additional supporting documents could be requested in certain cases. These would be requested by the Japanese embassy or consulate at the time of application.

Passport Requirements:


Validity: Your passport should be valid for at least six months from the date of your planned entry into Japan.

Pages: Your passport must have at least two blank pages for visa stamps.

Previous Visas: If you have travelled to Japan before, having previous Japanese visas in your passport can be helpful.

Visa Photo Size Specifications:

These are the requirements for the Japan passport photos:

Japan passport photo size: 45mm x 45mm.

You must have a neutral facial expression, staring ahead.

Do not wear headgear unless it is for religious purposes (even so, make sure it does not cover your facial features).

The pictures must be of high quality, meaning no glare, under- or over-exposure, blurriness, and no editing.

The pictures must be printed on good-quality photo paper.
Additional Information About the Japan Visa For Indians
What Happens At The Immigration Checkpoints Once I Arrive With My Visa?
At the immigration checkpoint, the officers will verify your documents and validate your visa. They will also check your passport and ask questions about the purpose and duration of your stay in Japan.
These are the documents that you will need to present:
Proof of financial stability
Once you have been cleared, you can proceed to the next checkpoints.
All done!
In conclusion, obtaining a Japanese visa for Indian citizens requires careful planning and preparation. We hope this guide has provided you with the necessary information to successfully apply for a Japan visa.
Now you have everything you need to apply for your Japan visa. All that is left to do is to pack your bags!
Government Sources
At Atlys, we take the information seriously and make sure it's accurate. We rely on trusted government websites to get the right facts. We are dedicated to finding the truth and double-checking every detail in this blog. All the information here comes directly from reliable government sources, like
So, you can trust what you read!
Frequently Asked Questions
Obtaining a Japan visa for Indians can be straightforward if you follow the required steps and provide the necessary documents. The ease of the process depends on factors like your purpose of travel, proper documentation, and adherence to the visa application guidelines.
Author: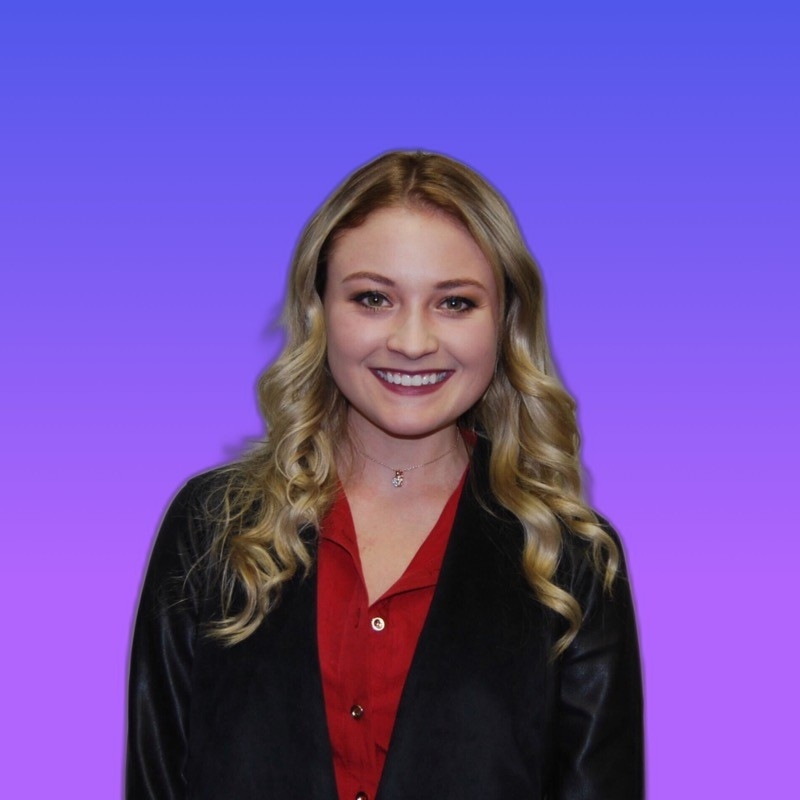 Shannon Reeler
Verified Author: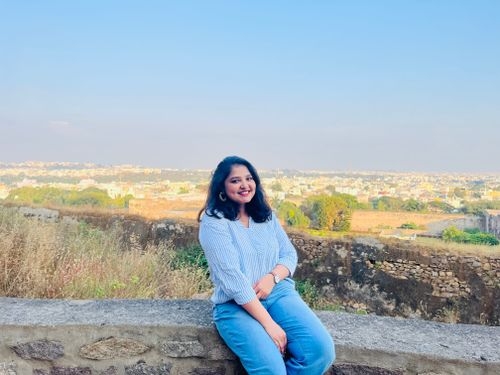 Nikhita Rathod