Malawi eVisa for Indians: Online Visa Application
Last Updated : 06-Dec-2023
Atlys in the news
30 seconds summary
Indian nationals travelling to Malawi must apply for a visa that allows them to visit for Tourism purposes.
You can complete the application online.

The Malawi e visa doesn't require you to submit your passport offline.

Once your visa is approved, you will get a digital visa to travel with when you travel to the country.

The Malawi e visa requires a copy of your passport, photograph, and more.
Important Information
Malawi
— Malawi Visa For Indian Type
— Malawi E-Visa Online Fees & Cost
The Malawi Evisa is $50 for a single entry.
— Malawi Evisa Processing Time
The Malawi Evisa processing time is 5 days.
— Malawi evisa Validity
The Malawi Evisa is valid for up to 3 months.
The Malawi e visa is an electronic system that allows Indian citizens to apply for a visa to enter the Republic of Malawi online instead of going to an embassy.
With the Malawi e visa for Indians, you can stay in the country for 30 days, valid for 3 months. It's a more comfortable and quicker way to get a visa for tourism, business, or other valid reasons to visit Malawi.
Indians should note that they cannot apply for a Malawi visa upon arrival, so it's essential to apply for the e visa in advance.
Malawi E Visa Requirements
To apply for a Malawi e-visa, you need to meet certain requirements and submit specific documents, such as:
Recent Photograph: You'll need a recent colour photograph.

Passport Copy (Bio Data Page): Provide a clear copy of the page in your passport with your details.

Covering Letter from the Host in Malawi: This letter must be signed by your host in Malawi.

Covering Letter from Agent or Accommodation Booking: Your agent must sign this letter or provide proof of accommodation booking.
How to Apply for a Malawi E Visa
If you want to apply for Malawi eVisa, then you must follow these steps: 
Applying Through The Government Portal
1

Create or Log In to Your Account: Start by making an account on the Malawi e visa portal. If you already have one, just log in.

2

Start Your Application: After logging in, choose your nationality and the type of visa you need.

3

Choose Your Travel Document: Select the kind of travel document you have, like an ordinary passport.

4

Purpose of Visit: Pick your reason for travelling, such as tourism.

5

Travel Dates: Add the dates you plan to enter and leave Malawi. This helps you check what you need for the visa.

6

Read Requirements and Consent Form: Look over all the e-visa Malawi requirements. Then, download and tick the consent form.

7

Enter Travel Details: Fill in all the details about your trip correctly.

8

Fill in Traveler Information: Next, provide all the personal information required.

9

Upload Documents: You'll need to upload valid documents that the application asks for.

10

Review and Submit: Finally, check all the information you've entered. If everything's right, submit your application.
Tips To Apply
Before you start applying for your e-visa Malawi, make sure you have all the necessary documents ready. This will help speed up the process. 

It's best to submit your visa application at least two weeks before you plan to travel, to give enough time for it to be processed.

Make sure to double-check all the details in your application to avoid any mistakes that could delay it.

When you upload your documents, ensure they are clear and readable to avoid any complications.

Keep in mind that you need to apply for this e-visa Malawi through a recognised agent, such as Atlys.
Receive Your Approved Malawi E-Visa For Indians
After you submit your application, processing your Malawi e-visa typically takes about 3 working days.
Remember that visa processing times don't count weekends or public holidays. You can check Malawi's public holiday schedule on their official government website.
Once your visa is approved, you'll get it by email. Print out this document and take it with you when you go to Malawi.
Malawi E Visa Rules
Your passport should be valid for at least 6 months from your return date to India.

The Malawi e visa processing fee is non-refundable.

If your application is not complete, it will be rejected.

Having a Malawi e-visa doesn't guarantee you can enter Malawi.

You can't work or do business in Malawi without the right permit or pass.

You need to get a visa before you go to Malawi.

You must show your e-visa printout when you arrive in Malawi.

The Malawi e-visa cannot be extended.
Conclusion
In conclusion, the Malawi e visa offers a convenient method for Indian travellers to obtain authorisation to visit the beautiful country of Malawi. The online application simplifies the process and provides a range of visa choices for different lengths of stay. It's important to apply in advance to allow for any unexpected delays.
Have a great trip to this lovely African country!
Our Commitment To Visa Accuracy
Atlys understands the importance of accurate and timely information for Malawi visa applications; we rely on official sources. We aim to provide you with the latest and most reliable guidelines, simplifying and ensuring trust in your application process.
High Commission of Malawi in India
Keep in mind that Malawi visa for Indian online fees and regulations can change. It's a good idea to look at the official website for the latest information before you begin your application. Doing this will ensure you have the most current details, making your visa application process smoother.
Frequently Asked Questions
Dual citizens should use the passport of the country they plan to enter Malawi with when applying for the Malawi eVisa. Ensure you meet entry requirements for that specific passport.
Author:
Mable Chidi
Verified Author: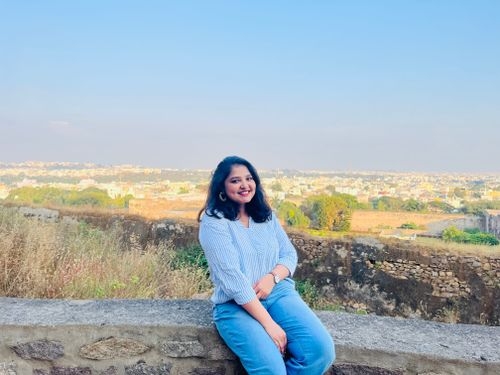 Nikhita Rathod