South Korea Visa for Indians: Requirements And Visa Fees
Last Updated : 04-Sept-2023
Atlys in the news
30-Second Summary
Indians need a visa to enter South Korea and can apply for the South Korea tourist visa. You can use the South Korea visa to travel for tourism and sightseeing.
The South Korea visa is a tourist visa that you can get online.

The South Korea tourist visa for Indians requires you to submit your passport at the Embassy.

Once your visa is approved, you will get a digital copy that you can use to enter the country (no visa stamp is needed on your passport).

You must submit the South Korea visa application at least 30 days before travelling.
Important Information
South Korea
— Is a Visa Required?
Yes. Indian nationals must hold a valid visa before traveling to South Korea.
— Visa Process Type
The South Korea visa for Indians can be done online through Atlys.
— South Korea Visa Validaty
The visa is valid for 3 months (90 days) once it has been issued.
— Length of Stay
A single-entry visa for a 90 day stay.
— Visa Processing Time
The South Korea tourist visa processing time is 15 business days. This excludes courier and handling time at Atlys.
— South Korea Visa Fee
On Atlys you pay a South Korea visa fee of ₹ 8000.
Do Indians Require A Visa For South Korea?
Yes, Indians require a visa to enter South Korea. Indians especially need a tourist visa for South Korea from India if they want to visit South Korea for tourism/leisure reasons.
A South Korea tourist visa for Indians is a type of visa that allows Indian citizens to visit South Korea for tourism or leisure purposes.
As an Indian national who wants to visit South Korea, you must apply for a South Korea tourist visa for Indians. You will be issued a single entry valid for 90 days as the first traveler to South Korea.
Indian nationals with a travel history to South Korea can be issued a multiple-entry visa. But it is important to note that Atlys only provides the single-entry visa for now.
Is There A South Korea Visa On Arrival For Indians?
No, there is no South Korea visa on arrival for Indians. Indians need to apply for their visa beforehand.
Documents Required With Atlys
When it comes to South Korea visa requirements for Indian citizens, Atlys has simplified it for you. We will physically collect your original passport and the last 3 months' attested bank account statement from you at your convenience.
You can send us the rest of the documents over an email or provide them during your online submission. 
Take Note: Atlys has partnerships with companies that help to reduce the amount of documentation you need to provide. This is why you will find that the list of documents for Atlys can be different from the list provided by the Embassy. Documents like itineraries and proof of accommodation will be self-generated by Atlys.
You, as a customer, need to send the following documents physically for which Atlys will provide courier service:

Original Passport: Ensure your passport has more than 6 months of validity remaining.

Last 3 Months Savings Bank Account Attested by Bank: Visit your bank and get the last three months' savings account statement attested.

The rest of the documents that can be uploaded upon checkout on our website are:

Last 3 years' personal IT Return / Business ITR return

Duly filled Visa application form by Applicant with Blue or Black ball pen in Block Letters

If you are employed, you must send the following documents:

Occupation Proof or Employment Proof (in case of currently employed).

Photocopy of Income Tax Return (ITR) of last 2 years. (If unable to submit any of ITR then a letter of explanation mentioning the reason must be Submitted).

Recent Bank Statement of last 6 months [original or photocopy with the bank's stamp and signed by bank Authority].

If you own a business, you must send the following documents:

In case of ownership please submit 3 year company Income Tax Return (in case of proprietor please submit 3 year personal ITR).

Recent Bank Statement of last 6 months [original or photocopy with the bank's stamp and signed by bank Authority].

Company registration copy.

Business profile details in case of ownership in format only (Please refer to download form section for format).
How To Apply Through Atlys?
Atlys assists individuals in the process of applying for visas to travel to a specific country. Atlys is an authorized service provider by the embassy to handle visa applications on their behalf.
2

During the application, you will be asked to fill in personal details as well as upload documents before paying the visa fee.

4

Altys requires you to send some physical documents that need to be sent to the Embassy. Atlys will set up a collection date and time to pick up documents such as your passport to deliver to Atlys.

5

Atlys will submit your application to the South Korea Embassy / Consulate (List) in Mumbai / Delhi / Chennai as per the customer's Passport Jurisdiction.

6

After your visa has been processed, the AFC will again send their reputable courier service to pick up your application and documents.

7

Atlys will return your passport and documents to your home address. If your visa has been approved, you will be able to find your visa fixed within your passport.
Please note: Atlys is currently handling visa applications falling under Mumbai Consulate's jurisdiction, where applicants do not need to visit the embassy. Atlys doesn't handle applications falling under Delhi Embassy / Chennai Consulate's jurisdiction.
Visa Application Through Government Channels
These are the mandatory documents that you will need to present to the South Korea Embassy:

Document Requirements

Valid Passport: Original passport with more than 6 months validity.

Passport Photographs: Two sized passport-size color photographs need to be recently taken with a white background. The South Korea visa photo size should be 3.5 cm X 4.5 cm.

South Korea Visa Application Form: Duly filled South Korea tourist visa for Indians application form. You must fill the form with a black or blue pen in block letters.

Income Tax Return (ITR): A photograph of the Income Tax Return of the last 1 year. Suppose you cannot submit any income tax returns or bank statements. In that case, you have to submit a letter explaining the reason.

Bank statements: A copy of the bank statement of the last 6 months, an original or a copy with the bank's stamp and signed by the bank authority.

Cover Letter: Original covering letter or South Korea tourist visa for Indians request letter with your signature. If you work or do freelance jobs: Use your own paper with your name, address, and phone number. If you own a business: Use your company's paper with its seal and have the right person sign it.

Itinerary: You'll need itineraries such as a flight and hotel itinerary.

Flight Details: Show your return flight booking.

Stay Details: Share where you'll be staying.

Work Leave Letter: If you work, get a letter from your job saying you're allowed to take time off. (Business owners don't need this.)

Salary Proofs: Last 3 salary slips. (Business owners can skip this.)

Business Proof: Only for business owners - show documents like a company registration certificate.

Passport Requirements:

Validity: Your passport should be valid for at least 6 months from the date of your intended entry into South Korea.

Blank Pages: There should be at least two blank visa pages in your passport for the visa sticker and any entry/exit stamps.

Condition: The passport should be in good condition, with no missing pages, visible damages, or alterations.

Photographs: Provide passport-sized photographs adhering to the specification required by the South Korean embassy or consulate. Typically, the photo size is 3.5 cm x 4.5 cm with a white background.

Old Passport: If you have an old passport that has expired or is full but contains valid visas, you should submit it along with your current passport. This can provide evidence of your travel history.

Visa Photo Size Specifications:

Size: 35mm wide and 45mm high.

Background: The background should be plain white without any patterns or shadows.

Expression: Maintain a neutral expression with both eyes open and mouth closed. No smiling or frowning.

Head Position: Keep the head centered and not tilted.

Clothing: Wear everyday clothing. Uniforms (except for religious attire worn daily) should not be worn. Dark glasses or non-prescription glasses with tinted lenses are not acceptable unless you need them for medical reasons.

Quality: The photo should be in high resolution, not underexposed or overexposed, and free from reflection or glare on glasses, shadows, and red-eye.
Overview Of The South Korea Visa For Indians?
In this section, we'll discuss the South Korea visa in more detail to give you a better understanding before you can start your application process.
The South Korea visa for Indians is valid for 90 days from the date it has been issued. This is a single-entry visa.

Atlys charges a fee of ₹ 8000 to submit your application for a short-term tourist visa.

This visa fee includes the government visa fee, Atlys service fee, and 2-way courier fee. You will not be charged any additional fees. Atlys is upfront about all the fees and you will not encounter any hidden charges.
All Done
In conclusion, obtaining a South Korean tourist visa as an Indian passport holder is straightforward as long as you meet the eligibility criteria and provide all the necessary documents. With this guide, you should be able to easily navigate the process. Good luck!
Government sources
In today's digital age, accurate and trustworthy information is paramount. When it comes to our blog, we prioritize accuracy and reliability above all. This is why all the data, facts, and insights you come across here are derived exclusively from government sources.
This blog was written with the help of AI for better understanding and readability.
Frequently Asked Questions
Yes. All Indian citizens who want to visit South Korea for tourism, business, education, or other purposes need a valid South Korea visa for Indians to enter the country. South Korea has a well-structured visa policy that includes several types of visas to cater to different travel purposes.
Author:
Mable Chidi
Verified Author: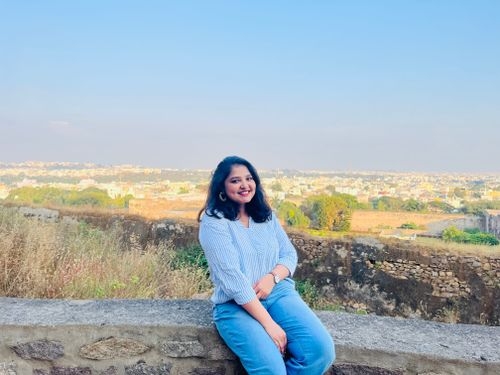 Nikhita Rathod